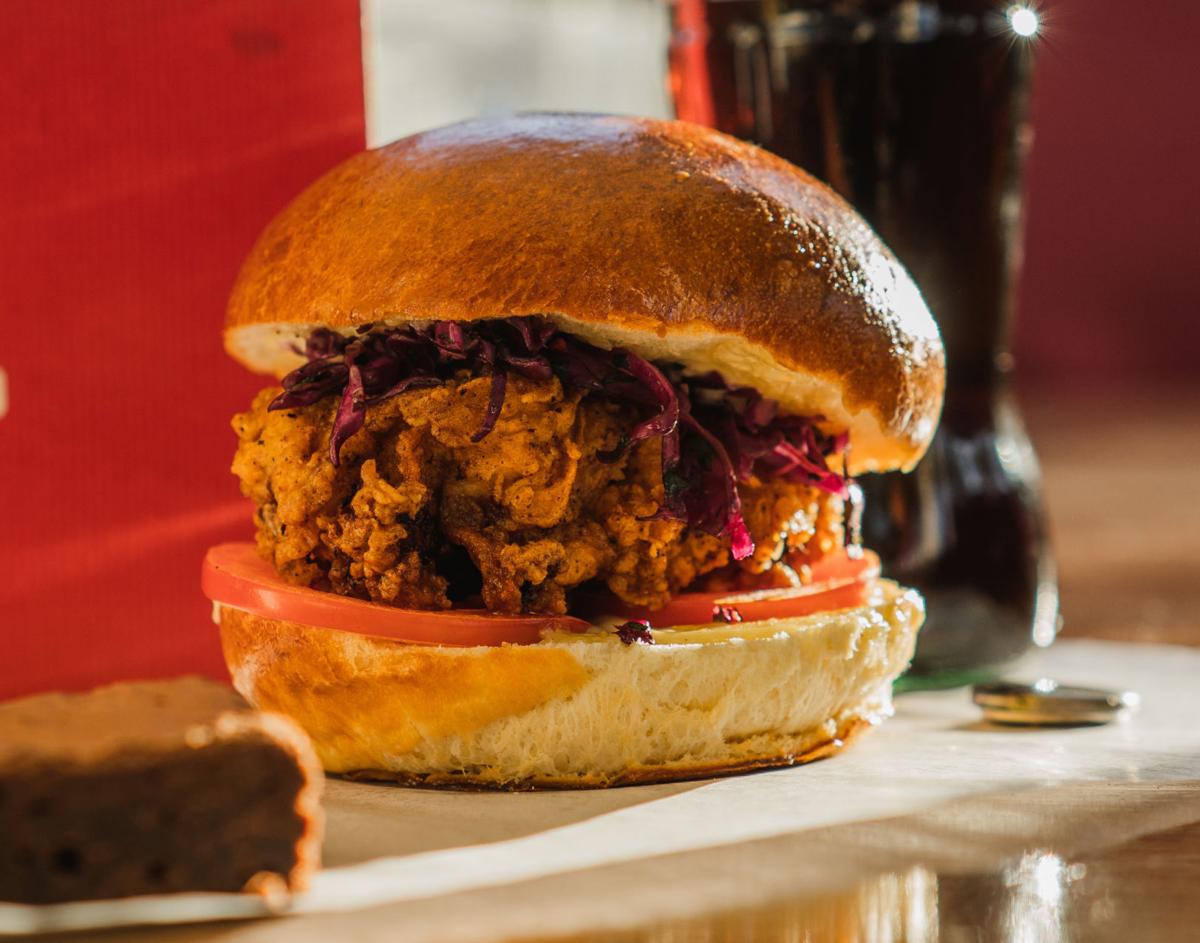 Press restaurant in St. Helena is offering an Election Day special, a drive-through, Press-style happy meal to pick up and take home so you won't have to cook as you watch the election results come in.
The meal includes a fried chicken sandwich with spicy slaw and Parmesan aioli, black truffle fries, a chocolate chip cookie and a beverage (Mexican Coke or citrus soda). The cost is $25. Order it at www.pressnapavalley.com/store/product/election-night-happy-meal/ and pick it up between 5 and 8:30 p.m. on Tuesday, Nov. 3.
Press is at 587 St. Helena Highway, 707-967-0550
Grove moves inside
The Culinary Institute of America at Copia in Napa is moving its popular Grove Garden Suppers indoors for the winter beginning on Wednesday, Nov. 4. The prix-fixe, family-style meal will be served in the spacious, airy atrium, now filled with greenery and allowing plenty of room for socially distanced dining.
They will be open on Wednesday through Sunday. On Wednesday, they serve the Concerto di Pasta, three pasta dishes plus salad and dessert. The Garden Supper menu for Nov. 5-8 is a Roman Holiday, for $52 per person. It includes:
First Course: Zuppa Toscana with Kale, Cannellini Beans, Zucchini, Carrots, Sourdough Croutons
Main: Pork Milanese with Roasted Brussel Sprouts, Arugula, Lemon and Capers
Dessert: Poached Pear with Chestnut Mascarpone and chocolate Tuille
Supplements for the table are Broccoli Rabe all'Uovo with Crispy Prosciutto, Breadcrumbs and Grana Padano ($20) and Artisan Bead and Cheeses ($16).
The CIA at Copia also serves Saturday and Sunday brunch.
Thanksgiving dinner to-go from FoodShed
Foodshed in Napa will prepare Thanksgiving dinners to go with a menu that includes a Diestel free-range turkey braised dark meat and sliced, brined and roasted breast, turkey gravy, stuffing, garlic whipped mashed potatoes, shaved Brussels sprouts salad, pomegranate cranberry sauce and pumpkin pie,
The cost is $40 per person; dinners are available in even numbers for groups of two or more. Call 707-255-3340 to place an order; the number of dinners available is limited. The last day to change orders is Friday, Nov. 20. Dinners will be available for pickup on Wednesday, Nov. 25.
Foodshed is at 3385 Old California Way, Napa
Holiday news from Charlie Palmer
Learn cooking techniques, wine pairing tips, and recipes ranging from Pastrami Potato Hash to Braised Chicken Thighs with Green Olive Couscous from Charlie Palmer's Remington Camp Cooking Cookbook.
Each cooking demonstration is $75 per person for a 45-60 minute live Zoom demonstration with chef Palmer plus a Q&A and includes a copy of "Remington Camp Cooking" as well as a cocktail recipe or suggested wine pairing. Palmer has teamed up with friends in Sonoma and will also offer details to purchase the wine suggestions with a promo discount code.
Charlie Palmer Steak Napa will launch a special holiday tasting menu on Nov. 12 that will run daily through New Year's Eve. On Thanksgiving and Christmas Day, executive chef Francisco Lopez, Jr. will offer a slightly different tasting menu on each day.
Each menu will feature four courses for $85 with a wine pairing for an additional $25. Hours are 5 to 9 p.m. Thursday through Monday.
Starting Nov. 5, the Lounge at Charlie Palmer Steak will open at 3 p.m. with Happy Hour running from 3 to 7 p.m.
Charlie Palmer Steak is at the Archer Hotel on First Street in downtown Napa.
Thanksgiving at Carneros Resort
The Carneros Resort and Spa will serve a multi-course, family-style Thanksgiving dinner in a spacious, heated tent on the Carneros Courtyard. The menu includes classic Thanksgiving dishes with seasonal twists and ingredients from the resort's culinary garden. Thanksgiving dinner is offered on Thursday, Nov. 26, from noon to 6 p.m. The cost is $115 per adult and $42 for children ages 3-12. Reservations are required and can be made by emailing farm@carnerosresort.com or call 707-299-4880.
Boon Fly Café will present a three-course dinner of holiday classics with a regional twist, including a seasonally-inspired soup or salad to start, a plated entrée of Thanksgiving classics for the table to share and a choice of three desserts. The restaurant will be open for Thanksgiving dinner on Thursday, Nov. 26, from 3 to 9 p.m. The cost is $75 per adult and $32 per child (12 years and younger). A limited a la carte menu is also available. Reservations are required and can be made by emailing boonflycafe@carnerosresort.com or call 707-299-4872.
For those celebrating Thanksgiving at home, Carneros Resort & Spa Market is offering a Turkeys To-Go meal kit for $350. The package serves groups of 4 to 6 people and features classics like brined and roasted turkey breast with sage and rosemary sea salt, Caggiano sausage and herb bread stuffing (vegetarian available on request), Russet potato puree, turkey gravy, fall salad of mixed chicories with sliced Asian pear, two pies, and more. To order, call the Market at 707-299-4820 or email Pauline Stanley at pstanley@carnerosresort.com.
Coming up from Compline
Compline will offer Thanksgiving take-home dishes, including traditional sides, desserts, and wine suggestions. These will be available for pre-order two weeks prior to Thanksgiving and available for pick up the day before the holiday.
On Dec. 23, they will offer a Feast of the Seven Fishes multi-course dinner for family dining with a few options for children. Pricing will likely be $125 per adult, inclusive of food, tax, and tip. There will be a reduced price and some more straightforward dishes for children.
Compline Travel Packs are 4- and 6-wine packages that are sold with a travel theme. For instance, a "riverboat cruise" down the Loire River or the Rhine River, with an accompanying map and text from us. The idea is to satisfy a little travel wanderlust and to give folks a tour of a region culturally through wines made along the way. Pricing will range between $99-$250, depending on the region. These will be available through the website store and available for home delivery in Napa six days a week.
Holidays at Brix
Brix Napa Valley is now accepting dine-in reservations for the holidays and carry-out orders for Thanksgiving.
The Thanksgiving feast includes roasted garlic and parmesan soup, winter greens salad, and options of roasted heritage turkey breast with fall herb gravy, and mushroom and melted leek stuffing, braised short ribs, salmon or wild mushroom vol au vent.
The side dishes include Brussels sprouts, squash gratin, garlic whipped potatoes and green beans. Mini desserts to share include a pecan tartlet, pumpkin cheesecake and caramelized apple bread pudding.
Thanksgiving carry-out orders have to be placed by 3 p.m. on Nov. 19, and can be picked up on Wednesday, Nov. 25 between 2 and 7 p.m. Chef Cary Delbridge will include instructions for heating the dishes. Carry-out Thanksgiving dinners begin at $214 for parties of 2 to 8 guests.
For guests who are dining at Brix on Thanksgiving, Nov. 26th, dinner is $89 per person for adults, with an optional wine pairing available for $45 per person; $45 for children 12 and under and free for children 3 years old and younger. Thanksgiving dine-in reservations that are cancelled less than 72 hours in advance will incur a cancellation fee of $50 per person.
Brix will serve its daily menu on Christmas Eve. On Christmas Day, they'll welcome guests with a special prix fixe menu. Guests can ring in the New Year with Brix' daily menu on New Year's Eve – and on New Year's Day and Jan. 2, guests can bounce back with the famous Brix brunch menu at lunchtime ~ and their nightly dinner menu.
Brix, 7377 St Helena Highway, 707-944-2749, brix.com



Watch now: What will happen to outdoor dining in winter?