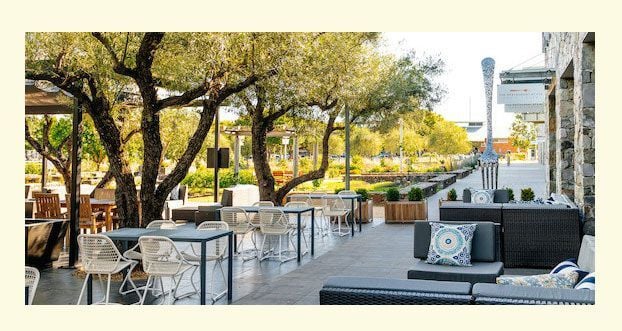 Angèle restaurant in Napa is offering a new take on take-out with its "Out the Blue Door" Wednesday Night Suppers. Rather than pick up a meal only to find that everything has gotten cold on the way home, with this plan, you pick up a kit planned and prepare by Chef de Cuisine-Phil Moratin and his team. You need only assemble it and reheat it, and you have dinner from Angèle.
The menu this week includes:
— Tenbrink Farms Heirloom Tomato Salad — Fromage Blanc, Summer Stone Fruit, Cucumbers, Marinated Shishito Peppers
— "Alsatian" Coq Au Vin Blanc — Braised Chicken with Hobbs Shore Bacon Lardons, Pearl Onions, Carrots, Button Mushrooms and Marble Potatoes
— "Strawberries and Cream" — Silverado Trail strawberries, Bellwether Farms Crème Fraïche, Brown Sugar
Angèle baguette and and housemade butter are also included.
Supper in the Grove
The CIA at Copia is serving a prix-fixe, family-style dinner each night from 5 to 9 p.m. under the olive trees in the gardens.
Monday-Wednesday, Aug. 3-5
Prix-Fixe: $48 per person
First course: Melon Salad With Prosciutto and Parmesan, Arugula, Frisée and Balsamic
Main: Grilled Branzino With Olives, Artichoke and Fennel Provençal and Tabbouleh
Dessert: Fresh Figs and Almond Crumble Baked in Phyllo with Mascarpone and Raspberries
Supplemental; Grilled Oysters with Verjus Butter
— Thursday-Sunday, Aug. 6–9
Prix-Fixe: $48 per person
First course: Corn and Lobster Chowder::
Main: Wood Fire Roasted BBQ-Rubbed Tri-Tip with Potato and Cucumber Salad and Garden Beans
Dessert: Peach and Blueberry Clafoutis with Bourbon Whipped Cream
Al fresco barbecue at Market
Market restaurant has set up an outdoor, socially distanced seating area at 1255 Oak St. in St. Helena at the Catholic School. Guests can order in advance or there to eat on site or take away. Call or text 707-260-5830.
The menu includes Chef Ernesto's ribs, tri tip, burgers and side dishes as well as seafood cocktail and salads.
This site is open on Monday and Thursday from 11 a.m. to 6 p.m., Friday, Saturday and Sunday to 7 p.m., and closed Tuesdays and Wednesdays.
A second outdoor site at Market restaurant, at 1347 Main St., St. Helena, is also open for outdoor dining on Monday and Thursday from 11:30 a.m. to 8 p.m., Friday and Saturday until 9 p.m., and Sunday brunch and lunch 10 a.m. to 3 p.m., with lunch until 5 p.m., and dinner 5 to 8 p.m. They are closed Tuesday and Wednesday for now.
Watch now: Contactless payment apps the help lower your risk of COVID-19 exposure