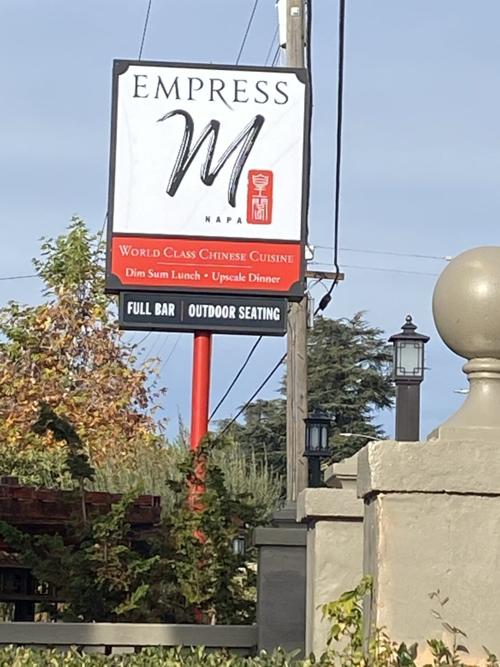 Here's a holiday gift to cheer us up: The opening of Empress M, a new restaurant serving dim sum and Chinese regional cuisine, has passed its local inspections and is hoping to be open by Monday, Dec. 21, for take-out.
"We will open in phases," said Thomas Megna, who has overseen the transformation from the long-time Olive Tree restaurant, which closed in 2019, to a much-anticipated Chinese restaurant in Napa.
The restaurant takes its name from the owner, Margaret Wong, of Sacramento, but it is designed as a tribute to another empress from the Tang Dynasty (618-907), considered the golden age of arts and culture in China. Empress Wu Zhao, (624-705) the only woman monarch in Chinese history, according to Megna, a theme park designer who has recently returned from living for six years in China.
The renovated restaurant is divided into four spaces, including an outdoor area that includes a gazebo for tea ceremonies, with tables surrounding the venerable olive tree from the former restaurant.
Inside, a hallway lined with murals "takes you into the Tang dynasty," Megna said.
On the right is a bar that celebrates Empress Wu's origins as a courtesan who rose to become the main consort of Emperor Gaozon. Megna said among the libations with an Asian twist they plan to serve is the potent baijiu, made from sorghum and other grains, as well as baijiu cocktails.
Across the hall is the VIP room, where a painting of the empress dominates one wall and celebrates her ascension to power after the emperor suffered a stroke. Reportedly a strong, well-educated and charismatic woman, she ruled from 690-705, including as regent for her sons.
The large main dining room is furnished with vibrant red chairs, red being popular color in Chinese culture, symbolizing luck, joy, and happiness.
Because of Covid-19 closures, Empress M will first offer limited take-out selections of the more extensive menu they will serve when they are able to be fully open.
They plan, however, are to serve dim sum, as well as dishes "that celebrate eight regional cuisines" from the rich and varied authentic Chinese cuisine. Among those listed on the menu are Peking Duck, Canton SO Scallops, Sichuan Spicy Fish, Hangzhou Longing Green Tea Shrimp, Xian Skewers and Mongolian Lamb Chops.
"There won't be orange chicken," Megna quipped. "There may be things people aren't familiar with."
Empress M is at 221 Silverado Trail, Napa, 707-927-5485.
WATCH NOW: HOLD ON AND STAY SAFE WHILE VACCINATIONS BEGIN
CHECK OUT SASHA PAULSEN'S FAVORITE STORIES FROM 2020
Sasha Paulsen's favorite Napa Valley Register stories from 2020
From the craziest year I've ever experienced, here are five stories that I remember in particular
Catch up on Napa County's top news stories of 2020
In case you missed it, here is a look at the top stories of 2020.
Sasha Paulsen is features editor at the Napa Valley Register and author of the novel, "Dancing on the Spider's Web." Contact her at spaulsen@napanews.com.