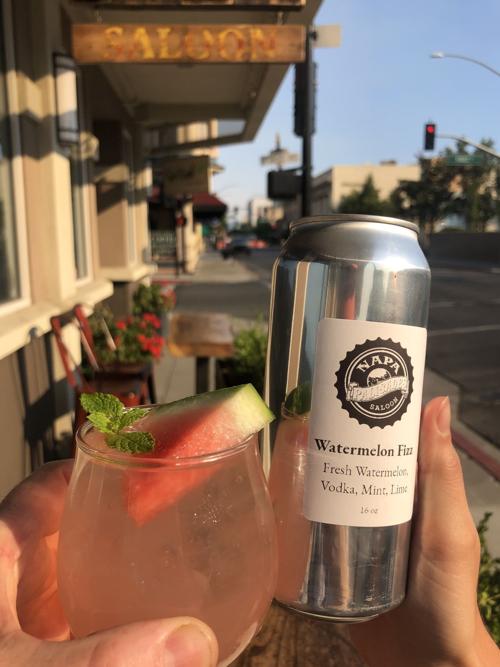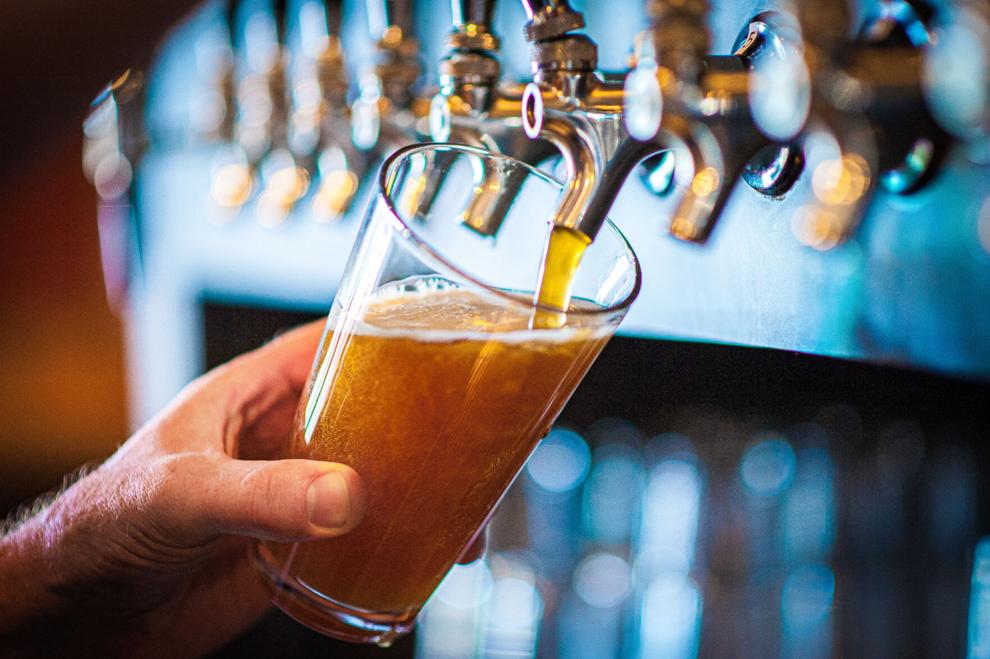 Chuck Meyer began his culinary and beverage career washing dishes at the Chart House in Westwood in Southern California.
Fast-forward to today. Meyer, the co-owner of Napa Palisades Beer Company and Saloon, is an entrepreneur, restauranteur, and self-proclaimed "beer guy in wine country."
Add risk-taker to the list when Meyer decided to open First and Franklin Marketplace, in the middle of a pandemic, with his wife, Carly Meyer, and Michael and Claire Holcomb.
First and Franklin Marketplace at 1331 First St. was originally scheduled to open March 16, during the week that Napa County and the state of California closed due to COVID-19.
Now, finally open, the marketplace is similar in concept to area predecessors like Soda Canyon Store and Oakville Grocery, but its downtown location is especially appealing to locals and tourists alike. "We thought downtown needed more simple and quick food options for workers and locals, as well as guests staying in nearby hotels. The same care goes into the food, but it is a faster in and out experience by design," Meyer said. "Also, we all LOVE deli sandwiches."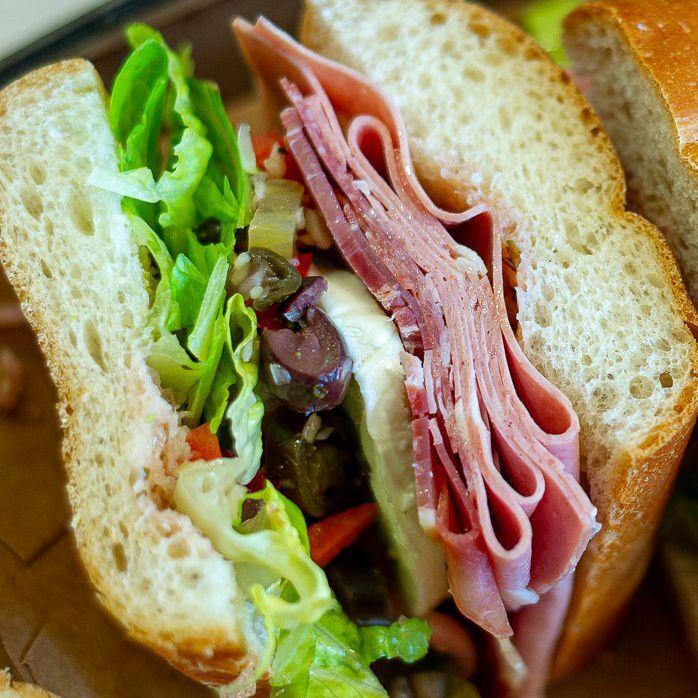 Chef Tim Brown, partner and executive chef at Napa Palisades Saloon, owned a deli in San Francisco for a decade. He combines this with his New York deli experience to create authentic deli sandwiches and salads for the Marketplace that customers may purchase at the window order for pickup, delivery using the marketplace's online ordering system.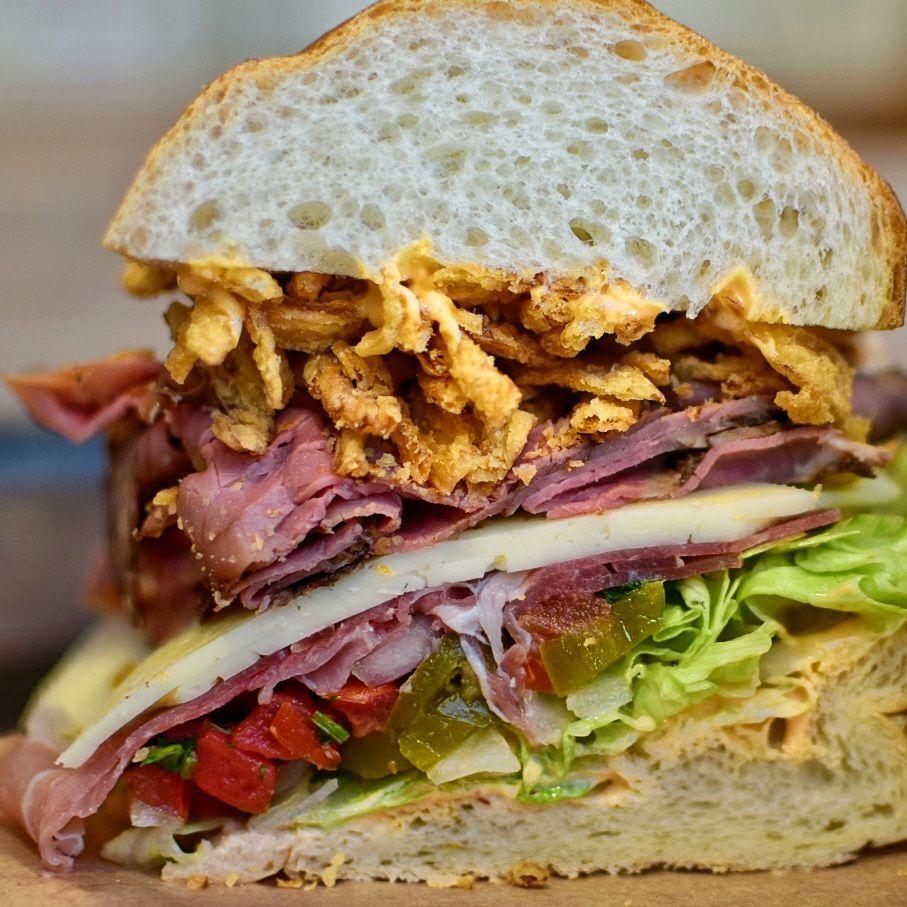 Two customer favorite sandwiches are Big Mike! ($13.95) – with prosciutto, mortadella, genoa salami, fresh mozzarella, lettuce, muffuletta spread, oil, and vinegar – and The Rattler ($13.95), a spicy combination of roast beef, prosciutto, Havarti, pico de gallo, lettuce, pickled jalapeños, crispy onions, and smoked chili mayonnaise.
First and Franklin also offers a Build Your Own sandwich (starting at $10.95), salads like the Cobb ($14.95) and the Tuna Bowl ($13.95), and sides such as macaroni and potato salad, street corn salad, and cherry pepper poppers ($3.95 small, $7.95 large). Vegan and gluten-free items and other dietary accommodations are also available.
A beer garden in Napa
Meanwhile, Meyer has also pivoted Napa Palisades Saloon to offer online ordering, pickup, delivery, and an outdoor beer garden for table service in a nicely shaded space behind the Napa Valley Opera House.
Beginning in 2014 as Napa Palisades Beer Company is co-owned by his wife Carly and partners, chef Tim Brown, manager Michael Olson, and manager Charlie Crebs.
Meyer recalled how the saloon came to fruition. "There was a feeling that breweries were popping up all over the U.S. and that Napa was a little behind the curve. So, we started there."
Once the space at 1000 Main Street in downtown Napa became available, the company seized it.
"Napa Palisades Saloon was born of a desire to sell some beer and make a local spot that felt like your favorite pub. We decided that we needed a place that we could grab a cool pint and watch a game while eating some great food that stands up to the best the Valley has to offer," he said.
The gastropub offers beer, cocktails, wine (all in sealed cans and bottles for off-premise consumption), appetizers, snacks, sides, sandwiches, salads, and desserts.
It is the beer – plus the culinary team's commitment to serving fresh, pub-style food in an unpretentious, yet delicious way – that sets Napa Palisades Saloon apart from other restaurants.
"I have always been an advocate of fresh food and no processed ingredients, so we actually use a lot of the same purveyors as many of the more refined restaurants in town." said Meyer.
Under the helm of Brown, and new chef de cuisine, J.C. Luna-Morales, Napa Palisades offers a doozy of a menu described as "farm-to-face food, Napa pub grub style."
Brown, a classically trained chef originally from New York, has created innovative twists on comfort and pub food, which he describes as "West Coast style with an East Coast soul." Luna-Morales, a Napa native, has been with Napa Palisades since its inception.
"He was just out of high school and told me he wanted to be a chef. I promised his parents that I would try to talk him out of it, but here we are six years later. He has been with us since Day 1. In fact, he painted the Saloon when we were building it," Meyer said.
While Napa Palisades has a casual vibe and is a lively part of the Napa Valley's beer culture, Meyer reiterated the food is equally important. "I think the big surprise to many who come to our place is how good the food is. They think we are a beer joint that has food. Granted, the atmosphere is casual to say the least, but we do take the food seriously. It is not an afterthought."
A few of the specialties are Brown's New York-inspired Buffalo wings ($11.95), chorizo fries ($11.95), and the Reuben Croquettes ($11.95), which Meyer described as "a Rueben sandwich with corned beef, sauerkraut, Swiss cheese, and Thousand Island dressing smashed into a ball and fried."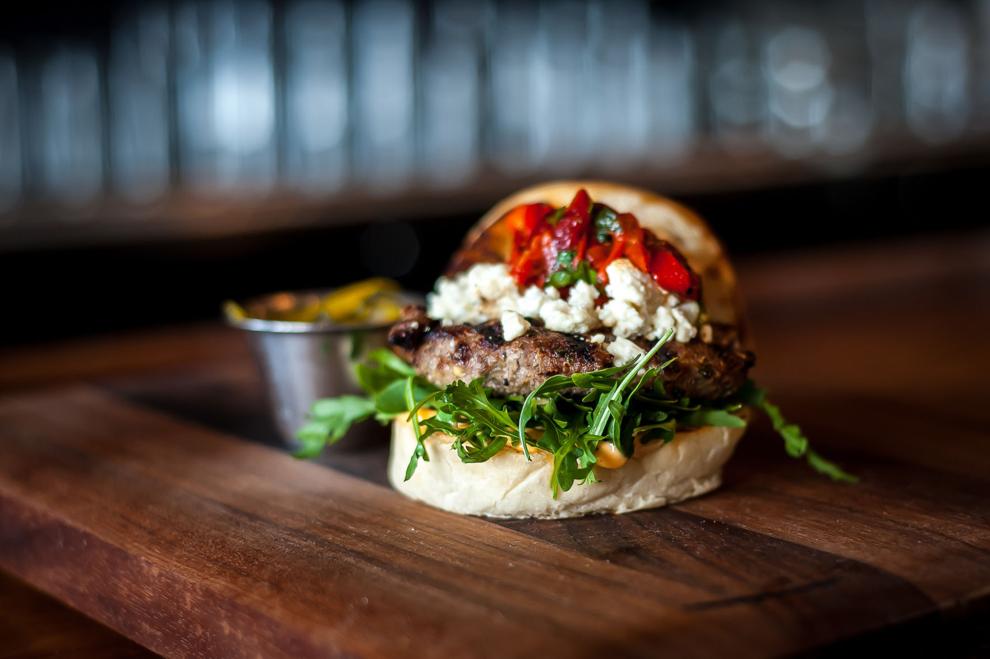 Other popular menu items include two burgers – the Saloon Burger ($13.95) with white cheddar, stout-braised onions, house made Grandma Brown's pickles, and "The Sauce" – and a lamb burger ($16.95), topped with feta cheese, roasted red peppers, wild arugula, and Sambal mayonnaise.
For dessert, look no further than Brown's take on Tiramisu called Beer-A-Misu ($10.95) – a melt-in-your mouth creation of Campfire Stout-soaked lady fingers, mascarpone, whipped cream, and cocoa.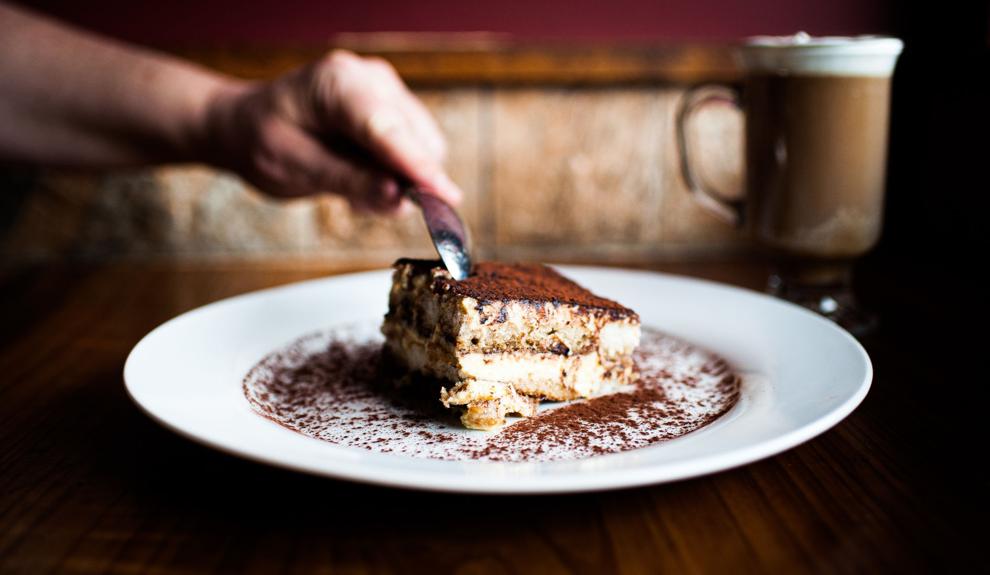 Or try the Peach Cobbler Cookie ($11.95), an oatmeal cookie with spiced peach jam, honey-vanilla ice cream (also made in house), and bourbon caramel. Napa Palisades also offers alternative diet options such as gluten-free, dairy-free, and vegan choices, and will make accommodations and substitutions for food allergies and sensitivities.
The Napa Palisades beers are also top notch, and include customer favorites like the citrusy, yet not too hoppy Loco IPA and the Pacific Pilsner (both $7), which Meyer describes as having "a pleasant honeysuckle finish."
Regarding Napa Palisades beer program and future expansion, Meyer said, "We make our own beer and we are working with Tannery Bend on a collaborative effort to build a local, downtown adjacent brewery that supports both projects. These are trying times. Friends need to come together and help each other for the betterment of the community. That is one thing that has always been really cool about the beer industry. We have always been more prone to working together than many industries."
Of paramount importance at both First and Franklin Marketplace and Napa Palisades Saloon is that everyone enjoys a comfortable dining experience, which is why both offer such comprehensive pickup and delivery options in addition to outdoor dining. "We are focused upon safety and quality, every step of the way, to ensure that both customers and employees are kept safe," Meyer said.
Flat-Iron Steak with Spicy Smoked Butter
4 6-ounce flat iron steaks
1/4 cup of chopped garlic
Place butter, garlic, chipotle, lemon juice, paprika, salt, and onion in the food processor. Blend until fully processed and the butter turns red.
Grill steak(s) to your liking. Rest for 5 minutes. As steak rests, generously scoop spicy butter on top and let it melt over
the hot steak. When butter has melted, thinly slice steak, and serve.
First and Franklin Marketplace is open Monday through Saturday at 1331 First Street in Napa. Orders can be placed online at FirstandFranklin.com, by calling (707) 252-1000, or on site. Napa Palisades Saloon is open Wednesday through Sunday at 1000 Main Street. Orders can be placed online at NapaPalisades.com, by calling 707-492 3399, or on site.
Watch Now: Dining at Napa Palisades Saloon