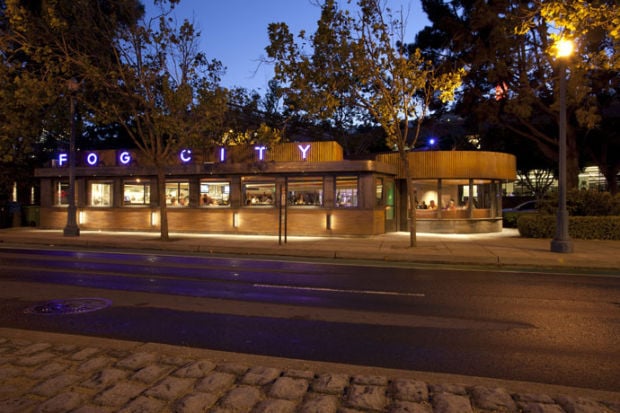 In the early 1980s, Napa Valley wasn't the food mecca that it is today.
Sure, there were a respectable number of wineries here bottling some pretty tasty wines. But if you wanted food to go along with the latest releases from Robert Mondavi, Beaulieu, Louis Martini, Stony Hill and a few young upstarts like Warren Winiarski and John Shafer, you had but a handful of options.
However, in 1982 a trio of Midwestern transplants came to town, after sharpening their knives and talents in San Francisco. Cindy Pawlcyn, Bill Higgins and Bill Upson took a gamble that, to them, would eventually reward more than a Las Vegas payout. The trio teamed up to open Mustards Grill, a Napa Valley culinary landmark that's still packin' 'em in more than three decades later.
The partnership has changed over the years, with Pawlcyn withdrawing to concentrate on a few of her own properties here. She wound up with Mustards Grill while her partners continue to run and expand on their Real Restaurants domain. That enterprise includes Tra Vigne, Buckeye Roadhouse, Zero Zero, Picco, Pizzeria Picco and more.
When that partnership was new, its young and savvy principals believed the world was their oyster. OK — if not the world, then at least Northern California. Riding high on the success of Mustards Grill, they launched Fog City Diner on San Francisco's Embarcadero in 1985. It was an immediate hit with foodies. With its 1930s dining car aesthetic, Fog City Diner remained a hot spot for decades.
Last year, partners Higgins and Upson, along with a newer member of the Real Restaurants clan, chef/partner Bruce Hill, realized "the concept had run its course," Hill said before dinner service began on a recent evening at the rebranded Fog City, with its new dazzling waterfront landscape.
Fog City Diner "was a victim of its own success," Hill said. "We loved the space, but we recognized it was time for it to have a complete new life." The partners closed the restaurant last March and spent half a year giving the historic corner of Embarcadero and Battery a telling makeover.
Gone is the diner look as well as "Diner" in the name. While the look of the latest incarnation is easily embraced, it may take some time for old-timers to drop the third word from the restaurant's vocabulary.
"We took the building down to the bare wood — even tore up some of the floor," Hill related.
A history buff, Hill traces his own roots to early-20th century San Francisco, when his great-grandfather, Arthur Gaebel, brought his family to California. "He was an inventor — mostly photography equipment, including silver plating," Hill noted. "He also founded a ruler company ... you can still buy a Gaebel ruler today."
Hill related that the Fog City site was once a transportation hub, then a place that fed sailors and railroadmen alike. Over the years, it also served as a popular watering hole that went by various names, including Bottom of the Mark and Mildred Pierce.
Drawing on the property's historical use as a transport hub, Bay Area architect Michael Guthrie replaced the chrome paneling and black-and-white checkered tile with weathering steel evocative of shipping vessels, along with brick reminiscent of the city's nearby historic Ice House district.
No longer divided, the well-known dining space has been opened up to offer diners spectacular views of San Francisco Bay and the Bay Bridge. The Embarcadero is a lot different today than it was in 1985 — the overhead freeway gone, now the America's Cup amphitheater coming down, replaced with a new cruise ship terminal.
Fog City 2013 offers 160 seats, 30 of them surrounding a V-shaped center bar. It features dark wooden beams, terrazzo floors, plush banquettes and lively communal tables. At one end is a new wood-fired oven and a 7-foot mesquite wood-fired grill. If you ask nicely, there's a chance the hosts will let you sit at one of the four dining spots overlooking the grill so you can check out the hardworking A-team of grillmeisters. Be forewarned, though, you have to enjoy the heat.
This is not the first time Bruce Hill is cooking for Fog City diners. Now executive chef and partner, Hill joined the Real Restaurants group in 2000. "For the first year, I ran the kitchen at Fog City Diner," he recalled. "I have an emotional tie to this restaurant. Bill Higgins and I were here on 9/11." He also serves as executive chef for the partnership's Bix restaurant in North Beach. He also opened Picco and Pizzeria Picco in Marin County and, three years ago, Zero Zero in San Francisco.
A fan of his mother's cooking, Hill said he was inspired to pursue a culinary career while on a vacation to Switzerland with his grandmother at age 15. "Every time we stopped somewhere, I met apprentice chefs and waiters who were so excited about what they were doing. It rubbed off on me." When making a career decision, Hill realized "people have to eat ... so I'll always have a paycheck."
He went to San Francisco in the mid-1980s to work with Jeremiah Tower at Stars and was a member of Michael Mina's crew opening Aqua. He manned the stoves at Nori Yoshida's Oritalia on Fillmore from 1993 to 1997 and then helped transform the Waterfront Restaurant before crossing the Embarcadero to join Real Restaurants.
Hill said the new Fog City menu is a "collaborative effort with chef de cuisine Erik Lowe — actually Erik drives the menu. It's the food we love to eat ... the food and flavors we love with — ethnic influences. We're preparing dishes that are great to share."
First up are a half-dozen snacks ideal for the bar crowd, all offered at six bucks. There's creamy, savory deviled eggs topped with chopped bacon, blistered peppers with Korean sea salt, chilled dill pickles, paprika-dusted Duchilly hazelnuts, deep-fried beer-battered long beans with ponzu sauce, and the runaway hit, hand-cut furikake fries with garlic aioli.
The plates to share are listed in three categories:
• Vegetables ($10-$17) — the last of the Early Girl tomatoes with cucumbers, torn basil, chevre flatbread croutons and an olive vinaigrette; a very tasty grilled Mission fig salad with prosciutto, Point Reyes blue cheese and walnut gremolata; spicy fire-seared pole beans with cherry tomatoes and Thai Bird chilies; oven-roasted baby carrots with black garlic mole, almonds and Cotija cheese; comforting wood-grilled tomato soup with stracciatella and basil; oven-roasted shelling beans with smoky tomato butter; and a king oyster mushroom and pimiento stew.
• Seafood ($14-$28) — chilled oysters with chef Lowe's barrel-aged hot sauce; addictive hamachi crudo with pickled watermelon; pickled Gulf shrimp with fennel and sweet onion; smoked king salmon with chilled beets and creme fraiche; succulent wood oven-roasted clams with sweet corn, cherry tomatoes and padrons; wood-grilled local albacore with shell beans and Hatch, N.M., chilies; and a delectable alder-planked half-trout with roasted fingerlings, grilled lemon and Arbequina olives — a treat for a hungry diner or an ideal dish for two to share.
• Meat ($14-$38) — there'll always be a top-flight burger on the menu, here topped with Fog City's own American cheese and smoked tomato aioli; as well as a memorable roast chicken, and this time around it's a whole chicken served in a Le Creuset pan with charred Brentwood corn and crispy potatoes; grilled beef tongue, chanterelle and roasted turnip salad; roasted duck leg with marbled potatoes; grilled spiced lamb skewers with tomato and red onion; lip-smacking Berkshire pork cheeks and bacon braised Romano beans over soft polenta; and a grilled Brandt beef rib-eye with green onion Yorkshire pudding cooked in the wood oven.
When it comes time for dessert, don't miss the unique opportunity to have a couple of French crullers that are made to order by pastry chef Aaron Toensing at the doughnut station built right into the kitchen. They are meant to be shared. So, too, is the Fog City frozen custard, something popular on the East Coast that Hill has brought to the City by the Bay. There are several toppings that go with the custard. I'd recommend the egg yolk caramel, which is just egg yolks and caramelized sugar. Yum!
The bar features a number of signature cocktails. There are 16 wines on tap as well as an extensive wine list.
After a couple of meals there recently, I was more than ready to welcome Fog City back to the list of Top 10 places to dine in San Francisco.
The reopening of Fog City is really special for general manager Tyler Higgins because this is the first family restaurant he remembers. He's the son of founding partner Bill Higgins. His staff in the front of the house is knowledgeable, helpful and, frankly, ingratiating. And, judging by the exceptional dishes being prepared and served up by the kitchen, there are no slouches among the culinary team.
Located at 1300 Battery at the Embarcadero, Fog City is open from 11:30 a.m. to 10 p.m. Sunday through Thursday, and 11:30 a.m. to 11 p.m. Friday and Saturday. Cocktails are available all day, but the kitchen is closed between 2:30 and 5:30 on weekdays. For reservations, call 415-982-2000.