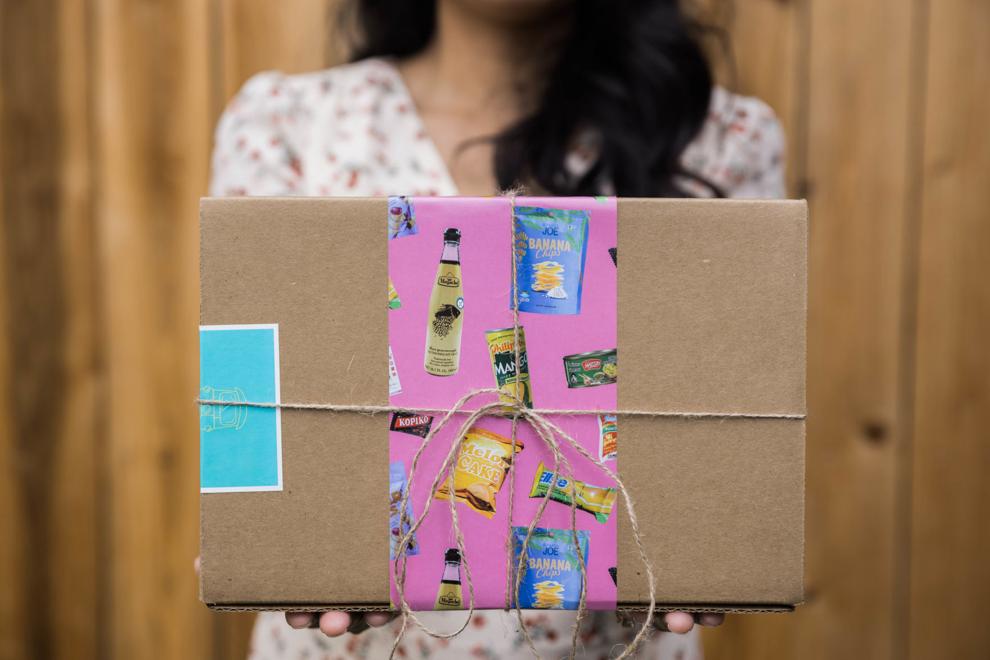 One of the more interesting aspects of this job as editor of the food pages, is being invited to sample new products. During this pandemic year, the arrival of boxes at my door has certainly been more entertaining than one more Zoom meeting.
The contents have ranged from bottled camels' milk (probably best enjoyed in the desert) to Distel's Turkey Meatloaf in a sous vide bag (tasty; you can find it at Whole Foods), from barbecued jackfruit (well, it's virtuous) to a new brand of nut butters (Once Again, worth seeking out.)
Support local news coverage and the people who report it by subscribing to the Napa Valley Register.
Some, however, have emerged as distinct favorites. Delivered to your door, a Swiss Roll from Saigon, Cuban-style empanadas, and tacos from La Toque all underscore the magical power of food to make connections, far and near.
Tuk Tuk Box
A Tuk Tuk Box delivers a fun and fascinating assortment of Southeast Asian snacks, drinks, and treats that you might find in Bangkok or Saigon, were you able to go there. Noodle-flavored chips, mango cream-filled saltine crackers, Thai seaweed rolls — in some cases the packaging has a few words in English to go on but in many it's a picture and writing in a foreign language. Adventure awaits.
Not only does ordering a box help alleviate wanderlust, but it also gives back under the novel plan of Beatrice Aurelio-Saguin, a graduate of Vintage High School in Napa, and Christy Innouvong-Thornton. Both daughters of Southeast Asian immigrants, they co-founded Tuk Tuk Box to create a cross-cultural bridge and foster social change through food.
"Our goal is to give people in the Asian community a chance to reconnect with their favorite snacks and food from childhood while being an entry point for people who may not know much about the diversity in Southeast Asian cuisine," says Innouvong-Thornton. "Snacks are a friendly way to engage with one another. Each of our boxes represents a unique assortment so people can try a variety of flavor combinations while also making an impact."
Aruelio-Sanguin, who has a masters degree in public health, added, "Working on health initiatives, oftentimes, I'd find myself being the only Southeast Asian representation, if any, in these meetings Too often Southeast Asians — Thai, Vietnamese, Filipino, Malaysian, and many more — are left out of the conversation.
"So I had to find another way to approach advocating for our community. Food is a universal language and I always thought if people don't know our food- how will they know the diaspora and the struggles?"
Ten percent of sales of Tuk Tuk boxes support Courageous Kitchen, a 501c# Innouvong-Thornton founded to serve asylum-seekers and refugee families in Thailand and San Diego.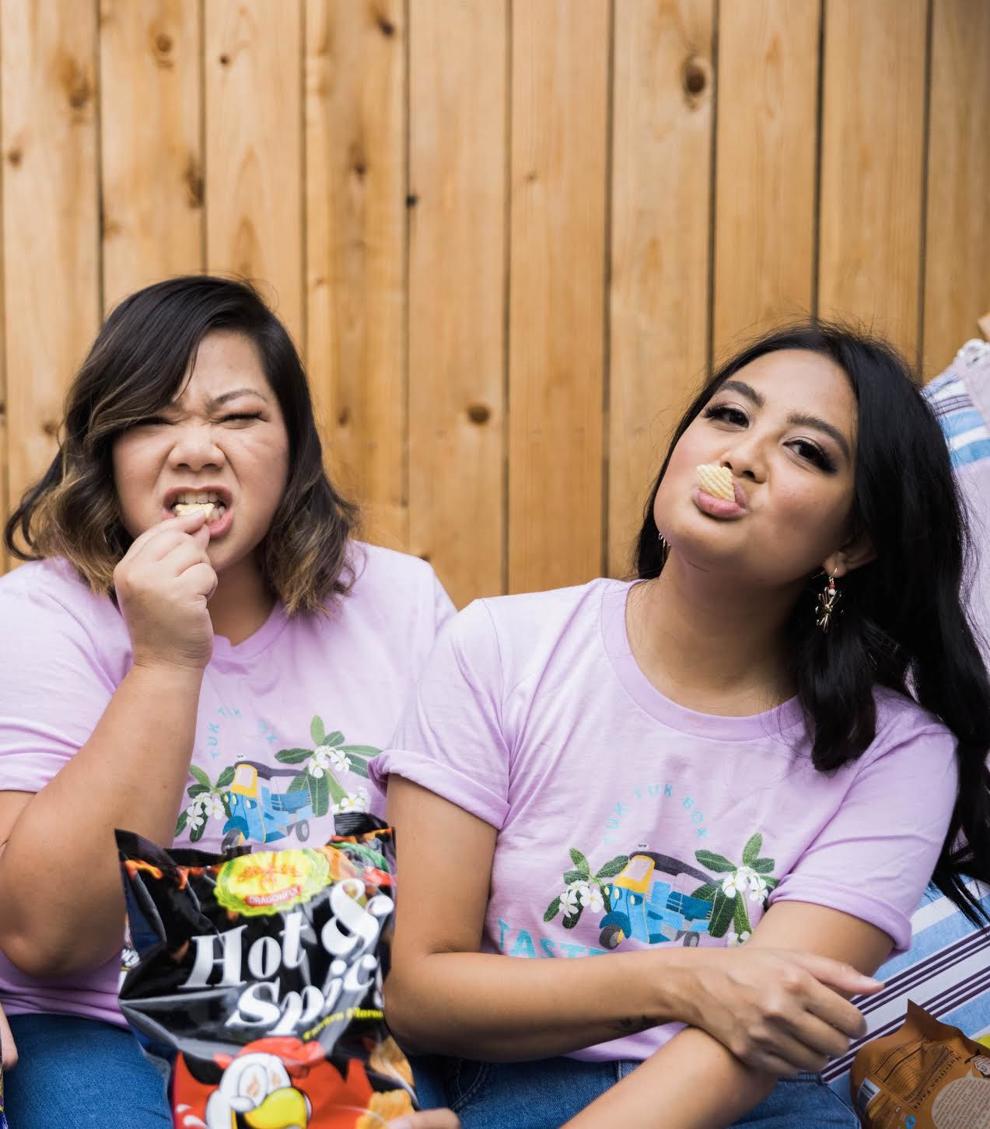 "It started as English lessons in her apartment, which eventually led to pop-ups around the city, and later cooking classes," Aruelio-Sanguin said. "She also led street food and market tours and classes to generate funds for the organization. I met Christy as a long-time volunteer during grad school."
Fast forward to 2020 and the COVID-19 pandemic. "We had to figure out a sustainable way to generate funds for the families we serve and continue to bring education and awareness of our communities," Aruelio-Sanguin said. "For years, Christy had sent out cooking kits and ingredients to people in my network, but with the shutdown, her regular clients didn't have access to the Southeast Asian food they longed for."
In addition to the pandemic's disproportionate impact on communities of color, the pandemic fueled the rise of anti-Asian sentiment, she noted.
They came up with the idea of a subscription box for those who were missing the classes and cuisine and as a way connecting all of the pieces: food, Southeast Asia, and social impact — "building bridges economically, culturally, and socially through snacking and storytelling."
Each box contains full-sized and sample-size snacks and a drink, in addition to a Southeast Asian feature story or surprise gift. A Southeast Asian chef or small business owner is featured in each box, helping to support small businesses hit hardest by the pandemic.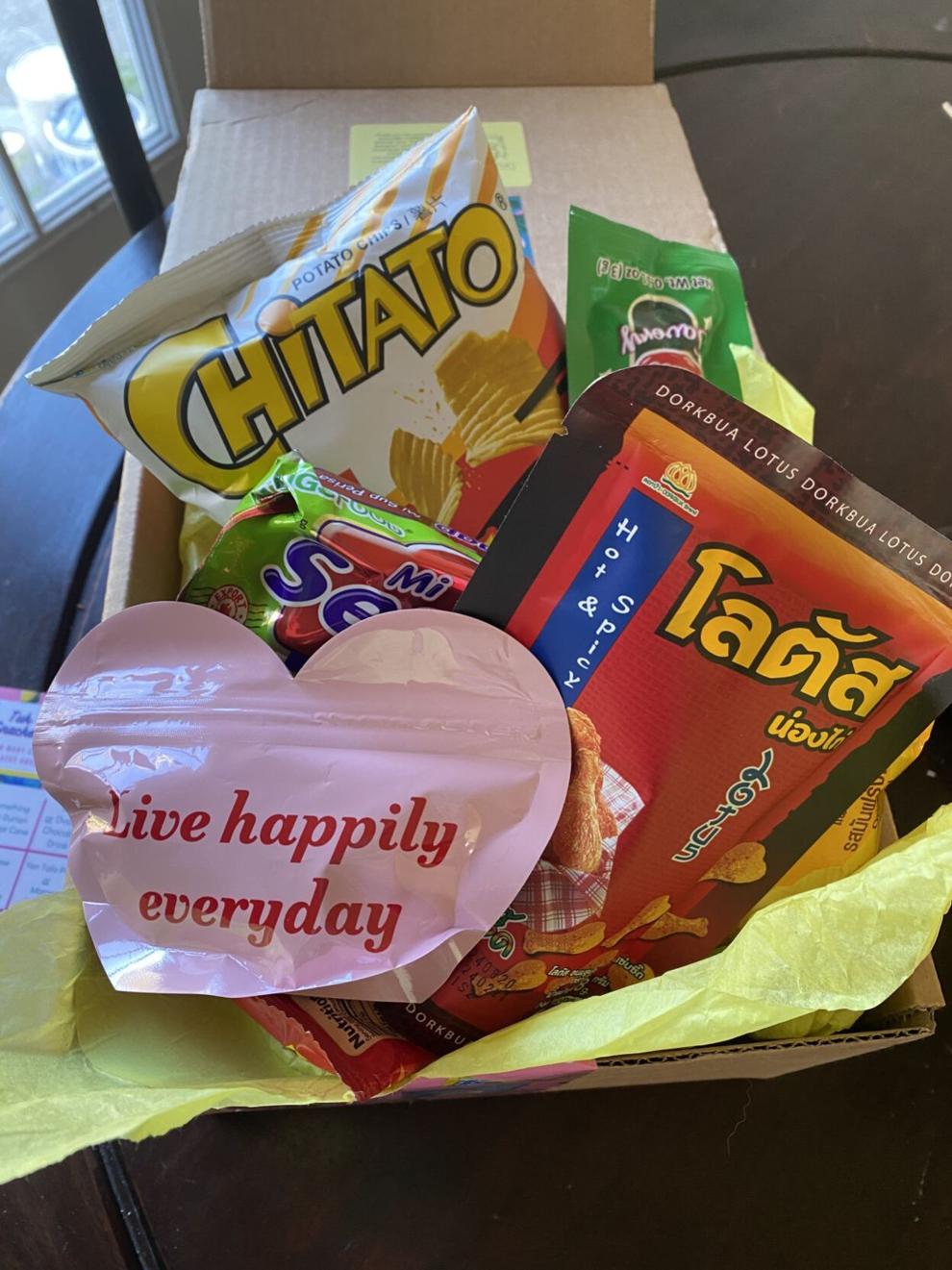 You can order one box or subscribe to a series of deliveries. They have three levels: A Lill' Funk (a mix of sweet, salty and spicy); Funky Fresh, a little more adventurous; and Funkylicious (pull out the stops).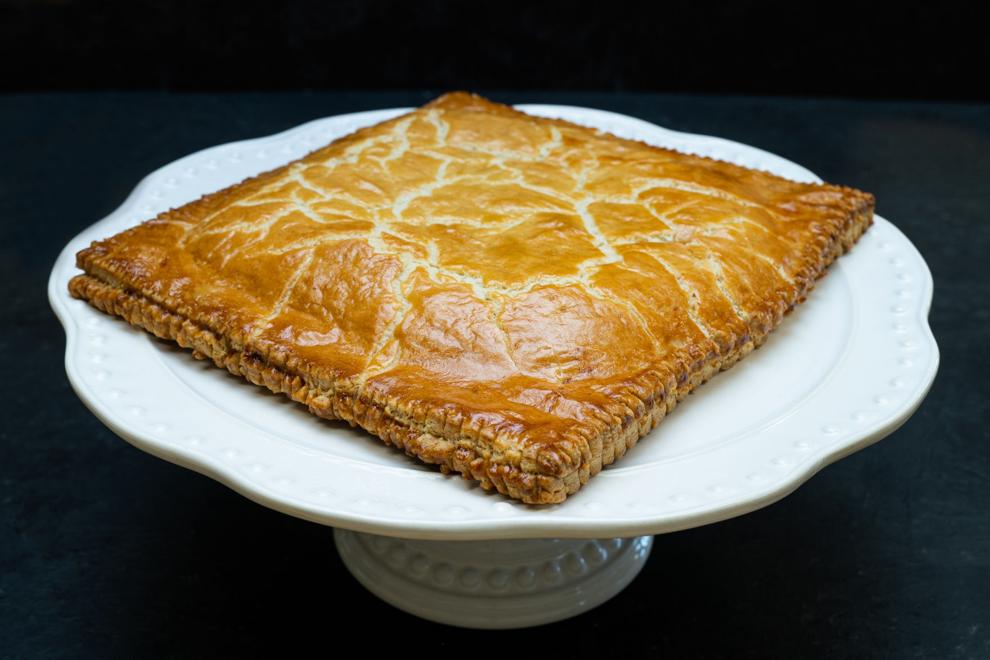 I learned about Porto's Bakery and Cafe, when a friend from Los Angeles turned up one winter with a scrumptious Three Kings Cake. Porto Bakery and Cafe, he said, belongs on a list of important places to visit while in LA.
When Rosa Porto and her family immigrated from Cuba to Los Angeles, she began baking the fabulous cakes she had been known for in her home. In 1976, she opened Porto's Bakery on Sunset Boulevard. In addition to her cakes, she sold other sweet items, like her much-admired refugiados (guava and cheese strudels), as well as savory creations including empanadas, her signature cheese rolls, potato rolls, and ham or chicken and cheese croquettes.
So popular were her products, the company expanded to six Southern California locations. After Rosa died in 2019, her children have continued the business and expanded it to shipping nationwide for Porto's Bake at Home. This meant that during a year when even traveling to LA was not advisable, it was possible to order Rosa's delectable creations delivered to your home safely packaged and ready to pop into the oven.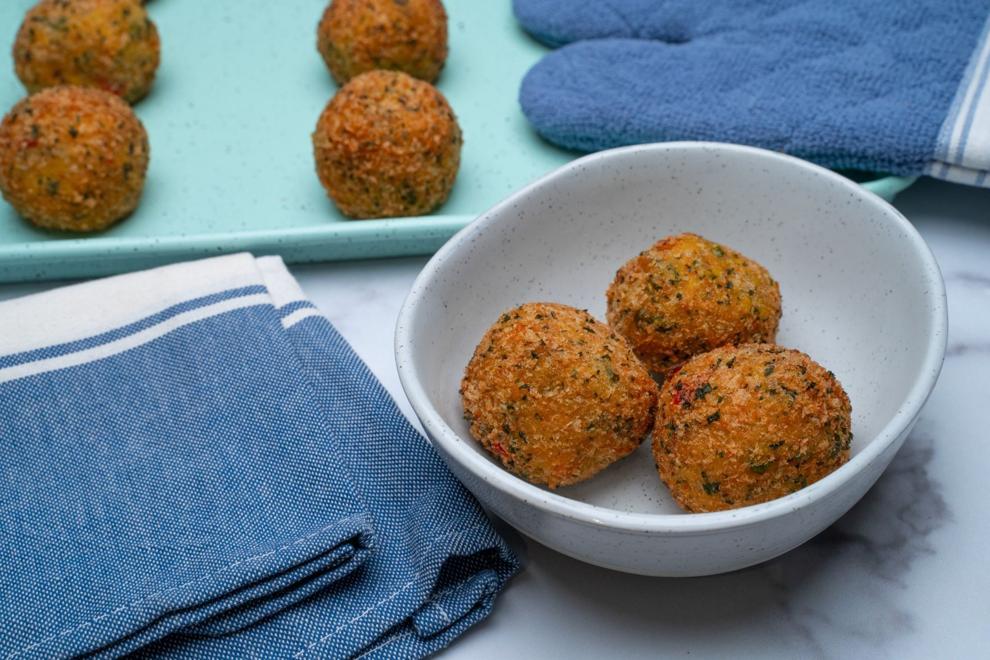 First we tried a Pastel de Pollo, chicken pie, a generous rectangle of flavorful chicken filling in an equally savory, feather-light pastry. They also sent over Ham and Cheese Croquettes, with a creamy filling encased in crispy shell. This inspired us to try the chicken empanadas. They were all delicious, fresh-tasting and authentic like your grandmother might have made for you, if she happened to be an extremely fine Cuban cook.
You can also order the sweets, including dulce de leche cookies, guava strudel, and a cream and berries cake.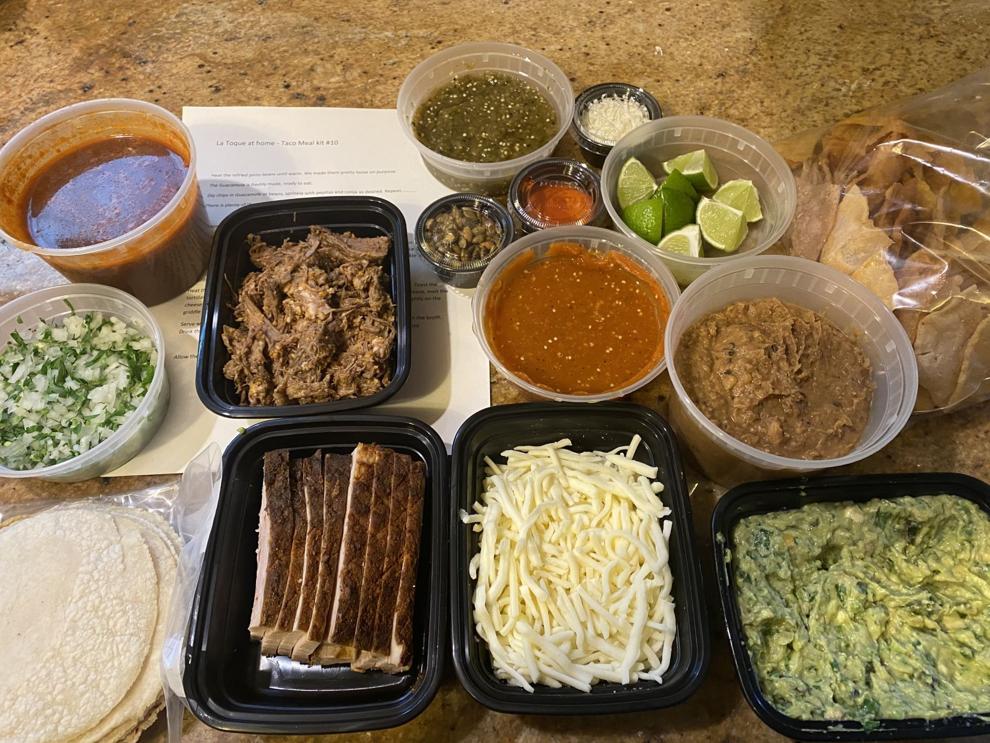 This one was my daughter's idea. The shutdown has inspired her to learn to cook, Ariel connected with Ken Frank from Napa's Michelin-star La Toque restaurant to try one of his dinners to go. Frank has been doing all kinds of things to keep himself and his staff working during the shutdowns, and one of his inspired ideas was to create kits for people to prepare a La Toque quality meal at home. Even as the restaurants in Napa have been reopening, he's kept (for the time being) coming up with weekly menus.
Thus, Ariel went to La Toque and came home with a shopping bag filled with the ingredients to make Tacos a la Toque, one of the choices that week.
This is the way to cook: as if you have an invisible sous chef who has done everything including grate the cheese and chop a garnish of onion and cilantro.
It's an entire meal, this one beginning with excellent freshly-made guacamole and chips. It included refried beans and the ingredients to assemble two kinds of tacos, pork belly with ancho chile and quesabirria, ("This will be messy but it's worth it," the preparation notes mention.). To make the latter, Ariel heated a red chile oil (also included) on a griddle to toast the handmade tortillas, filled them with shredded beef and cheese, and broiled them. These came with a dipping sauce, and chile de arbol sauce.
For the pork belly tacos, you sauteed the meat, and then toasted the tortillas in the resulting fat. These came with tomatillo salsa, limes (cut), and pepitas for garnish, along with the onion/cilantro mix.
They were definitely elevated tacos. To wrap up the meal, Frank included house-made dulce de leche ice cream.
Check out the weekly menu for La Toque at home at latoque.com.
All in all, these are three choices for a bit of adventure at home.
WATCH NOW: DATE NIGHTS HAVE CHANGED SINCE THE PANDEMIC
CHECK OUT THE WEEK IN CARTOONS
The week in cartoons
Tim Campbell cartoon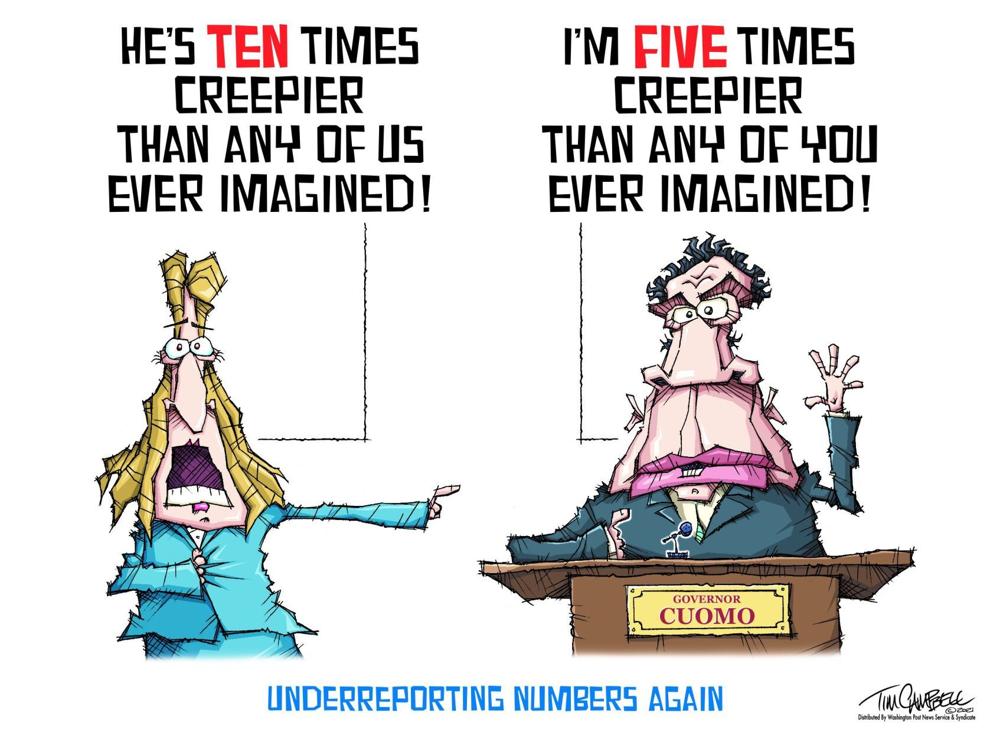 Jeff Danziger cartoon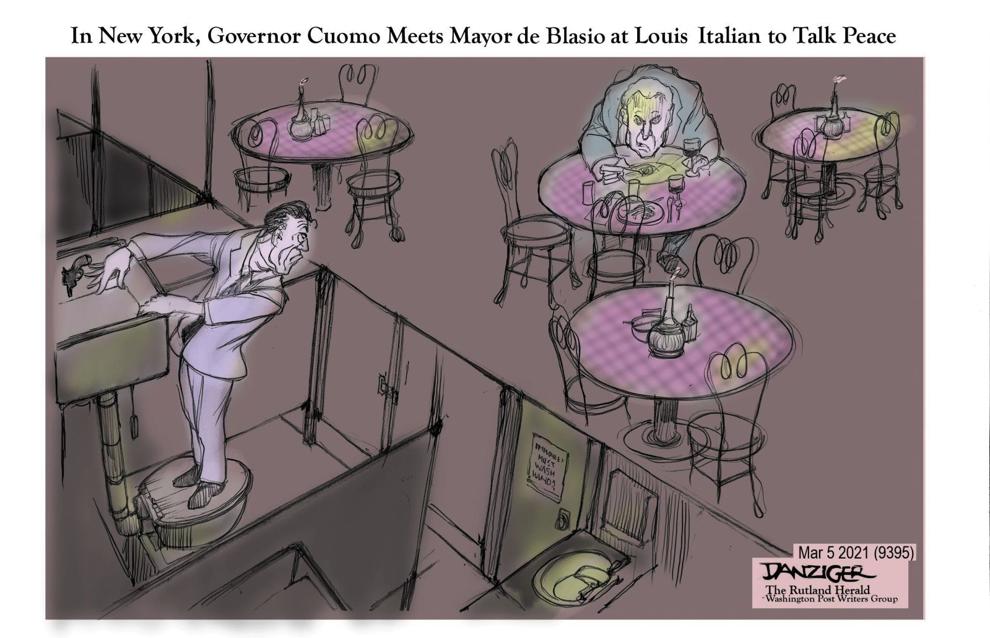 Jack Ohman editorial cartoon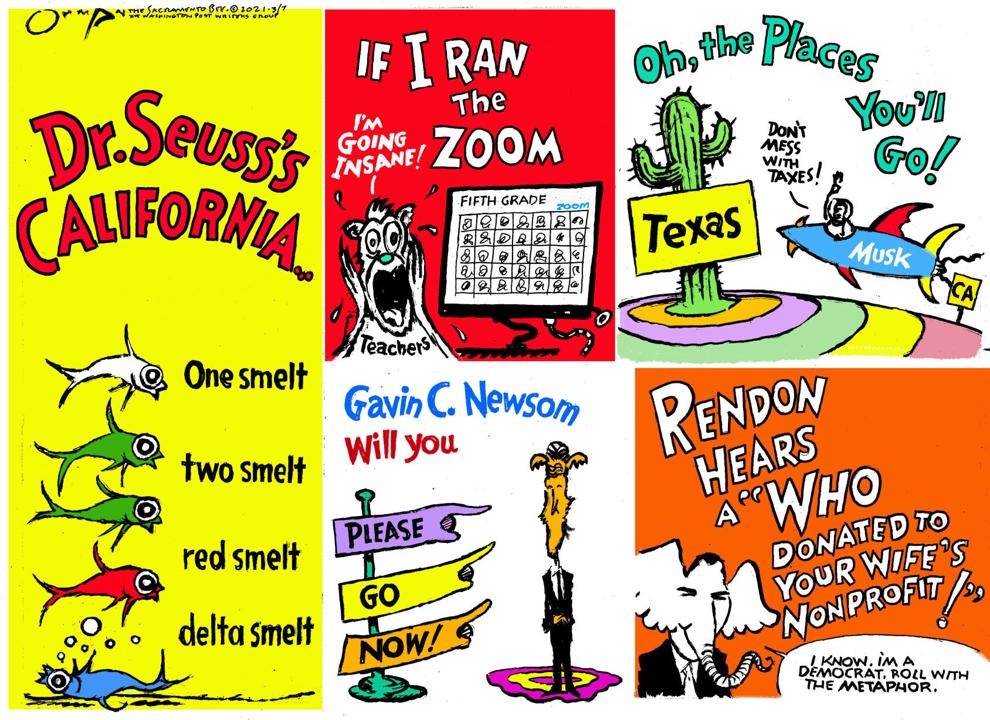 Clay Bennett cartoon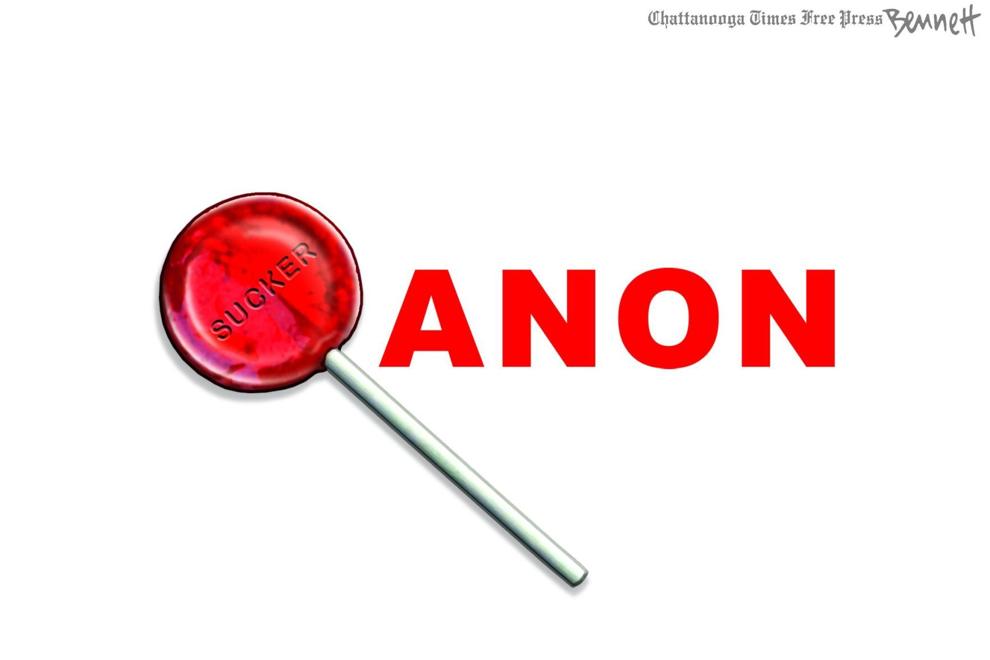 Lisa Benson cartoon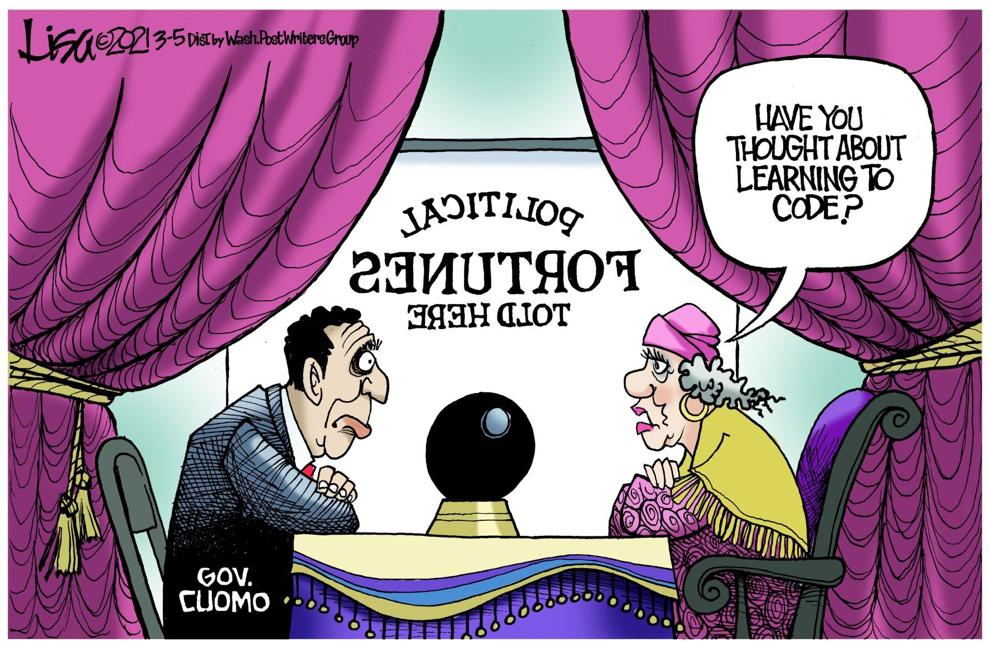 Clay Bennett cartoon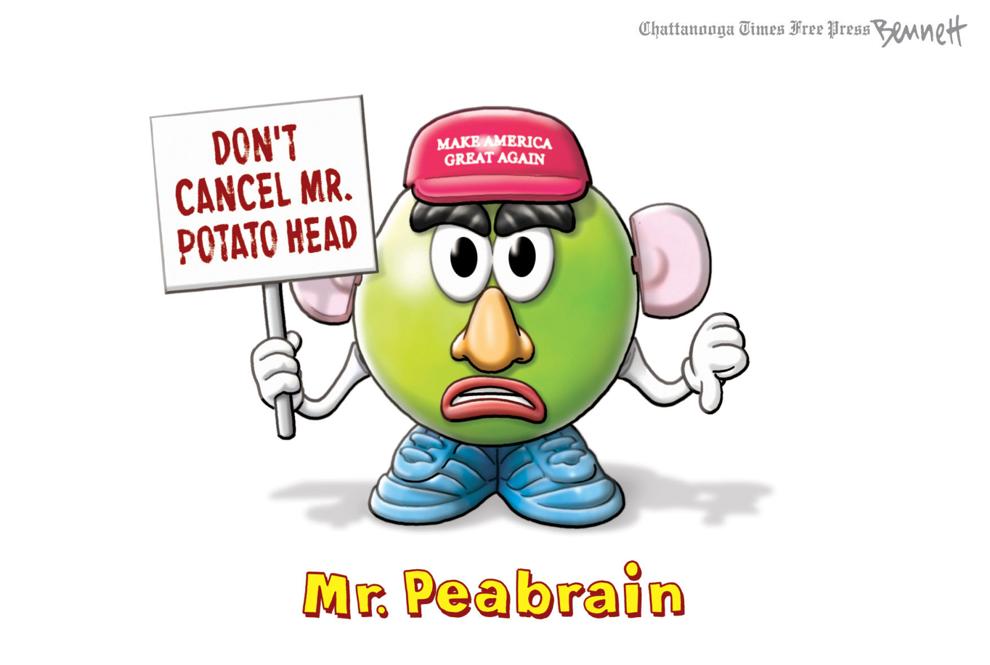 Jack Ohman, editorial cartoon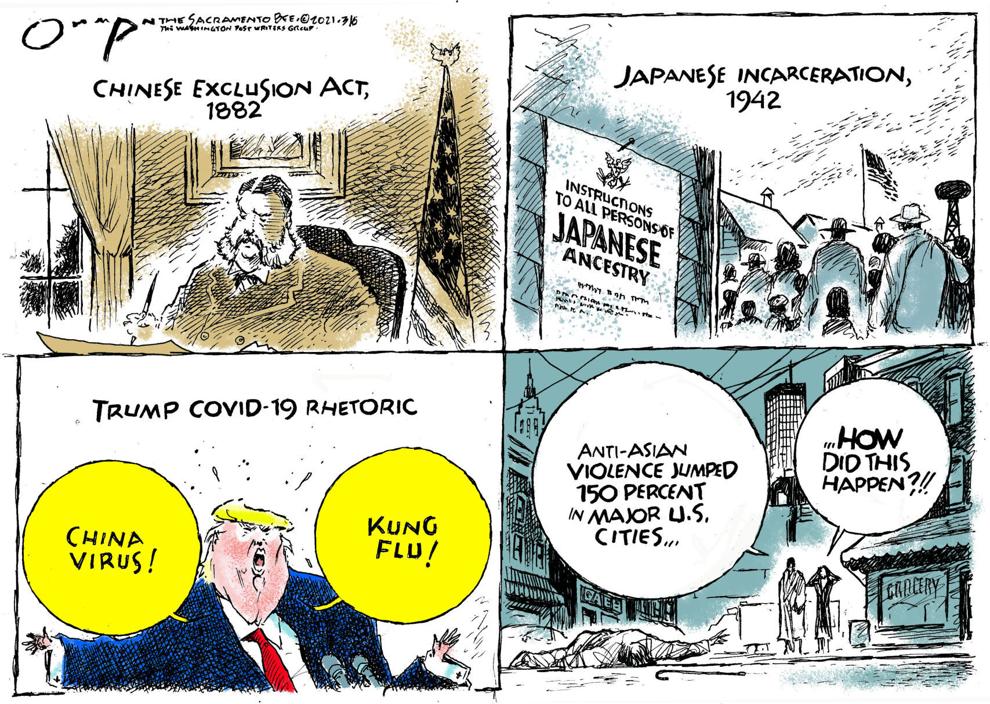 Mike Lester cartoon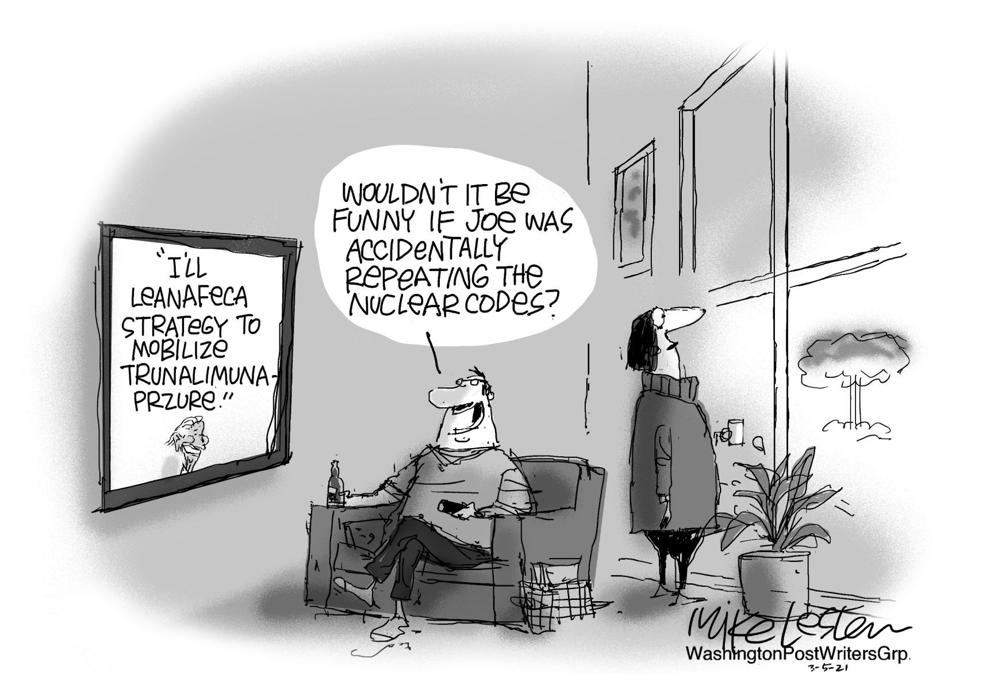 Tim Campbell cartoon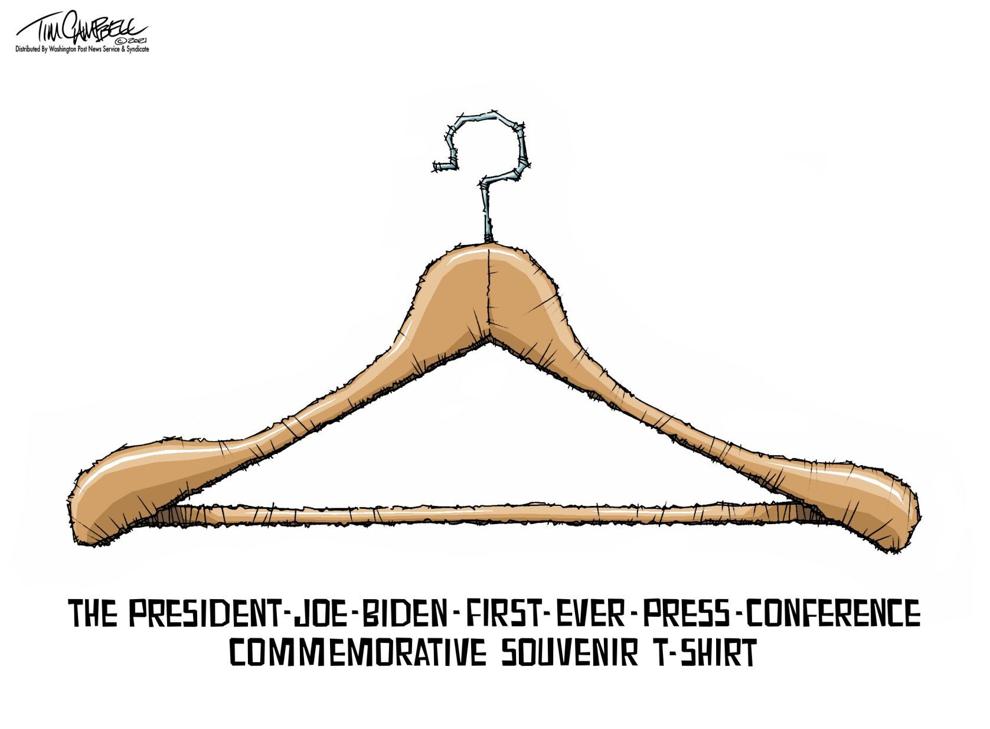 Jeff Danziger cartoon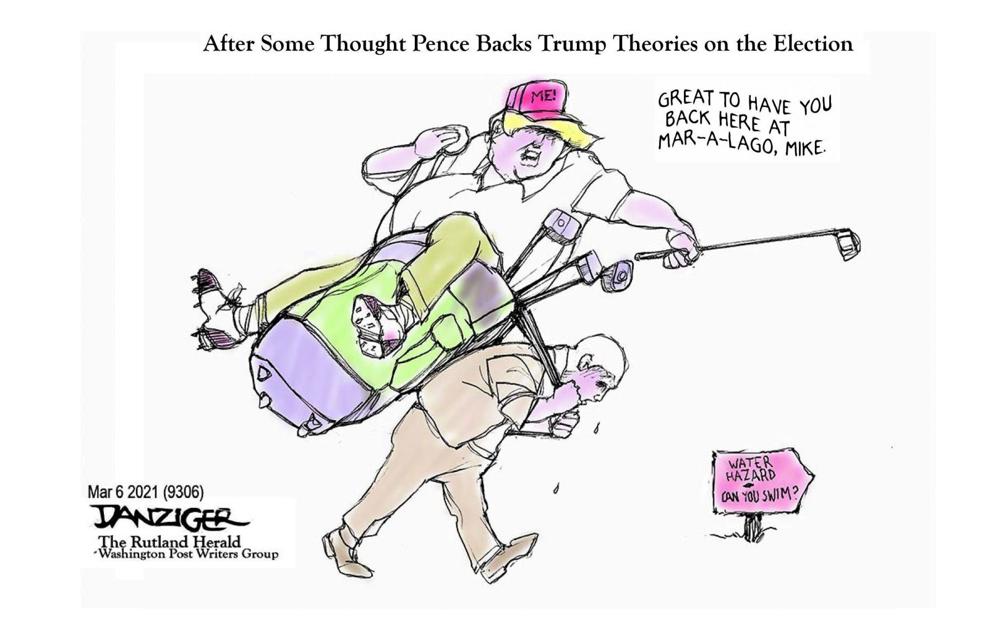 Jeff Danziger cartoon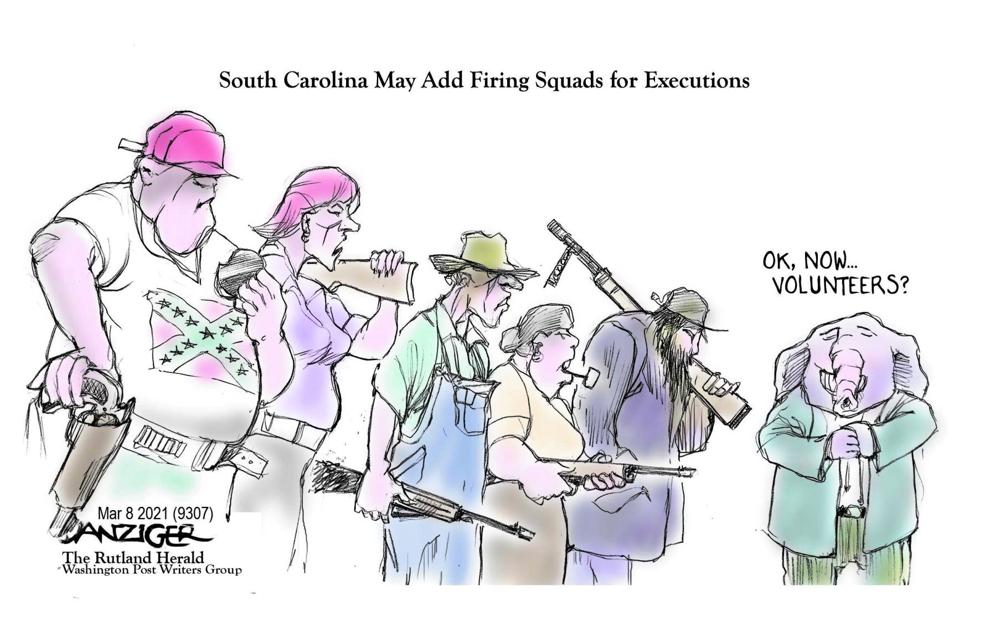 Mike Lester cartoon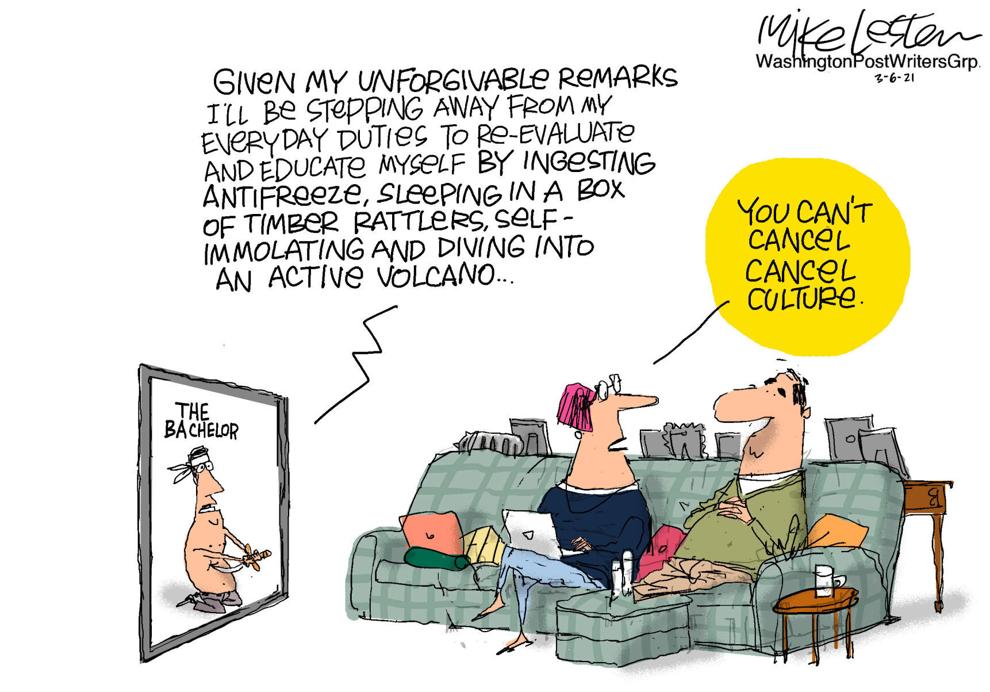 Signe Wilkinson cartoon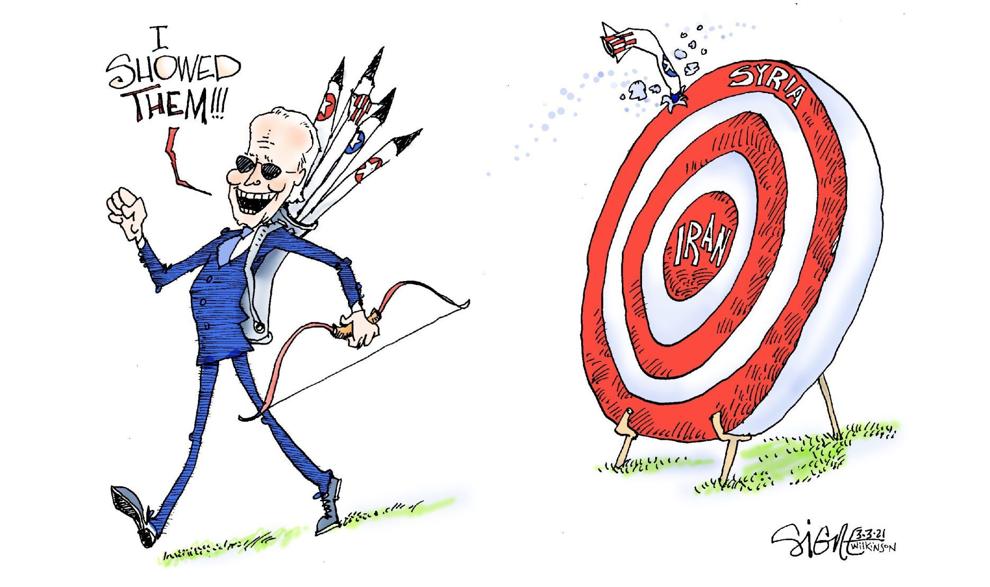 Signe Wilkinson cartoon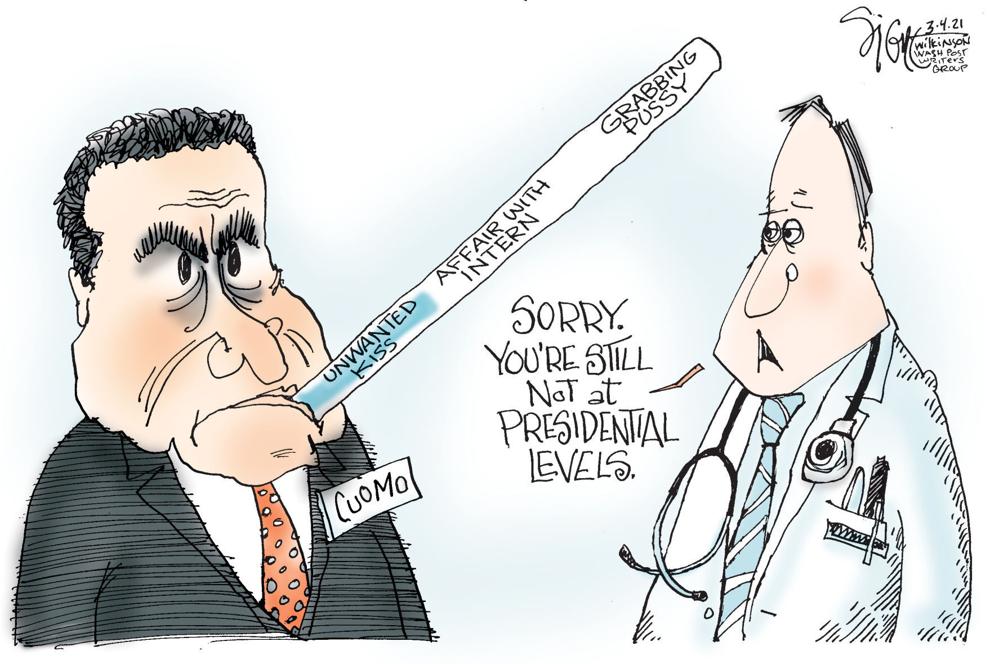 Tim Campbell cartoon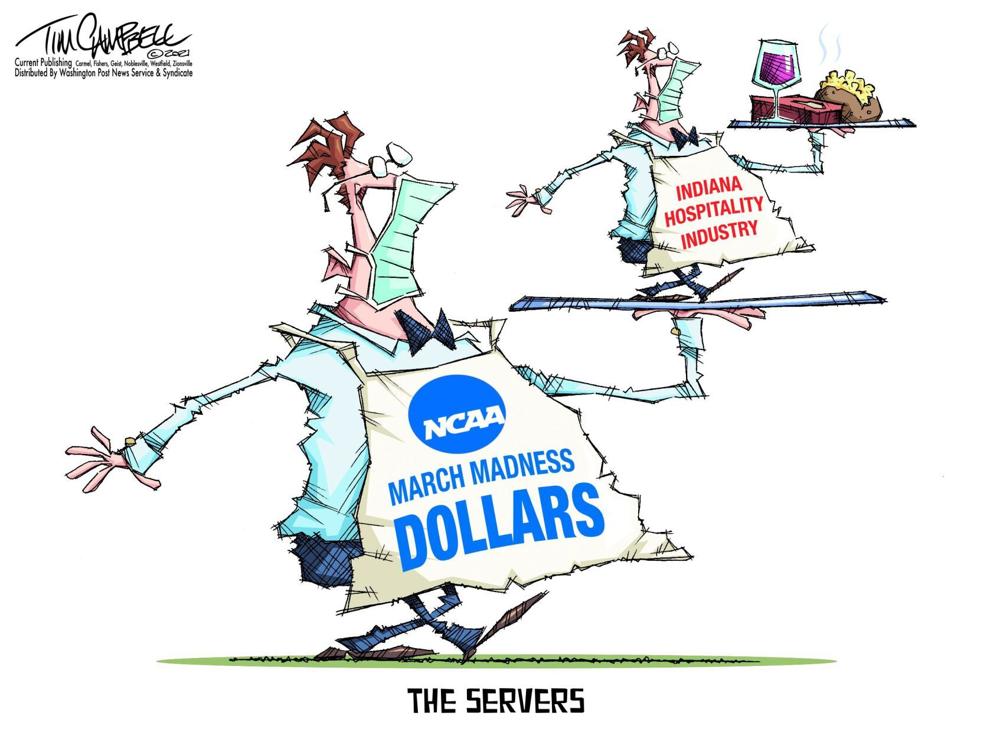 Lisa Benson cartoon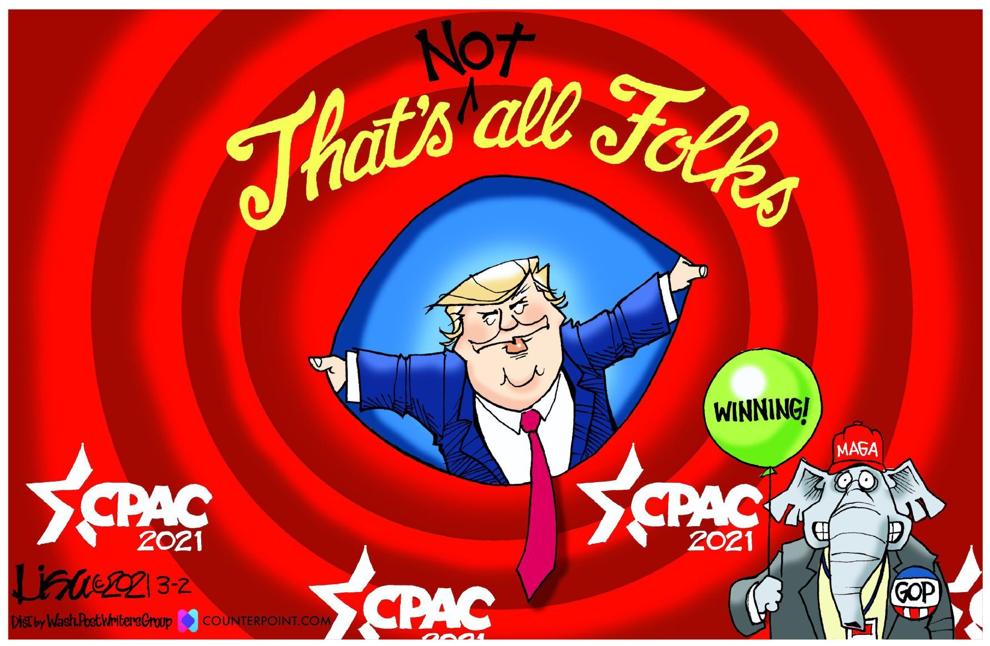 Lisa Benson cartoon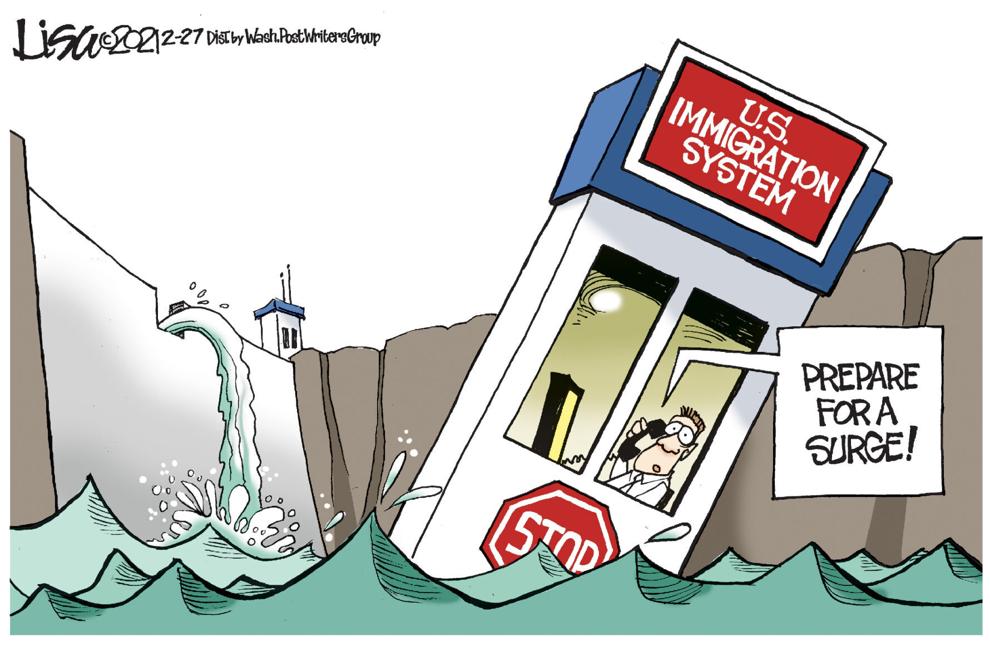 Jack Ohman, editorial cartoon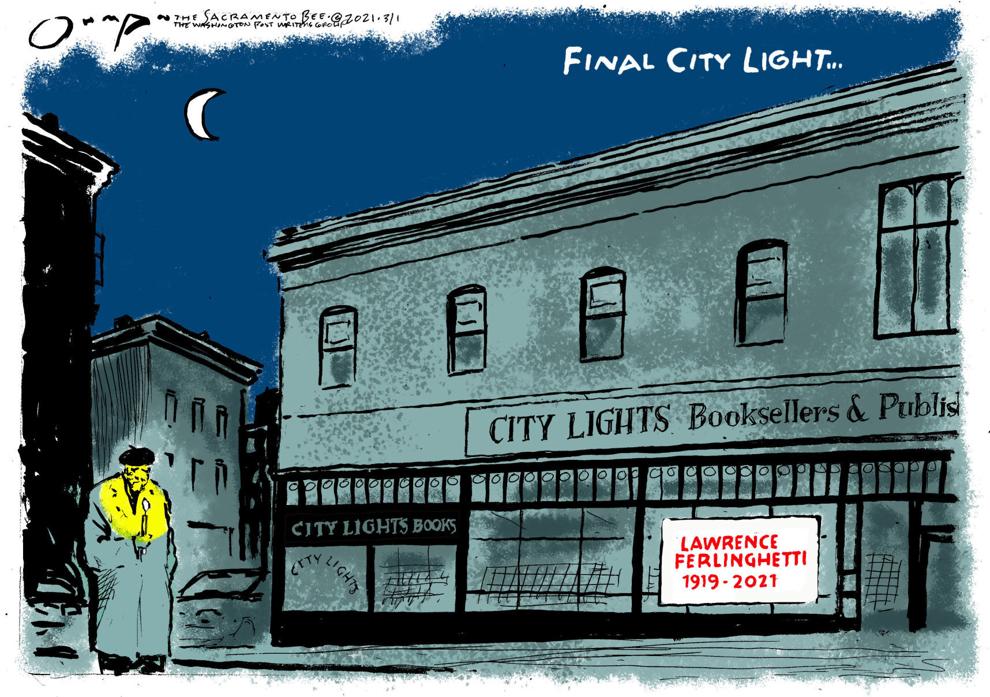 Jack Ohman, editorial cartoon
Jack Ohman, editorial cartoon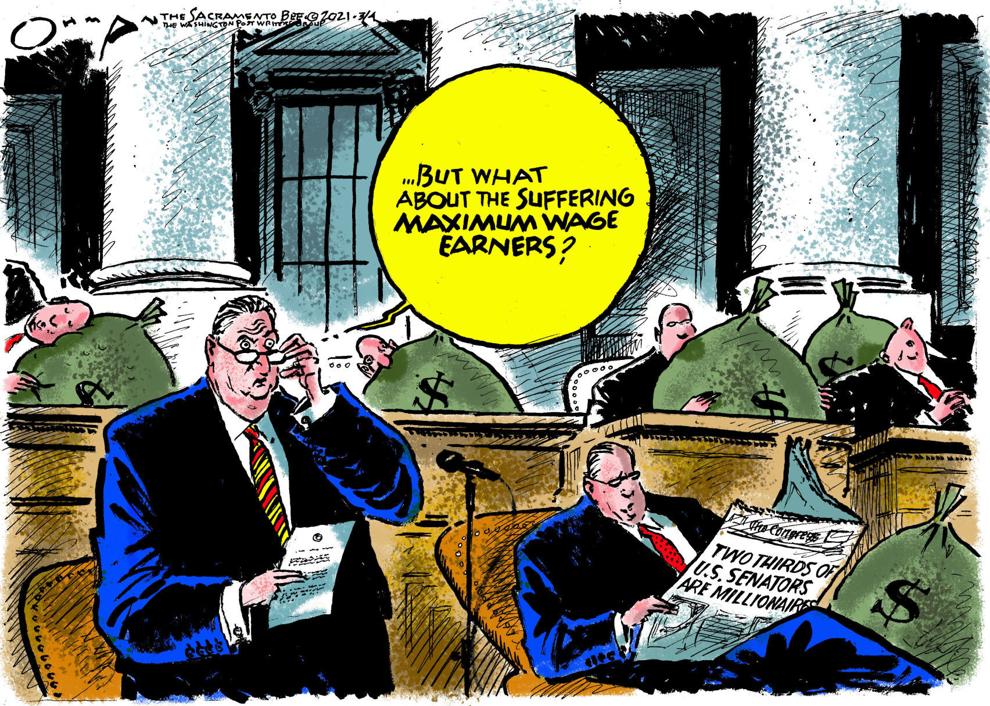 Jack Ohman, editorial cartoon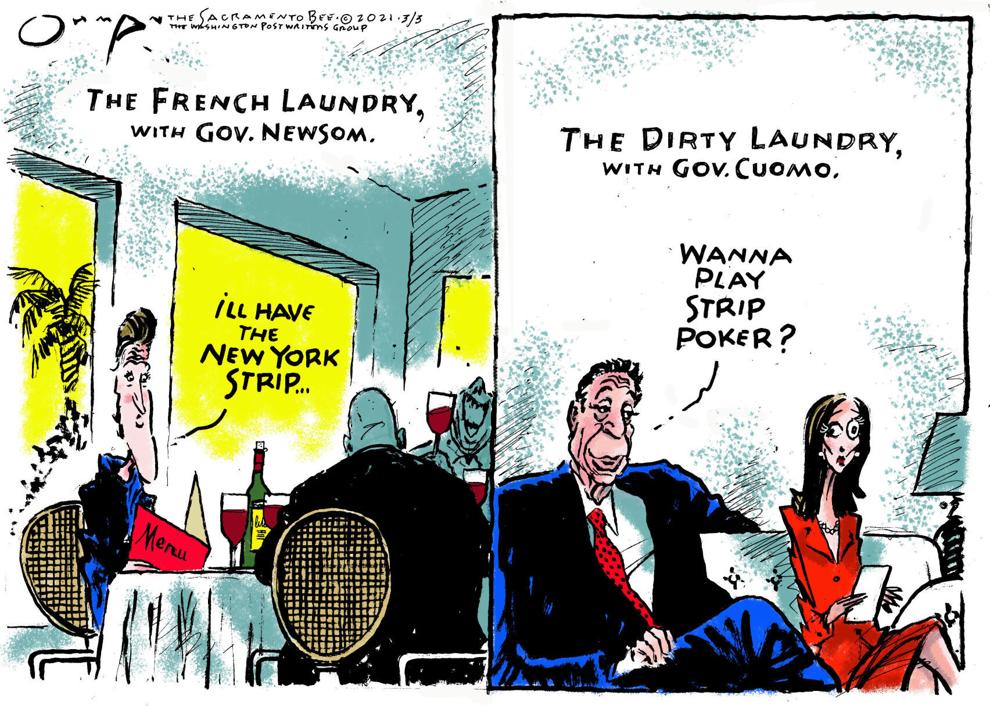 Jeff Danziger cartoon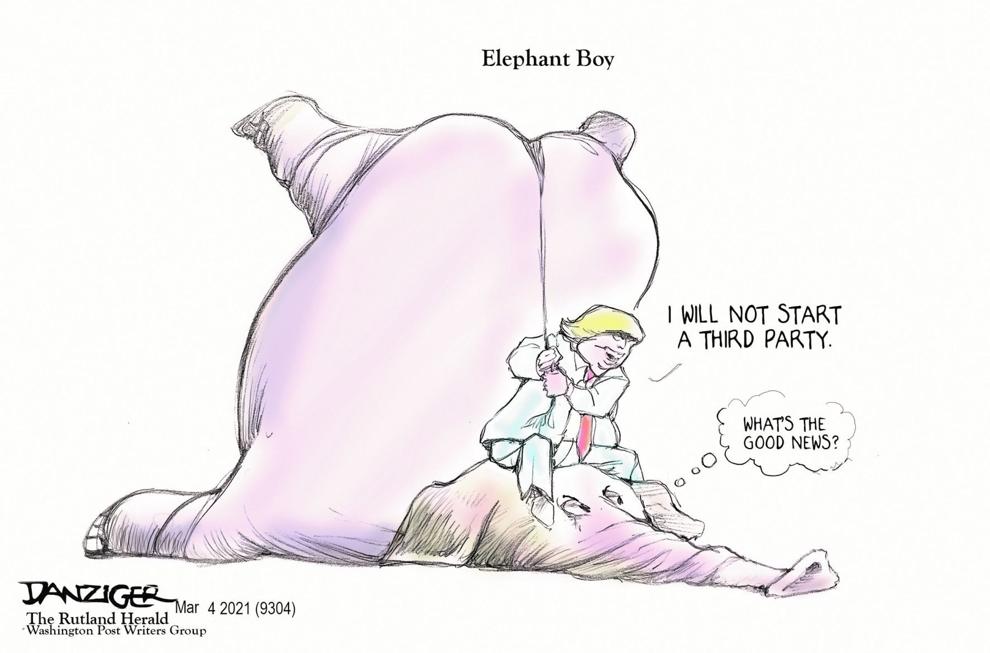 Jeff Danziger cartoon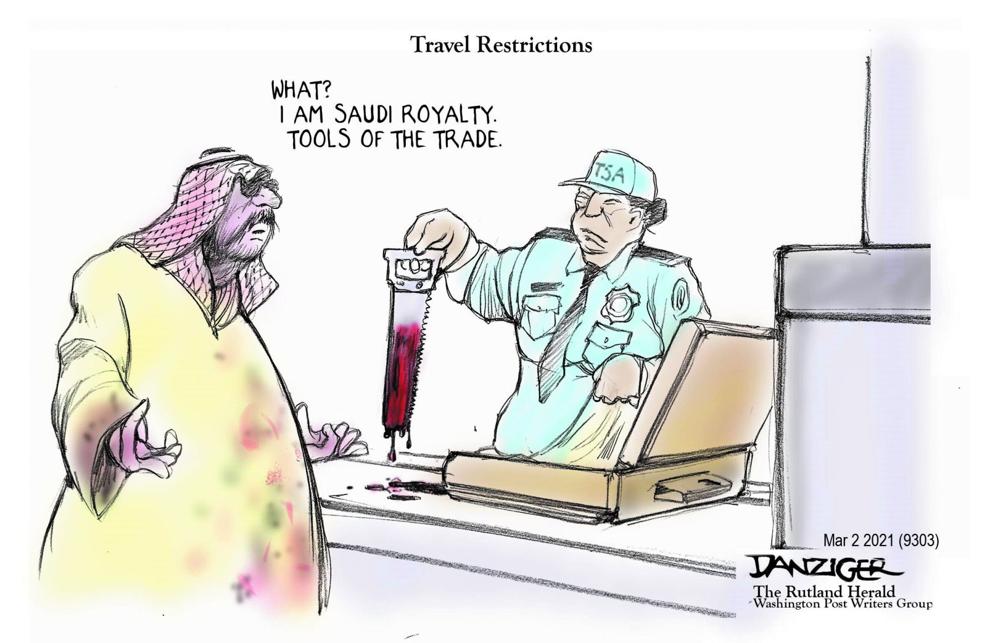 Jeff Danziger cartoon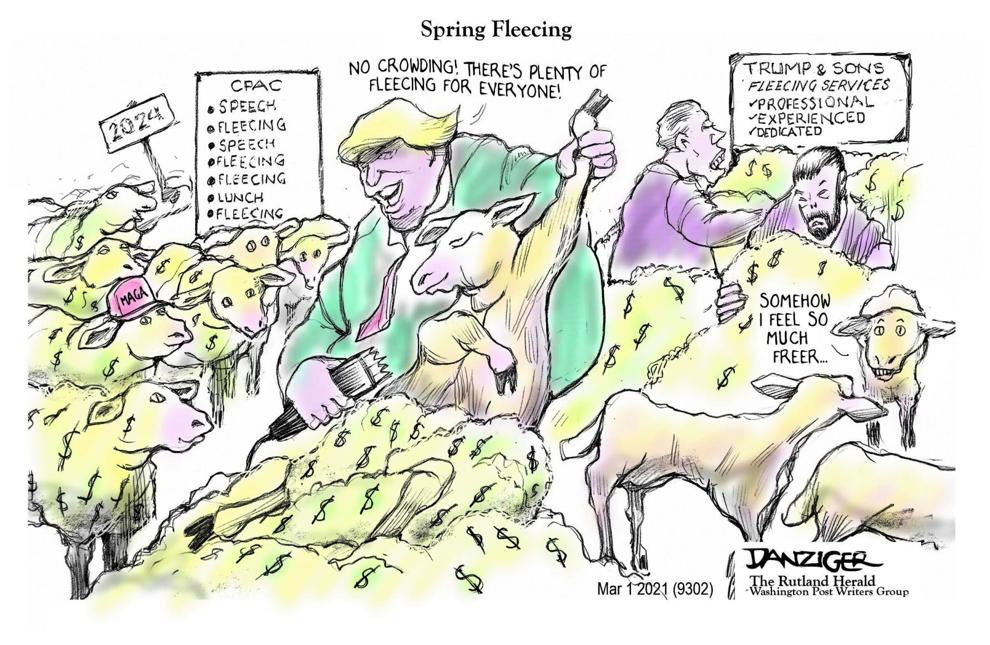 Lisa Benson cartoon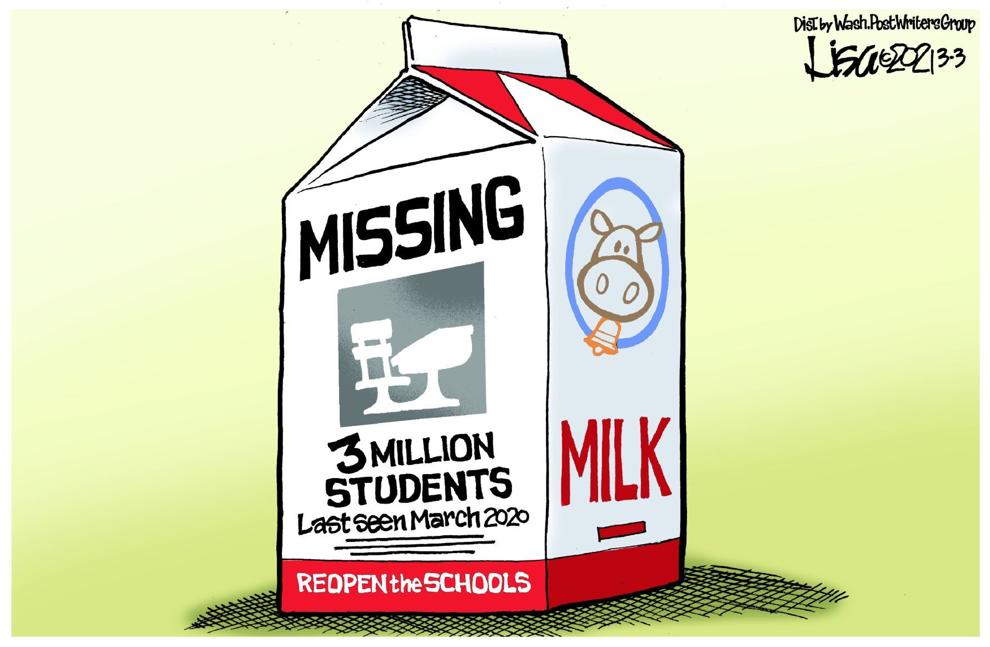 Mike Lester cartoon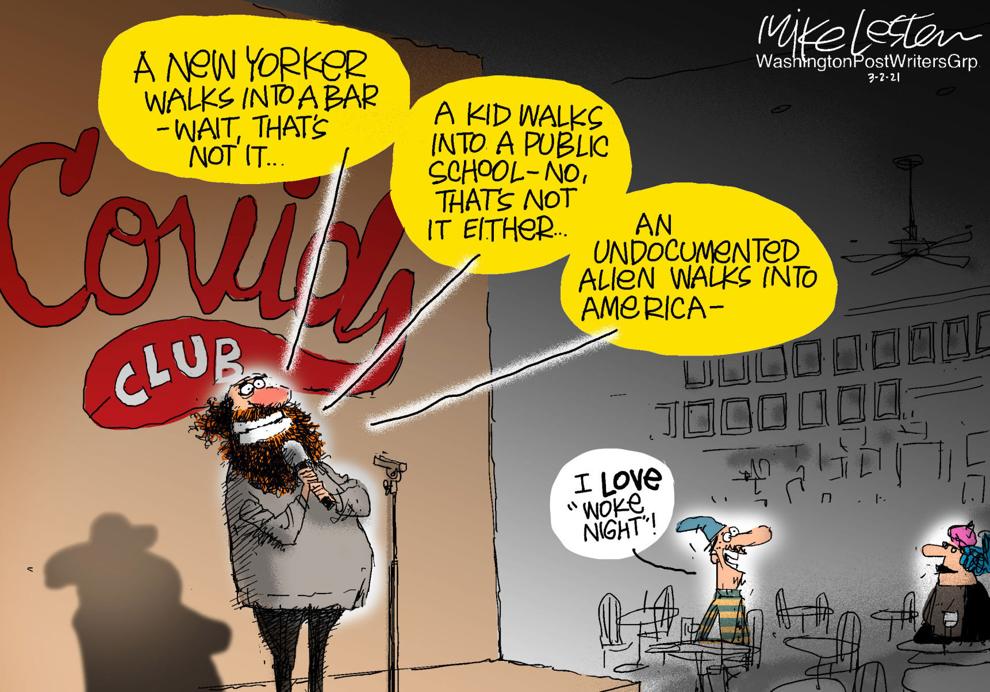 Signe Wilkinson cartoon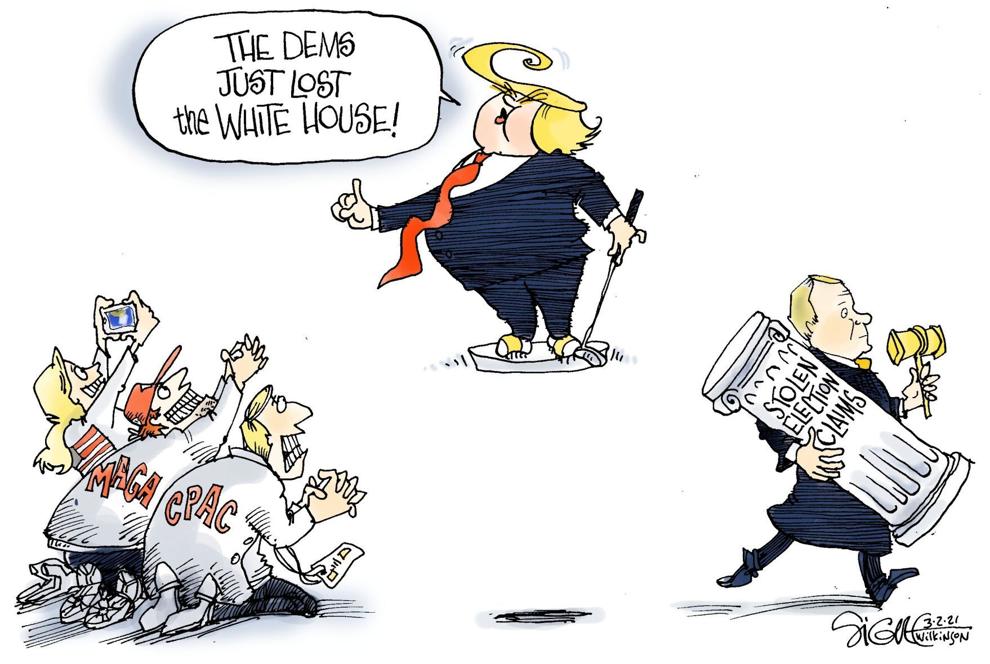 Jeff Danziger cartoon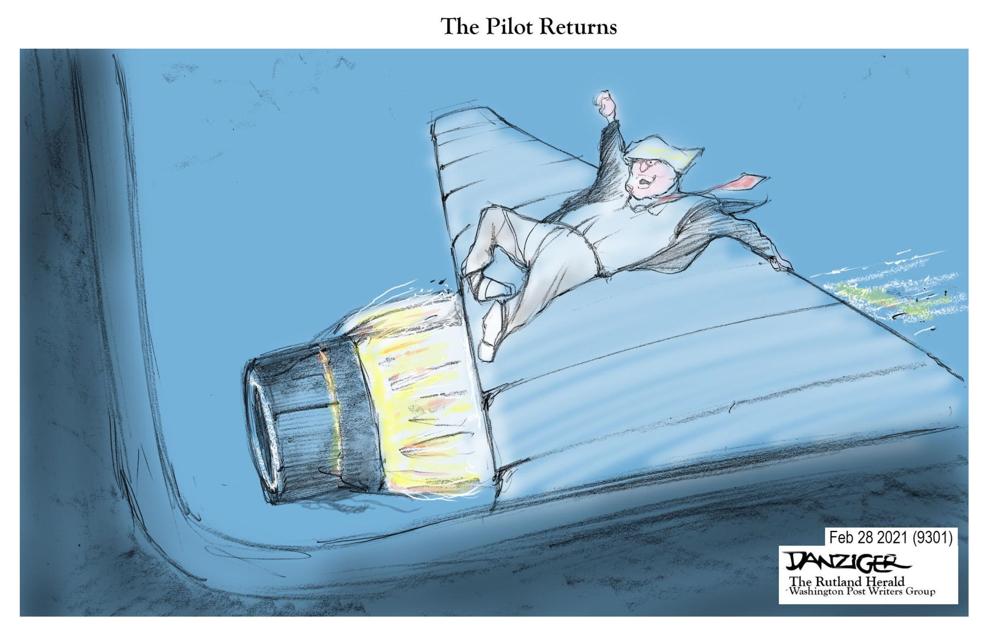 Jeff Danziger cartoon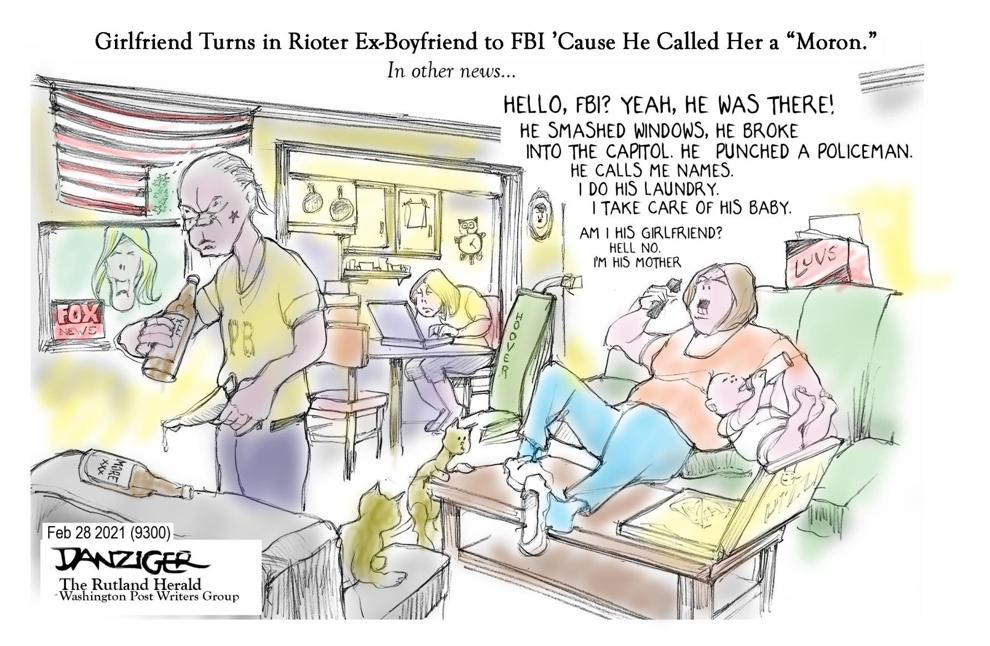 Clay Bennett cartoon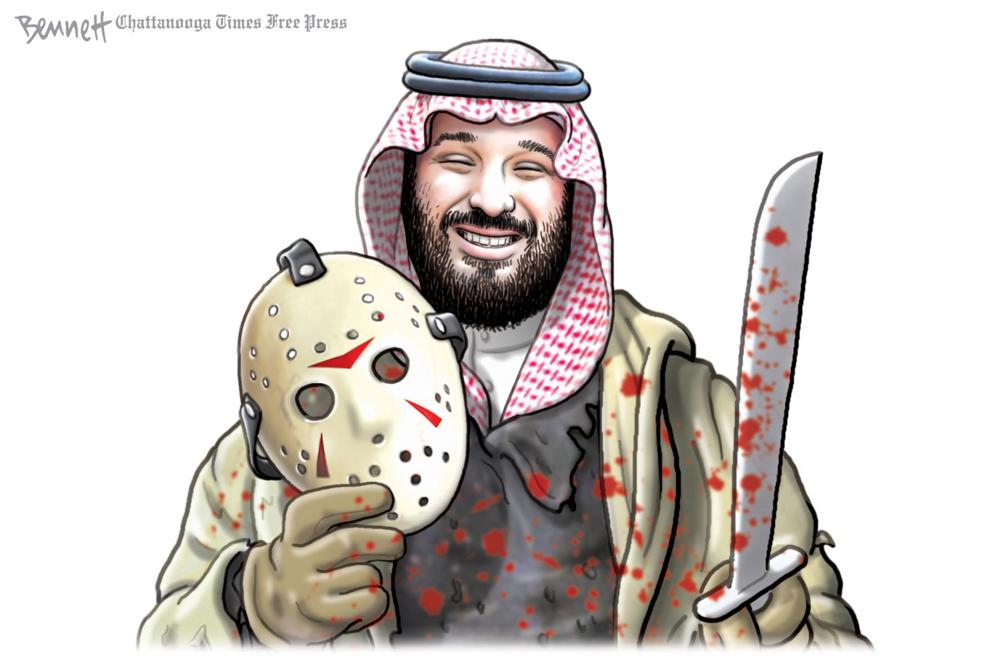 Clay Bennett cartoon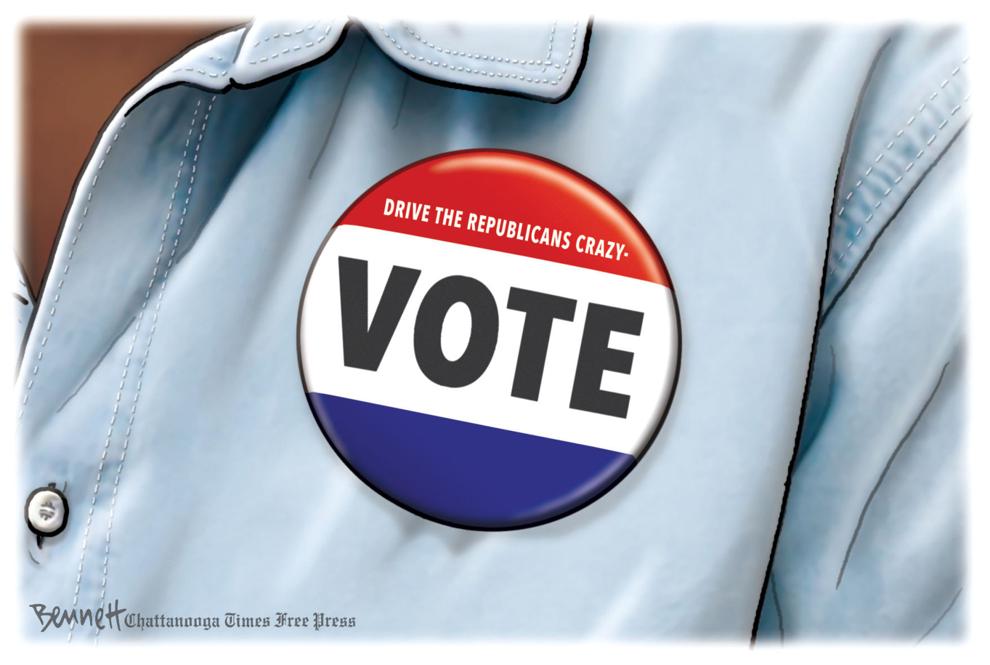 Clay Bennett cartoon
Catch up on Napa County's top news stories