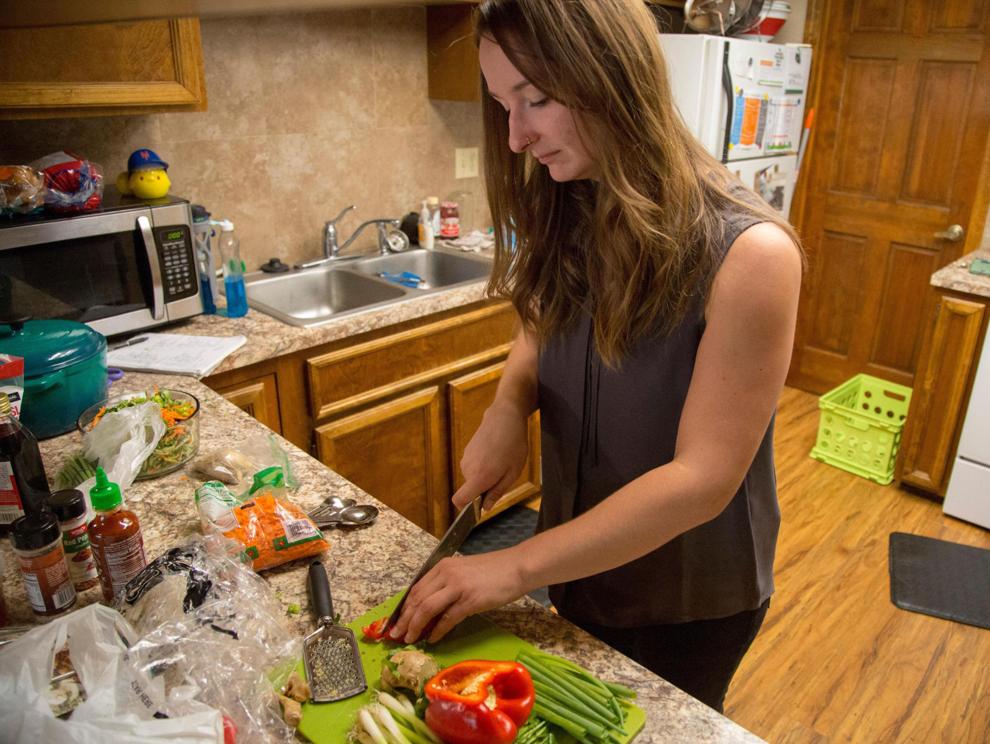 BOISE, Idaho — For many, eating while spending time in the vast outdoors usually conjures simple images of hot dogs over a fire, complete with buns and ketchup.
Christina Byrn, an outdoors enthusiast, hopes to bring a little more variety — and luxury — to that image.
"When my sister and I were younger, our family would always go on vacations where we'd stay in cabins and have the same kinds of meals we'd have at home," Byrn said. "To me, that was normal, even while camping. But as I got older, I realized just how much time it really takes."
For years, Byrn has made a hobby of bringing food and activities usually associated with staying home to the outdoors, one part of a growing trend that the internet has dubbed "glamping." While camping throughout Idaho with her friends and siblings, Byrn said it became a custom for her camping partners to come to her with advice. Just over a year ago, she decided to expand her take on camping into a business venture, which she named PNW Glamp.
Byrn hopes the business will evolve into a food delivery service, such as Blue Apron, but instead her business will be aimed toward campers who don't quite have the time to prepare camp food beyond the standard array of hot dogs and hamburgers.
"I've realized people would be more interested in (glamping) if there was that convenience factor to go along with it," she said. "I want to facilitate that opportunity, where they can be in a relaxed camping situation while still having quality meals."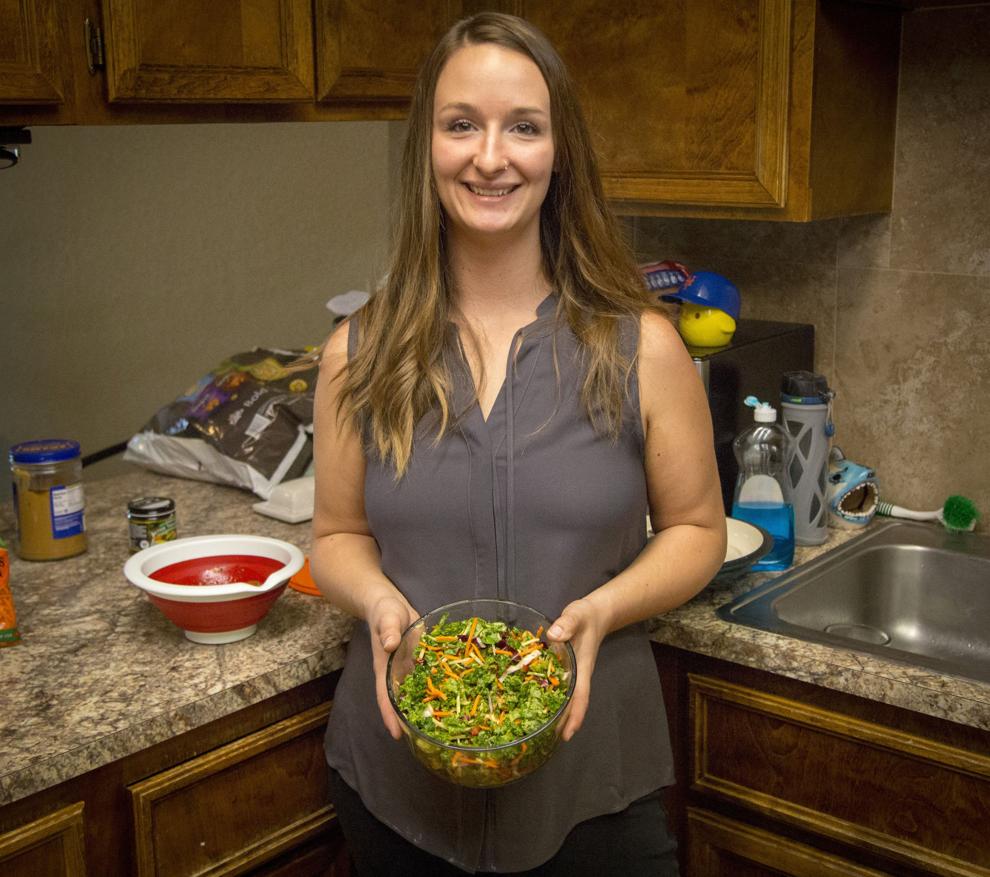 Here are five ideas she suggests to make your camping meals a bit more glamorous.
1. Prepare your ingredients beforehand
It's easy to see the appeal of hot dogs and s'mores. They're quick and easy and require little to no preparation. After all, the woods don't exactly offer a clean, level counter top on which to dice vegetables, so these things are best done before you leave home. To make things even simpler, Byrn suggests blending various vegetables and toppings instead. Alternatively, some grocery stores will chop your produce for you.
She also suggests making sure to marinate any meat you plan to use the day before you go camping. This not only makes the meat taste better, but also minimizes or eliminates the need to clutter your camping bag with spices and seasonings. Also, make sure to pack your cooler with dry ice rather than traditional ice to keep your ingredients refrigerated and dry.
As for the transportation of these ingredients, Byrn offered a few suggestions. First, plastic containers for everyday groceries such as peanut butter can be reused for camping before they're retired to the recycle bin. The glass jars used to hold spaghetti sauce also work well.
2. Add walking tacos to your repertoire
Since camping generally means a lot of moving around, walking tacos offer the potential for a hearty meal with all the mobility of a potato chip bag. This recipe is best prepared at home before leaving for the campsite.
First, marinate two pounds of chicken for four hours in a mixture of ¼ cup of soy sauce, ¼ cup of toasted sesame oil, 4 minced or grated garlic cloves, ½ teaspoon of fish sauce, 2 tablespoons of grated ginger and 2 tablespoons of peanut butter.
Next, prepare a coleslaw mix using a kale slaw mix bag, chopped carrots and green onions (as much as you want), 2 teaspoons of sesame oil, ¼ cup of rice vinegar and ½ tablespoon of honey. Mix and set it aside.
You can also make a homemade peanut sauce using ¼ cup of peanut butter, 1 tablespoon of liquid aminos, 2 teaspoons of rice vinegar, 1 teaspoon of crushed red pepper flakes, 1 teaspoon of grated ginger and ⅛ cup of honey.
Once your chicken is finished marinating, cook until done either in a crock pot or over the stove. Once cooked, dice it into small chunks. Now store these ingredients in your chosen containers to take with you while camping. The rest can be done at the campsite.
Once camping, you'll want to heat up your chicken again for eating. Use a camping stove or wrap the chicken in tin foil and briefly set on campfire coals to heat it to your liking.
Last, you'll need a snack-sized bag of your favorite chips, anything from Doritos to Funyuns (though Byrn recommends something spicy with this recipe). Hold the bag on its long side and use a pair of scissors to cut along the opposite side, to create a makeshift chip bowl in your hand. Next, use your hands to crush the chips inside the bag, breaking it into smaller pieces.
Scoop your kale slaw mix into the bag on top of the crushed chips and then your heated, marinated chicken on top of that. The crushed chips and salad should serve as insulation to let you hold the bag comfortably. Enjoy with a fork.
3. Tin foil packets are your friend
Glampers and traditional campers alike sing the praises of tin foil when it comes to cooking outdoors. Just about anything can be wrapped up in tin foil and tossed into the campfire to cook to perfection on the coals. While this technique is often used with simple dishes such as diced potatoes with carrots, it could just as easily be helpful with other dishes like salmon cooked with lemon and asparagus.
Since cooking times vary depending on your dish and what kind of campfire you're using, Byrn recommended you use this method: First, place your food on the center of a sheet of tin foil. You'll want the sheet to be about four inches longer in length than height. Next, fold the top and bottom of the foil on top of the food, but not so it covers the food completely. Leave a little window so air can escape and you can check on the food as it cooks.
Last, squeeze the sides of the foil packet and bend them upwards so they're almost shaped like a handle. This will make it easier to retrieve from the coals once it's done.
4. Bring your A game with watermelon lemonade
Though best prepared beforehand, this beverage is a quick way to upgrade your cooler from store-brand sodas. You'll need half of a large watermelon, four lemons and a cup of sugar.
First, scoop the watermelon from the rind into a blender. Then, squeeze your four lemons and use a small grater to add lemon zest to the mix. After that, dump in your cup of sugar and blend. Use a plastic container such as a rinsed-out peanut butter jar to bring your drink with you on your camping trip.
For extra glamp points, you can even bring the watermelon's rind along as a bowl for the beverage and drink with a straw.
5. Don't forget about dessert
While s'mores are a popular choice, there are several other options for appeasing your sweet tooth while out camping. Grilling bananas in tin foil along with your choice of other sundae toppings adds a unique twist to an ice cream dish. If you don't have a cold enough container to keep ice cream, Byrn recommended picking up an ice cream ball, a product that allows you to make it yourself while you're outdoors. These can be picked up on Amazon for $30 to $40. To use, insert your ice cream ingredients in one side, rock salt and ice in the other, and roll the ball around until the ice cream forms.
Those who have experience with foraging can find and use their favorite wild berries, particularly huckleberries when they're in season, into existing dishes.