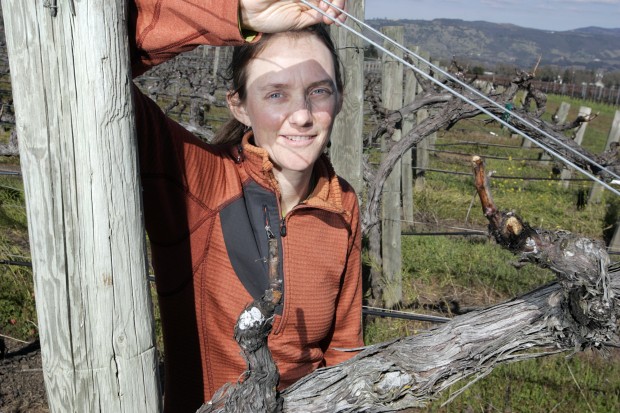 Napa County's economy is largely based on agriculture, and two key figures help keep that agriculture safe and strong. They're often mentioned together, but many people aren't sure what either does.
Dave Whitmer is the county's agricultural commissioner, charged with enforcing regulations protecting farming.
Monica Cooper is the county's viticultural farm adviser and head of local cooperative extension. In this role, her job is to educate and advise local farmers, particularly the grape growers responsible for Napa County's wine production.
Whitmer's position is appointed by the Board of Supervisors. He's served 17 years and is just beginning his fifth four-year term. 
Cooper, by contrast, has been here about two years. She succeeds popular farm adviser Ed Weber, who died tragically young. 
Weber's shoes were tough ones to fill, but Cooper immediately stepped in to help fight the European grapevine month working with Whitmer's office. After considerable economic damage to some growers in 2009, almost none were detected last year.
"Monica could not have arrived at a more important time for Napa's winegrape industry," said Jennifer Putnam, executive director of the Napa Valley Grapegrowers Association. "We were incredibly fortunate to have such an accomplished entomologist in the role just as the European grapevine moth infestation was being discovered. She, along with our Ag Commissioner and others, quickly developed and acted on a plan to control the spread of this devastating pest. Her sense of urgency and expertise were critical in our ability to get a handle on that outbreak."
"I think Monica has done a tremendous assets for the valley," noted ag commissioner Whitmer, who shares offices with her. "I feel bad that right out of the gate she had to deal with the European grapevine month, but she's been a tremendous help in providing the science to help fight it."
Although Cooper is regarded as an expert in insects, she actually has a doctorate in plant medicine, a degree from the University of Florida patterned after veterinary and medical degrees. There, she studied entomology, plant pathology, weed and soil science, agronomy and horticulture.
Her last work, however, was with Kent Daane's research laboratory in the Department of Environmental Science Policy and Management at UC Berkeley. There she coordinated personnel and activities for several insect-related projects including the Argentine ant, vine mealybug, olive fruit fly biological control, Eucalyptus psyllid pests, and grapevine leafroll, a virus spread by insects.
Before getting her advanced degree, Cooper was a Peace Corps volunteer in an agrarian community in Panama from 1997-1999.
Cooper actually works for the University of California, but her office and expenses are paid by the county.
Among the biggest local concerns beside the grapevine moth is the vine mealy bug. The glassy-winged sharpshooter that was a huge threat a few years back has been largely kept out of the county by a strict quarantine. 
The traditional role of a farm adviser included a lot of one-on-one time with farmers, but in this day of short budgets, much of her work is in group sessions. She arranges and often speaks at seminars helping interpret university findings to growers. She also spends a lot of time answering e-mails and phone calls.
Cooper also coordinates UC Master Gardeners, volunteer experts who work with home gardeners. Theoretically 30 percent of her time is devoted to numerous practical research projects such as studying pest and disease detection, spread and control. 
Another third of her time is spent on administration, advocacy and working with county supervisors. 
She's a big champion of expanding local food production, a subject of growing interest. "It's important to have more crop diversity," she said, although she sees that in small plots, not wide swaths of the county.
Fortunately, she said, Napa County is supportive of the farm advisory function, with 47 percent of her operating budget supplied by the county; the rest is from UC.
"I love working in an agricultural county," Cooper said. "The variety of work is most interesting, too. You never know what will happen and I could never sit in an office all day.
"I love working with growers," she added. "They're always thirsty for information."
And what does she do when she's not working? "I love to hike, bike, be outside," she said. 
She also likes to garden, but is so busy she finds perennial plants most practical.
What's next? Cooper hopes to have the time to dig more deeply into issues like rootstocks, varieties and growing practices, which in any case are quite sophisticated in Napa Valley anyway. The bugs and diseases come first — and there always seems to be a new invader to threaten the vines.
Satisfy your cravings
With our weekly newsletter packed with the latest in everything food.