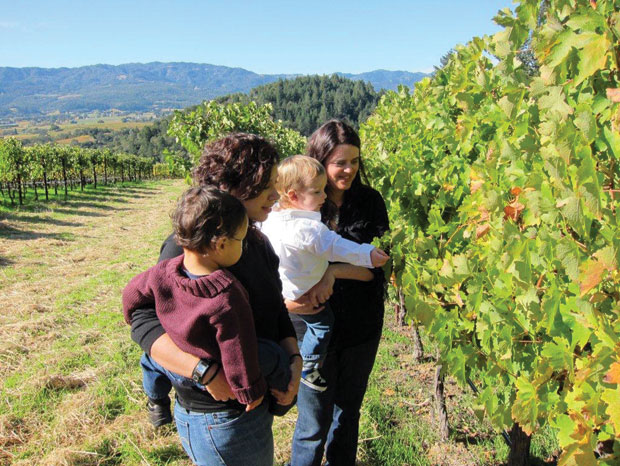 The story starts with two friends and business associates: Cesare Mondavi and Anthony Paterno. Paterno sold sell Mondavi's zinfandel and muscat grapes in Chicago to families who were making their own wines.
In the next generation Mondavi's son, Robert, would encourage his friend and Paterno's son in law, Tony Terlato, to buy his own winery in the Napa Valley, Rutherford Hill. From this beginning, many years later, two different friends would emerge.
Ana Diogo grew up in Alentejo, Portugal, a region producing rich red and unique white wines from native grapes in a culture comfortable with wine where children took sips on special occasions such as Christmas and birthdays.
Always feeling connected to the countryside, Diogo attended agricultural school in Portugal. When she took an extracurricular course in winemaking, her life direction instantly changed. Her new path led her to the University of Evora, Portugal's equivalent to UC Davis' viticulture and enology school in the States.
In 2004, looking for a winery internship abroad, Diogo chose to go to Napa Valley. She took an intern position at Rutherford Hill.
A few weeks later, Marisa Taylor Huffacker joined the winemaking team at Rutherford Hill. Huffacker had started as a chemistry major in college, with her sights set on pharmacy — until she noticed a listing in the local paper for a job in the enology department of UC Davis.
Huffacker had grown up in Sonoma wine country and her father, off the cuff, told her she should become a winemaker. She thought the idea was exciting, and to encourage her further, her father set up a meeting with a friend who was winemaker at Geyser Peak at the time.
This meeting, and the instant connection that Huffacker felt with the wine cellar as she took in its aromas, cinched her plans.
In the fall of 1996, Huffacker joined a class of 15 students at UC Davis' enology studies. After graduation, she worked at Piper Sonoma, J Winery, S. Anderson Vineyard and Williams-Seylem and in Rufina, Italy before joining Rutherford Hill.
Her first harvest at Rutherford Hill was Diogo's first. The two became fast friends.
Following harvest, Diogo returned to her life in Portugal. She had, however, fallen in love with California. She spoke with Huffacker often. The connection between the two friends would eventually lead to Diogo's return to Rutherford Hill. A harvest, and then an enologist position, opened up at Rutherford Hill in 2005, and Huffacker only had to pick up the phone.
Practically completing her thesis and boarding a plane at the same time in order to make it to Napa Valley for harvest 2005, Diogo had planned to stay in the States for the next year or two. But she never moved back to Portugal. Instead, she met in her first few weeks back in Napa Valley, she met her future husband, Mat. It was Huffacker and her husband who introduced the two.
Diogo went on to become assistant winemaker at Rutherford Hill, where Huffacker was now winemaker.
As if pre-destined, the two women winemakers and best friends became pregnant at roughly the same time. The only problem? They would both give birth a few months prior to harvest 2009.
The Terlato family was highly supportive, and the women came up with a tightly organized plan to make sure the path to harvest went smoothly. Two sons were born 22 days apart in May and June of 2009.
Those two boys, Ian and Tiago, are now friends, eager for playdates with one another and for visits to the winery. The name "Ian" means "God is gracious." Tiago is a name honoring Diogo's home country of Portugal.
For the 2009 vintage, the Terlato family, recognizing the wonderful relationship between the two Rutherford Hill winemakers and the dual birth of their sons, told the winemaking mothers that they should create a wine to commemorate their sons.
The wine, Ian Tiago, is a blend of 50 percent malbec and 50 percent cabernet sauvignon was born. Sold at the winery or through the wine club, this wine is incredibly good parent juice.