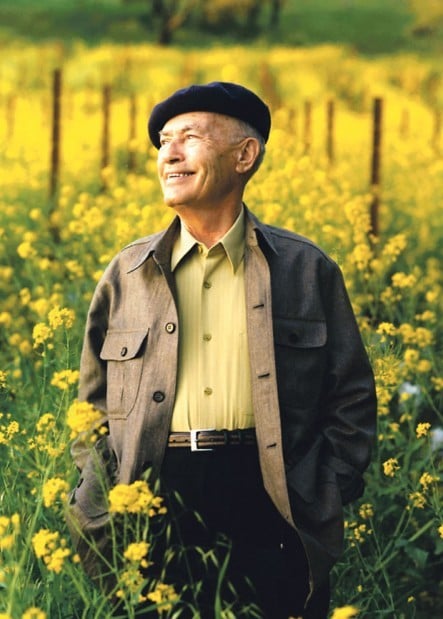 A man with an inviting smile and a big heart, Mike Grgich has not only left his mark on winemaking in the New World but he's a hero to wine lovers in his native Croatia.
Were it not for Grgich's deft hand and refined palate for chardonnay, who knows how and when Napa Valley winemaking would have achieved its rightful place in wine world's hierarchy?
If the diminutive vintner had not come to California and insisted zinfandel was born in a Dalmatian vineyard, we might still be calling zinfandel America's grape.
Grgich was snubbed when Hollywood presented its version ("Bottle Shock") of the celebrated 1976 Paris tasting — where a chardonnay made by Grgich for Chateau Montelena bested acclaimed white Burgundies to the amazement of French palates and thrust Napa Valley into the world's wine consciousness.
But he's getting his due now that Croatian television has made a documentary about Grgich's extraordinary life.
"Like the Old Vine" will be the first film shown at this year's Napa Valley Film Festival at 1 p.m. next Wednesday at the Cameo Cinema in St. Helena.
And, because of Grgich's insistence that zinfandel was rooted in Croatia, Croatian television is working on a follow-up documentary about zinfandel and Grgich's role in identifying the varietal's parentage.
When Grgich came to the Napa Valley in the late '50s, he did a double take when he first saw a zinfandel vine and tasted the wine it made. He quickly learned that there were many theories about the origins of zinfandel but no one was certain.
Grgich believed the grape to be one with which he was familiar, a Croatian red variety called plavac mali. He told everyone he knew about his suspicions, and finally academics listened. With scientific advancement, viticultural experts from UC Davis and the University of Zagreb were able to establish through DNA testing that the parent of zinfandel is an ancient grape of Croatia called crljenak kastelanski (pronounced tsirl-YEN-nock kash-teh-LAHN-skee).
But Grgich wasn't wrong. Plavac mali, today's popular Croatian red grape, is a variety now believed to be a mutation from the ancient crljenak kastelanski, as are zinfandel and Italy's primitivo.
Croatia to America and back again
Miljenko Grgich was raised in a village called Desne quite near the Dalmatian coast. He recalls getting his first sip of wine at a young age.
"My mother switched me from breast milk to wine," he says with a twinkle in his eye during a recent chat at Grgich Hills Winery south of St. Helena.
Grgich explains why wine was part of the Grgich children's daily regimen. "We had no running water," he points out. "Rainwater was collected in a cistern (just outside the modest home.)
"My mother blended wine with that water in order to kill any bacteria that could have sickened the children. The kids were not allowed to drink just water. My mother always kept a bottle of bevanda on the table — that's an Italian word that was incorporated into our language because you know that Italy was just across the (Adriatic) sea that separates us."
Grgich doesn't talk much about the rise of Communism and its effect on post-World War II Yugoslavia, nor his clashes with authority.
He did hook up with a student exchange program and was accepted for studies in what was West Germany in 1950. "Actually, I never planned to go back," he now admits. "But my passport expired."
He did nothing about it for four months, and was eventually hustled off to a detention facility. However, his German hosts vouched for him and he was allowed to stay and continue his studies.
"What I really wanted was to go to the United States," he continued, "so I applied for an American visa. I waited and waited. Then somebody told me there was no waiting to go to Canada, so that's what I did."
But Grgich never took his eye off the prize. He was set on coming to California, and, in particular, the Napa Valley. One day — two-and-one-half years after he landed in Canada — he boarded a Greyhound bus headed to the United States. And it was a Greyhound bus that deposited him in St. Helena.
Grgich worked with a number of winemakers, including Robert Mondavi and Warren Winiarski. He credits Mondavi for pledging help with his first crush when Grgich worried if his new winery would be ready to accept grapes. Grgich and Austin Hills broke ground for their joint venture on the Fourth of July 1977 and were nervous about construction deadlines.
"Bob agreed to crush my grapes if the winery wasn't ready," Grgich remembers, but he was also a reassuring figure in the young winemaker's life. "He told he he'd do it — he even put it in writing — but he said, 'You won't need me.' And he was right."
Grgich returned to Croatia after 36 years, as both a partner in Roots of Peace (a project removing land mines in former war-torn regions) and to see what he could do to advance winemaking in his native land.
"The president of Croatia suggested I open a winery, and that's what I did," he said. "My goal was to make better wine, to revitalize the wine industry. I equipped the winery with jacketed stainless steel fermentation tanks which had not been used previously. I also brought in small French oak barrels — they had not used oak aging for their indigenous varieties.
"For the first crush in the new winery (located on the Adriatic not far from Dubrovnik), I started to make wine with the same press that I'd used for the 1973 chardonnay (that placed first in the Paris tasting). I helped make those improvements in order to improve the quality of Croatian wine.
"I am better known today in Croatia than I am in the United States."
That's why Croatian television came here to document one of their best known native's lives. They interviewed his family — including daughter Violet and nephew Ivo Jeramaz who've taken over day-to-day operations — winemakers Tim Mondavi and Joel Peterson, Margrit Mondavi and historian Charles Sullivan.
There's reference to his contribution to the new exhibit at the Museum of American History at the Smithsonian Institute. It includes the suitcase he carried when he came to this country, a trademark beret and some of the memorabilia in the five boxes of stuff museum officials carted from his Yountville home. Including Winiarski's cabernet that took top red wine honors at the Paris tasting, the new exhibit will open later this month in Washington, D.C.
The documentary also chronicles the region where Grgich was raised, although the home where he and 10 siblings grew up is no longer there. "It burned during World War II," he said. "Though I'm an American, I kept in touch with my roots."
Grgich considers his victory at the Paris tasting — and that his first Grgich Hills chardonnay topped the list of 221 chardonnays at a Chicago tasting about three decades ago — simply "miracles." The fact that this new film puts this in perspective is quite satisfying to the 89-year-old vintner.
"From the waist up, I'm 20, and waist down a centenarian," he quietly adds with a broad grin.