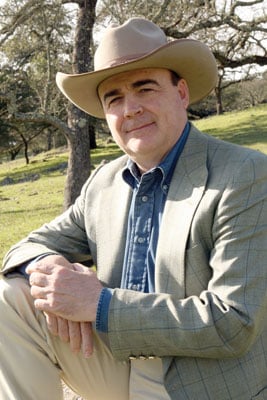 Winegrape grower and vintner Andrew Hoxsey's roots in the Napa Valley run deeper than a grapevine.
Hoxsey, a fourth generation Napa Valley grape grower, has been tapped as the 2009 Napa Grower of the Year by the Napa Valley Grapegrowers.
He modestly sees this award as recognition to every generation of his family that has passed the land down to the next in better shape than when they took it over.
NVG President Bruce Phillips said Hoxsey "personifies the Napa grower, who mindfully tends his winegrapes using the most current information available on sustainable techniques — and always incorporates the natural environment, his workforce and future generations into his decision making."
Steve Moulds, who serves on the NVG board of directors said, "Andy is yet another in a long line of the Pelissa family to serve as steward of an incredibly beautiful part of our county … and the entire Napa  Valley can be proud of their influence on this special place."
 Dave Whitmer, Napa County agricultural commissioner, described Hoxsey as "simply a great farmer. He brings an innovative approach to his business and has always placed a high priority on farming with environmental stewardship and with his neighbors in mind."
Much of Hoxsey's early knowledge of winegrape growing was instilled in him by his grandfather, Andrew Pelissa, who was also a strong supporter of Napa County's Agricultural Preserve.
Today, the head of a 105-year-old farming operation is among the largest organic winegrape growers in the county, with a sizable portion of its vineyard acreage stretching from Oakville to Yountville in the heart of Napa Valley.
"Sustainable farming is where my heart is," Hoxsey said during an interview in his office next to Napa Wine Company.
The family also owns the custom crush facility, Napa Wine Company, in Oakville, the ninth oldest bonded winery in California, where they crush grapes for their own wine.
Hoxsey said he is more comfortable as a grower because "it is much more fulfilling to be with the soil."
Hoxsey, 54, smiles when he describes his grandfather as one of the earliest proponents of sustainable organic farming. He didn't use chemicals because they were very expensive in his day and he couldn't afford them. "We don't use chemicals … because it is the right thing to do."
The first of the family's vineyards earned organic certification in 1986.
After 10 years of growing organically and sustainable, Hoxsey said he can now begin to taste a difference in his wines — the vines seem to be influenced more by the soil and surroundings of where they are growing.
"It is making a huge difference, growing organically. The vines are more in tune with the whole environment," Hoxsey said.
Being organic is not always easy.
Because a portion of their vineyards border the Napa River, finding successful "green" strategies to battle such pests as the blue-green glassy winged sharpshooter requires some thinking outside the box, a strategy Hoxsey enjoys and he believes the strategy thrives in the Napa Valley.
To deter the sharpshooter from vineyards Hoxsey has planed vegetation along the river bank that the pest will be attracted to instead the grape vines.
Another tactic has been the planting of a tree curtain, which blocks the pest from the vineyards because it doesn't like to fly through the closely planted trees.
Hoxsey grew up in the rural community of Alturas in Modoc County in the northeastern part of the state, but he cherished spending his summers in the Napa Valley with his grandfather.
In the late 1970s, he graduated from UC Davis with a degree in agricultural economics and business management. With his degree under his belt, Hoxsey came back to the wine country and began managing the family vineyards alongside his grandfather.
Despite his success in the vineyards, Hoxsey was never been able to shake his passion for flying — which he still enjoys today. He earned his pilot's license while still in high school, and he decided to join the U.S. Air Force, where he was an officer flying behemoth cargo planes. "Anything to do with aviation gives you discipline," he said. "You have to think well ahead of the curve." He served as a pilot during the Desert Storm in 1990 operation.
After his Air Force duty, Hoxsey returned to the Napa Valley for good and pursued his sustainable farming practices over the years.
Hoxsey belongs to a variety of organizations ranging from Napa Valley Vintners Association, Napa Valley Grapegrowers, Premiere Napa Valley, Oakville Winegrowers Foundation, Napa County Farm Bureau and is a founding member of Napa Community Bank. At the state level, he serves on the California Sustainable Winegrowing Alliance and California Association of Wine Grapegrowers.  Besides that, he serves on various habitat restoration and conservation groups including the Rocky Mountain Elk Foundation.
He and his wife, Nancy, celebrated their 25th wedding anniversary in January and have two children, Kendall, 22, and Morgaen, 30.
Hoxsey will be honored at a dinner May 14 at the Native Sons Hall in St. Helena. For ticket information call the Napa Valley Grapegrowers at 944-8311 or www.napagrowers.org.ꆱ