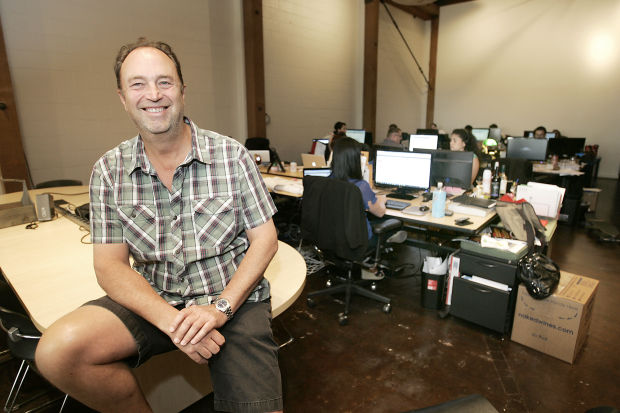 "We do everything the opposite of most wine companies," declares Rowan Gormley, founder of Nakedwine.com, which will soon open a tasting room in downtown Napa.
He's not exaggerating: In addition to a trendy focus on direct sales to consumers, his company has an unusual financing model and disdain for many practices held almost sacred in Napa Valley. That includes a focus on brands, pretentiousness, expensive packaging — and high prices.
Gormley is a South African-born entrepreneur who also founded Virgin Wines and Virgin Money in London. He left Virgin Wines with 17 teammates.
Why did he leave? "I got fired, " he admits, although it happened when Virgin Wines was sold in 2008.
Out of a job, he and his former colleagues wanted to create a different kind of wine company. It was just after the catastrophic bankruptcy of Lehman Brothers, which triggered an immense financial meltdown, and he and his fellowworkers knew their company couldn't be like any of those competing in the market.
"It had to be something drastic," he said. "We needed a step change in the business."
Moreover, he and his new partners rejected what he calls the traditional "screw the winemaker supermarket model," he said. "They squeeze the suppliers and put their money in marketing and promotion, not winemaking."
He decided to focus on the winemaker. "Most aren't great salespeople, and they don't want to spend their time promoting the wine. They want to make great wine, not sign bottles," he noted.
Gormley and his partners didn't have the money to get the business started, so they adopted an unusual method of financing the business: They recruited "angels" who pay $40 per month upfront (£20 in the UK where they started). The angels can then buy wine at a deep discount using their credits.
The new company had two months to get organized for Christmas sales, and it succeeded. Their wines came from all over the world, Gormley said, except  California: "In the U.K., most California wines are boring but cheap or overpriced premium wines," he said.
He said that nothing happened for nine months, and they were getting nervous until, "somehow we got the message right."
They started to sign up angels and other customers who just buy the wine. "For every two customers we signed up, they recruited another."
Gormley said they now have more than 100,000 angels who collectively contribute $4 million to $5 million per month; they sold three-quarters of a million cases last year with revenue of $50 million, he said.
Last June, Nakedwines made the jump across the pond to America, and in July, to Australia. The U.S. was obviously the place to be, Gormley said, noting that UK wine consumers mostly buy cheap wine, and the U.S. is not only the largest wine market in the world, but its wine prices are high compared to those in most places.
 "There's no reason to go anywhere else," he said, admitting that the venture in Australia was opportunistic.
Once committed to America, the company rented the former Blackstone Winery in Kenwood to use as a custom-crush facility to make its wines, and opened a tasting room there.
Here in the United States, 60 percent of the 45 or 50 wines Nakedwines sells are domestic. He says he's signed up 27 winemakers and attracted 50,000 customers, including 20,000 angels. "Americans are much more open to new businesses than Europeans," he said. "It's much easier to find customers. We get affordable U.S. wines with our approach."  
You have free articles remaining.
Winemakers come to Nakedwines with a proposal. They may have access to a block of cabernet or chardonnay, and they tell Nakedwines what kind of wine they want to make and the cost of the grapes.
Nakedwines buys the grapes and pays the winemaker. The compensation depends on the wine and the results. The winemaker directs the staff at Nakedwines' winery and gets a monthly fee, plus a payment related to the sales volume. The label of the bottle features the winemaker's name, although if he has a brand, he can use that.
Some of the winemakers have other jobs, but most employers allow them to make the wines as long as they don't use the employers' names.
"The owners know the winemakers like to do their own thing, and if they don't let them, they'll probably leave," Gormley noted. "This gives them a creative outlet."
One high-visibility winemaker who's signed up is Randall Grahm, famed of Bonny Doon wines. Many others are listed at nakedwines.com.
Angels pay between $4 and $75 for the wines, typically $10 to $15 for a cabernet from Rutherford. That's 40-60 percent off what regular customers pay.
The wines are mostly coastal but also from the Sierra and Lodi. Some are from Napa, but Gormley said Sonoma offers better value.
All the wines are bottled in standard, lightweight bottles with screw cap closures and simple labels. "We put the money in the bottle, not on it," he said.
Instead of buying from tech sheets, customers can specify the type of wines they like by 39 criteria, and Nakedwines.com has a software algorithm that matches them up.
They're not judgmental about people's tastes, either. "I don't know of any other business that tells customers they're wrong," he said.
In addition, the company's website is a private social media destination where customers can discuss, review and rate the wines they buy. "That's our basic mechanism for selling wines," Gormley said. Customers can return wines they don't like, too.
Because the company likes a close connection to its customers, Gormley saw a tasting room in high-visibility downtown Napa as a big attraction, but the company ran into a hitch in its plan to open a tasting room. The city wants retail on all first floors downtown and Nakedwines.com wanted to use the back half for offices.
Last Thursday, however, the Napa Planning Commission approved its plan for a tasting room, and marketing manager Adam Reiter says that they expect to resume construction shortly.
The plans are to offer is wines from around the world in a casual lounge setting with no formal bar. "It would be like being at home," said Gormley.
It would also be a place where the company's angels could hang out for free, although it will be open to the public to taste and buy wines by the glass or bottle.It would also sell wines at retail and ship them to customers out of town.
"We are extremely excited to be able to be a part of downtown Napa and sincerely appreciate the city's effort to work with us," Reiter said.
As for the future, Gormely is careful. He wants to see how this effort works. He's open to other locations, however. "The advantage of a tasting room is that you can talk to real people," he said.
So far, the people seem to like what they've found.