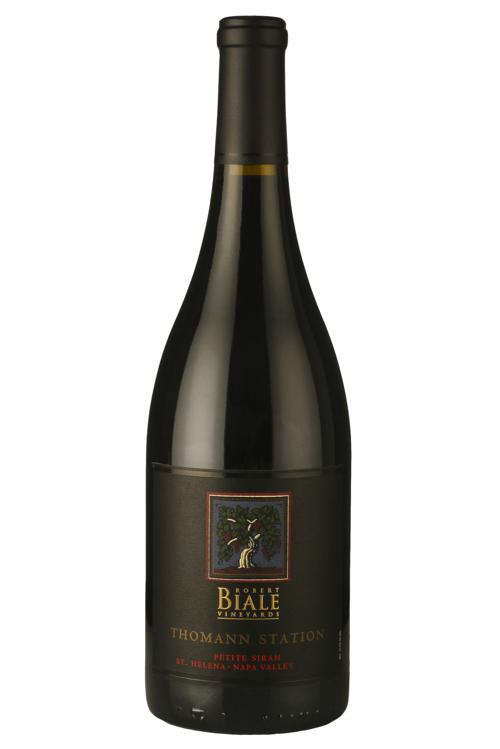 Big, bold and powerful American red wines come in many varieties, but to my mind, petite sirahs are perhaps the best of that breed. Substantial, dark, forthright and very food-friendly, I could enjoy one every day of the week.
Petite sirah, however, gets little recognition in the general marketplace. Though many wine industry folks love petite sirah, it still represents just a tiny blip in production and overall wine sales.
According to Nielsen's U.S. supermarket and other large volume off-premise outlets, in 2014, petite sirah sold just 287,482 cases for a minuscule 0.2 percent share of table wine volume. This really should change.
Petite sirahs grapes are inky, some nearly black, others exhibit purple or very dark blue pigmentation. Frequent descriptors include fruit forward, powerful, tannic, peppery or spicy, concentrated and alcoholic — quite the opposite of petite. Winemakers have learned how to tame and refine petite sirah to bring out this grape's intricate complexity and wonderful flavors, and to soften its rough edges; it's often rounded with oak.
As an added bonus, most (but not all) petite sirahs are reasonably priced. For instance Quixote's opulent 2010 Petite Syrah from Stag's Leap sells for $80. Most petites cost much less than comparably intense cabernets or red blends. Dave Pramuk, co-founder, Biale Vineyards on Napa's Big Ranch Road, said, "Petite sirah is the most underrated Californian varietal for sheer pleasure and longevity. The best are beautifully hedonistic and collectors know they have tremendous staying power."
A brief history of petite sirah
Petite sirah began its life when an amateur French botanist named Dr. Francois Durif crossed grape varietals Peloursin (mother) and Syrah (father) and created a grape he named after himself (Durif). He brought his creation to California in the late 1870s, and at some point in the late 1880s growers changed the name to petite sirah, possibly due to the berries' diminutive size.
For years, petite sirah grapes were widely planted throughout California vineyards; mostly used as a blending grape that provided other wines with needed dark color and tannins. In 1961, Concannon Vineyard in the Livermore Valley became the first winery to label by variety petite sirah and helped put this zesty grape on the map. In fact, Concannon (which has been around since 1884) still makes an entire series of petites including their smoky 2010 Heritage Petite Sirah ($60).
Miro Tcholakov, longtime director of winemaking at Trentadue Winery in Geyserville, said, "I have been making standalone petite sirah for almost 25 years for Dry Creek, Trentadue and Miro Cellars. I'm absolutely certain by now that petite sirah is not just worthy as a single varietal, but it shines when done right. Also, petite sirah is a lot more consistent with delivering what it takes to make great wine than, for instance, cab. Petite delivers the most easily to identify aromatics of blueberry and blackberry than most other varieties."
I have loved petite sirah ever since sampling my first one many years ago. California winemakers here in Napa Valley along with others in Sonoma Valley, Dry Creek, Paso Robles, Suisun Valley, Lodi, Rockpile and Lake County are producing fine petite sirahs worth seeking out. I recently conducted an extensive tasting of current petite sirahs and also asked various winemakers for some comments about this outstanding varietal needing more respect.
"Here at Parducci we have been looking at petite sirah as a standalone variety for 50 years," said Bob Swain, winemaker at Parducci Wine Cellars and Mendocino Wine Co. "The variety is interesting as a blender to bring structure and color to other wines but is more interesting on its own. The biggest challenge and its biggest attribute is the wine's tannin structure. You need to tame its big tannins but also retain them to give the wine its core structure without being too aggressive. This variety, if made well, can age as well or better than cabernets here in California. We have examples from the 1980s at Parducci that are still alive and vibrant today."
David Ogilvie, vineyard manager for Wilson Vineyards, said, "A superb petite sirah can easily outclass a great California cab in a blind tasting. The style, fruit driven, full-bodied finesse of a well-made petite is actually where many palates have been led over the past 25 years by many of the industry's best and most followed wine writers and reviewers."
After sampling countless petite sirah releases for this article, I say that Biale's 2012 Thomann Station ($52) is my favorite. Strong, stirring, marvelously inky with a little bit of tobacco and a gorgeous finish, this is the best of the breed.
A close second was the rare 2010 De Tomas from Napa Valley ($35). Young winemaker Thomas Guilliams produced a gem of a blend that combined petite sirah grapes from all over Napa. Only 60 cases were produced, so seek it out. And the Ridge 2013 Lytton Estate Petite Sirah offers up a perfect balance between fruit, ample tannins and spice, with a delightfully long finish.
"Petite sirah as a standalone varietal is experiencing a major renaissance; word is spreading that petite sirah is truly velvet in the bottle with its deep purple color and thick silky mouth feel," said Theodora Lee, proprietor and viticulturist at Theopolis Vineyards in Mendocino County.
Other excellent petite sirahs of note include: Carol Shelton 2012 Rockpile Reserve ($40); 2011 Barra of Mendocino ($22); the jammy 2010 Kokomo from Dry Creek, 2013; J Lohr Paso Robles Petite Sirah Tower Road ($35); 2012 Pedroncelli ($18); hearty and fruity forward 2013 Envy Estate Petite Sirah ($49); and the zaftig 2013 La Storia Petite Sirah from Trentadue. Plus, here are a few noteworthy wines from Suisun Valley in Solano County, where petite sirah is the most acclaimed varietal. I recommend the 2012 Cassie Petite Sirah from Veezer Winery ($49), 2011 Shoe Shine Wine from Tenbrink Vineyards ($25) and 2013 Seven Artisans Winery Petite Sirah ($25).
Dave Pramuk of Biale Vineyards said, "Wine drinkers in general, and syrah, cab drinkers in particular, just need to get caught up with the new wave of petite sirahs — they offer so much satisfying drinking, ageability and expression of terroir."
Next time you're looking for a big cab, try a petite sirah instead. You'll love the wine and have some spare change to boot.
For information about petite sirah producers, stories and events see: PS I LOVE YOU, a petite sirah advocacy group. PSILoveYou.org