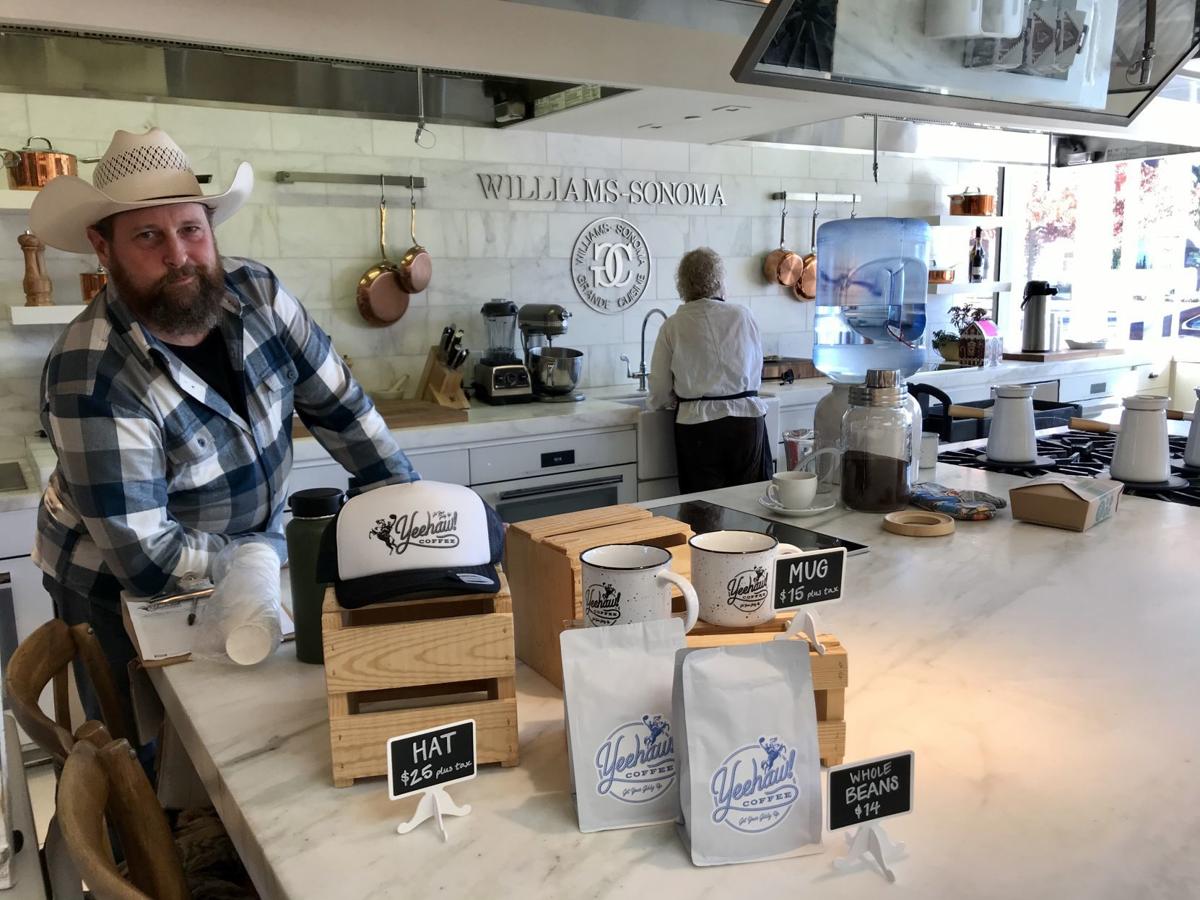 Yeehaw Coffee is the culmination of a lifetime of career transformations for Sonoma resident Timothy Benton, who has enjoyed work as filmmaker, actor, musician, singer, songwriter, food and beverage hospitality professional, and stay-at-home dad.
Although born and raised in Southern California, Benton has lived off and on in Sonoma for some years. He personifies cowboy in his both his demeanor and personality, which he attributes to influences such as watching old westerns and Southern-themed television shows with his grandfather, the Southern heritage of family members, growing up near the western-themed Knott's Berry Farm, and his love of country and bluegrass music, including the Nitty Gritty Dirt Band and the popularity of The Palomino Club, which was once a hotbed of country music in Los Angeles from 1949 until its closure in 1995.
After deaths of people close to him, recent physical challenges, and his desire to spend the most quality time possible with his two sons, Benton decided life was too short to settle for something less than living his dream of setting his own schedule and owning his own business. He was ready to "lasso life" and be responsible for his own success. Thus, Yeehaw Coffee, which had been "percolating" for over a year, finally came to fruition on Oct. 4, 2019, his first day of sales.
"Why coffee?" He responded, "It got me through college, life in the Los Angeles area, film-making, songwriting, performing, and parenting." His passion for the warm and comforting, morning-ritual beverage came from his stint in what he fondly called the "film school graduate program," which was working at three different coffee shops while trying to secure film-making opportunities.
Rather than being a bartender, which he said, "wasn't fun," he instead chose coffee and the sense of community and camaraderie surrounding it, which he found to be more nurturing and uplifting, both mentally and physically. During this time, he learned his greatest lessons in life and hospitality – how to meet and socialize with people and make them happy.
Yeehaw Coffee, born late one night from Benton's piqued interest in and research of brewing methods and an image of a western cowboy that he could not shake from his thoughts and dreams, is brewed in the "cowboy coffee" tradition. It is made in a kettle, pot, or pan on a stovetop, unfiltered, which no other local coffee purveyors are doing in this area. He calls his coffee "True Grit," as both a homage to the movie and a description of the coffee itself, which retains residual grit and natural oils that filters and French presses remove. On the palate, Yeehaw Coffee is mouth-coating, flavorful, and powerful – or as Benton describes it, "rustically refined," a beverage worthy of the resilient and rugged cowboy in all of us.
"The key to good coffee is the bean selection," says Benton. He has partnered with a Sacramento-area coffee producer and custom roaster to ensure a quality base product and he sells Yeehaw Coffee by the bag and by the cup at area farmers markets, events, and pop-ups, along with branded merchandise like stickers, coffee mugs, and hats.
He serves the coffee in two sizes, Hannie (8 ounces) and Duke (12 ounces) along with differing caffeine levels aptly named Giddy Up (full caffeine), Lazy Eye (half the caffeine), and Dirty Water (decaffeinated). He intends to acquire a trailer for mobile events and pop-ups – western-themed, of course – maybe a converted horse trailer.
Through hustling, cultivating relationships, word of mouth, and grassroots social media and marketing efforts, Benton's goal is to grow Yeehaw Coffee into a "regional lifestyle brand," including a future coffee club subscription and perhaps brick-and-mortar locations. Benton's mantra is, "Do one thing and do it well. Be a hammer, not a Swiss army knife." In doing so, he plans to ease into the future of Yeehaw Coffee gradually.
The tagline of Yeehaw Coffee, "Get your giddy up," goes beyond the coffee's caffeine boost. "It is finding what is giving you that charge," discovering one's passion or calling, what brings one happiness, Benton said.
For Benton, his charge includes Yeehaw Coffee, making music, and raising his two boys, all on his own terms.
Benton describes his career evolution in two sentences, "I'm not like other people. I fit in with the misfits." Throughout his life, he has envisioned himself as an artistic outcast, if you will. Yeehaw Coffee is result of a misfit artist, cowboy persona, and survivor – bringing a jolt of caffeine, flavor, and joy to the masses, one cup – or a few cups – of Joe at a time.
Bring water to a boil in a stovetop kettle, pot, or saucepan.
Benton adds a rounded, half of a cup of finely ground coffee (about two ounces) to his 32-ounce kettle to yield four, 8-ounce cups. Add the coffee to the boiling water so that they mix.
Benton suggests allowing the brew to sit around 10 minutes prior to serving, similar to a French press, for maximum aroma, flavor, and mouthfeel development. The coffee will form its own froth or crema on top like espresso.
Slowly pour the coffee into the cup so that most of the grounds are left behind. However, you will have some grit, which is part of the "cowboy coffee" experience.
Yeehaw Coffee is available weekly every Friday from 9 a.m. until 12:30 p.m. at the Sonoma Valley Certified Farmers' Market, 241 First Street West, Depot Park, Sonoma. More information is at getyourgiddyup.com/ or email yeehawcoffee@gmail.com.