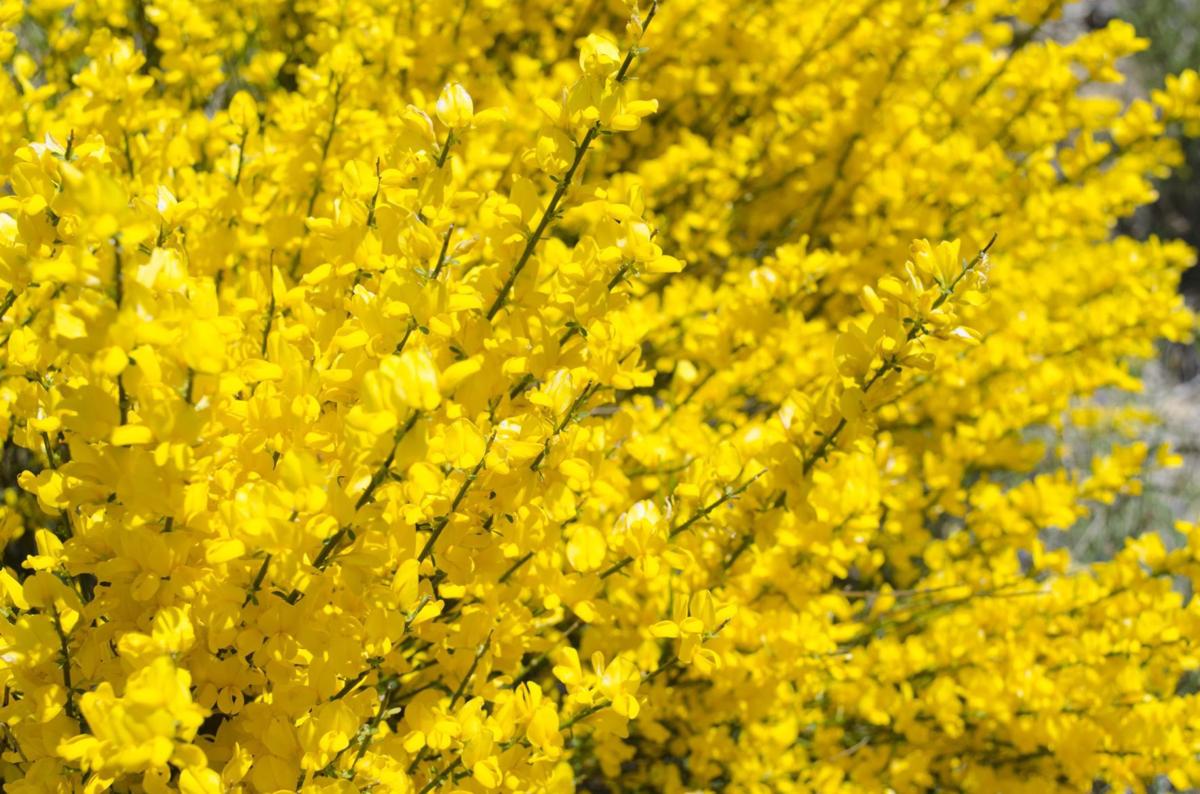 It's that lovely time of year when the bright yellow blossoms of French broom (Genista monspessulana) decorate our roadsides, forests, and meadows. But, don't let the pretty sight fool you.
French broom is a nasty, aggressive, pervasive invader that, left unchecked, will turn into a violent mob, robbing native wildflowers and grasses of sunlight, prohibiting the passage of wildlife through its closely packed stems, and over-fertilizing our soil until there is nothing left but broom. And biodiversity and native biomes lose, again.
It seemed like a good idea at the time.
French broom, along with Scotch, Spanish, and Portuguese broom, was introduced into North America from Europe in the mid-1800s as an ornamental. Then the Natural Resources Conservation Service of the US Department of Agriculture noticed its hardiness and propensity to proliferate indiscriminately and decided that broom would be a great tool to combat erosion along roadsides and in areas that had been heavily mined. The broom did its job so well that French broom, in particular, has become one of the most destructive invasive plant species in California.
What makes French broom such a huge problem?
Ironically, those same characteristics that the Department of Agriculture initially found so desirable are what make broom such a problem today.
It is a highly competitive shrub that grows very quickly, as much as 3–4 feet the first year. The long skinny stems grow very close to each other, forming dense stands that most wildlife finds impenetrable (and unpalatable). The stems branch near the top and are covered with bright green leaves and pea-shaped flowers that effectively block the sun from reaching the ground, thus preventing the germination and regeneration of native plants. And in the fall, this thick, dry, woody undergrowth provides fuel for devastating wildfires.
French broom usually doesn't begin flowering until its second or third year and it's really quite lovely. But during the dry summer months, those mesmerizing little yellow flowers, dancing daintily in the breeze all through the spring, turn into nasty, dark, hardened, little pods, covered with a little fuzz, that pop open and explosively eject the seeds for yards. A mature plant (up to 10-feet tall) can produce as many as 10,000 seeds a season. And while about 40 percent of those seeds will germinate immediately, and 25 percent the following year, because of an impervious seed coat, the remaining seeds can remain dormant in the soil for up to 50 years.
If you cut it down or even burn it, French broom will simply re-sprout. Fire, in fact, can stimulate germination of all those dormant seeds, which means that here in Napa County (and Sonoma County, as well) we could face an onslaught in the next few years. And if you spray it with herbicides, you risk killing the other native plants in the vicinity and introducing toxins into the soil that will eventually find their way into our water supply.
Fortunately, French broom has one weakness that we can exploit to help eradicate it safely: a surprisingly small and shallow root system, which makes it relatively easy to simply rip out of the ground with your bare (gloved) hands, especially if the ground is wet. And if you come across a plant that requires more than a little tug, there are special tools available designed to grab the stem near the base, so all you have to do is exert a little leverage to rip it out, roots and all.
Spring is the perfect time of year to take on the broom in your neighborhood. The idea is to pull out as many plants as possible. And while it is tempting to go for the little plants because they are easier to pull, it's the broom that is in flower now that is going to do the most damage, quite literally, down the road. So make that your priority.
If you get to a point where you realize you may not win that race, and the broom may go to seed before you can get to it, by all means, cut them down with a brush cutter so the seeds at least can't develop and disperse. That buys you a little time. Most likely you will have to come back later and pull the stump before any stems that have sprouted from its base have a chance to flower and disperse their seeds, but you will have taken a major step in winning the war.
By following this prescription, you will have fewer and fewer broom to do battle with each ensuing year. And you will start to see the rewards as native plants such as Fremont's star lily, Western hounds tongue, and native irises, start to make inroads into the newly cleared soil. You might even find edible chanterelles and porcini mushrooms popping up in the soil that you disturbed by ripping out the broom.
If we all pull together and pay attention, we can eradicate French broom and send it packing. But it's going to take many, many hands and a concerted effort. It's going to take a village.
2. For many years the Weed Wrench was the tool of choice, but the manufacturer has recently gone out of business. Fortunately, the Napa County Agricultural Commissioner's Office (707-253-4357) has a number of them available for local residents to borrow. Otherwise, you can purchase similar tools directly from the manufacturers: the Pullerbear (www.pullerbear.com); the Uprooter (www.theuprooter.com); and the Extractigator (www.extractigator.com).