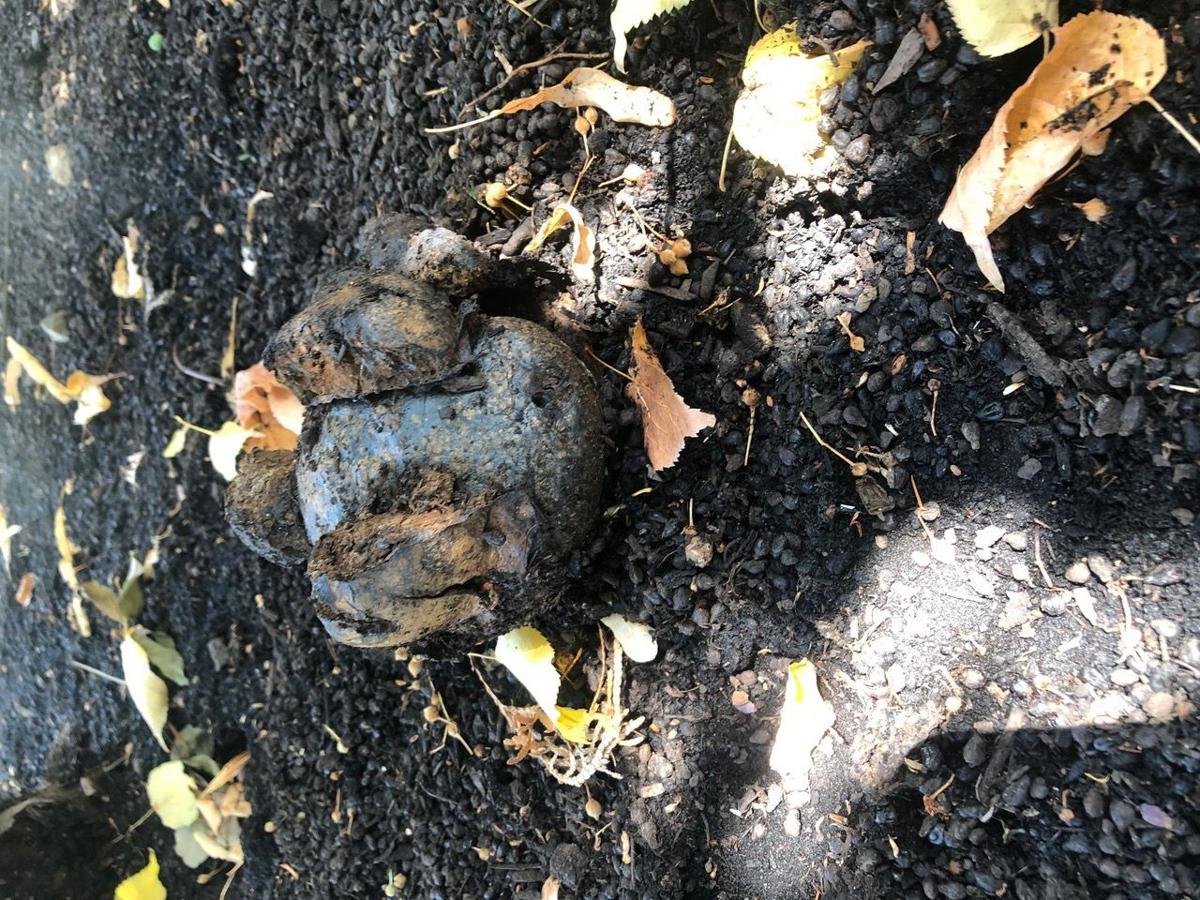 With so many people concerned about keeping their gardens alive while dealing with drought and water restrictions, irrigation worries have increased. I am receiving more calls than ever for help assessing water needs for trees.
Recently, on one such visit, an underground tree ally emerged. Under the canopies of a row of healthy little-leaf linden trees, now cut from irrigation, were scattered dark and irregularly bumpy structures.
Support local news coverage and the people who report it by subscribing to the Napa Valley Register. Special offer: $1 for your first 6 months!
At first look, one might ask: What are those ugly things sticking out of the ground? Some kind of deformed mushrooms? I recognized them as the fruiting bodies of the "Dead Man's Foot," a beneficial and drought-tolerant symbiotic fungal associate of tree roots.
Technically, it is Pisolithus tinctorius. It is found on barren, disturbed and compacted soils and is known, in part, for its ability to lift stones, bricks and pavement. Here they were protruding through a layer of grape pomace compost mulch. Of special interest now is its ability to absorb minerals and water to share with trees in dry conditions.
It is one of many fungi that form symbiotic relationships with plants. Together, the fungus and the plant form mycorrhizae — fungus-roots. The fungus greatly enhances mineral absorption, sharing with the plant while receiving carbohydrates in return. It is a neat arrangement because the fungi do not have the ability of photosynthesis, but they are great at absorbing water and minerals from the soil. Further, these fungi protect the host plant from pathogens.
Not readily recognizable as a mushroom, Pisolithus has been described in various ways. In "Mushrooms Demystified," David Arora says: "This dusty monstrosity is among the most distinctive and memorable of all fleshy fungi."
When young it resembles a puffball type of mushroom, developing just under the soil surface but as it matures the outer covering disintegrates revealing a mass of brown spores. With a bit of imagination, one can see its resemblance to its common namesake.
My first recollection of this distinctive fungus is from a tree nursery, transplanting seedlings into the ground and inoculating them with it to enhance growth. One of the many mycorrhizal fungi, Pisolithus is included in some fertilizers commonly available in garden centers and various formulations of root zone inoculants that have come into widespread use.
The relationship of plants and fungi is a very old one. I once heard a mycologist say fungi made it possible for plants to become established on land about 400 million years ago.
These symbiotic fungi form their relationship with plant roots in two ways, depending on the species of fungus and tree:
1. Ectomycorrhizae infect the host plants between cells in the roots and form a visible sheath of short, clubby branched structures around the roots.
2. Endomycorrhizae infect individual cells. They do not affect the appearance of the roots.
"Arboriculture 4th Edition" (Harris, Clark Matheny, 2004), a main reference book for arborists, discusses the subject at considerable length. Briefly summarizing, it says most plants form this relationship naturally. The relationship is suppressed by heavy irrigation and fertilizer applications. Highly disturbed soils may lack the fungi, but they can return naturally over time.
In the recently published book "Finding the Mother Tree, Discovering the Wisdom of the Forest," Suzanne Simard tells the story of her career and life struggles and her pathfinding work in forest ecology.
One of her key themes is the essential role of fungi in forest health. They protect trees from disease and their network of hyphae  — microscopic tubes — provide physical underground pathways between trees, even trees of different species, where nutrients and biochemical messages are shared.
We should keep these principles in mind as we negotiate with drought.
One simple practice can effectively support the symbiotic relationship of fungi and trees: Allow the natural litterfall of leaves and twigs to remain in tree root zones. For fire safety, do not let it build up more than a few inches, and keep it away from tree trunks and flammable structures.
Optionally, in more refined landscape settings, cover the root zones with coarse, raw chip mulch of wood, leaves, bark and twigs. It naturally contains many beneficial organisms, slows evaporation, cools the soil, shelters fine roots and their fungal associates, and promotes good tree health.