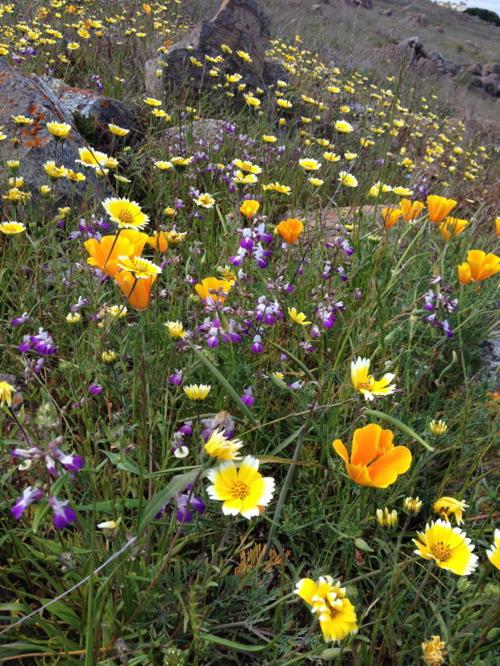 As fall begins in Napa County, gardening may not be the prime topic of interest on one's mind. However, for growers of California native plants, planting season is quickly approaching.
Fall is an excellent time of year to get California natives in the ground so that they are poised and ready to soak up all of the coming winter rains and are prepared to survive next year's dry season. This plan applies to both home gardens and wild lands. Here at the Land Trust, we are scheduling volunteer planting days and formulating propagation plans in order to meet the coming year's native habitat restoration goals on our preserve lands.
If you've been out for a hike lately, perhaps you've noticed that many California native plants are going to seed, and many species have already dehisced — dropped their seeds. As a result, acorns, berries, and a myriad of other seed varieties are now settling into the soil and awaiting the cold and (hopefully) wet winter months to begin germination in early spring. Land Trust staff and partners have been collecting seed on our preserves for the last several months in order to grow for upcoming projects.
Collecting seed from the wild entails being able to locate and correctly identify your species of interest, while also clambering over rocks, hopping over streams, and peering over ledges, with patience and excitement as you hope that your collection outing is timed just right.
During collection, you may need to visit a particular patch of plants multiple times before encountering seeds ripe and abundant enough to collect, finding along the way that the desired seeds are too green and not yet ready, or conversely, that they've just dropped, which means waiting an entire year to try again.
When collecting, the rule of thumb is to gather no more than 5 percent of the available seed from a given patch of plants, selected only from robust plant populations. The goal is to leave the majority of the available seed to serve as food for wildlife, and to ensure the repopulation of the individuals that you collect from.
Gaining permission from land owners ahead of time is an important step in any collection plan, and permitting is actually required to collect seed from special status (rare, threatened, or endangered) plants.
Once collected, seeds may need to be treated in ways that mimic natural conditions in order to spur on germination. Some seeds require several weeks or months of refrigeration to mimic a cold winter. Other seeds may need boiling or sand paper treatment to break down their hard outer coat in place of fire, while others, like the California poppy, can merely be sprinkled on the ground and left alone to happily grow on their own.
Part of the fun of growing natives is figuring out these requirements. Spark up a conversation with the growers at your local native plant nursery, and you'll be astounded to hear the lengths that they'll go to in order to get their seeds going.
At the moment, the Land Trust is excited to be working with Pacific Union College biology students and the Oaktown Native Plant Nursery to grow 1,800 individual plants for a streamside habitat restoration project at our Linda Falls Preserve near Angwin.
After extensive removal of invasive Himalayan blackberry along Conn Creek, we will be replanting with a mix of natives collected from the preserve. Our goals are to improve habitat and maintain native species diversity in an area where invasive Himalayan blackberry had been overcoming native riparian species.
Other revegetation projects on the horizon include the ongoing restoration of a valley oak savannah on the Wantrup Preserve in the Pope Valley, and perennial grassland restoration at both the Archer Taylor and Foote Botanical Preserves.
For each of these projects, we have carefully selected site appropriate plant species to grow from locally collected seeds and cuttings. Replanting restoration sites with local, site specific natives is important in maintaining the specialized adaptations in a given plant community.
Specialized adaptations develop in response to climate, water availability, soil types, and other environmental factors. By keeping our plant sources local, versus bringing in plants from other parts of the state, we are able to sustain the specialized plant communities that have come to thrive in this region. In Napa County, more than 1,500 native plant species have been documented as naturally occurring here.
Planting natives in home gardens has just as many benefits as planting natives on wild lands. Native gardens provide food and habitat for local pollinators such as birds, butterflies and bees, they require little to no watering once they are established, and they do not require fertilizers or herbicides which contribute to pollution in our waterways.
If you're looking to reduce water consumption and prevent pollution, planting natives is a fantastic solution. Many Bay Area native plant nurseries have festive annual sales this time of year, so keep on the lookout for these events, and enjoy the coming gardening season.
Megan Lilla is a staff member of Land Trust of Napa County, which provides quarterly updates for the Napa Valley Register.