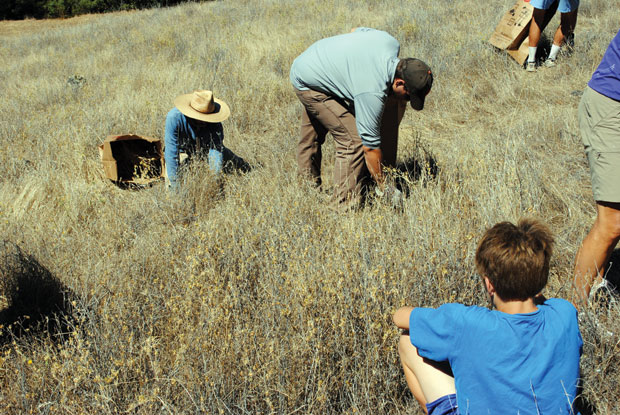 There's that old saying about spring rains bringing spring flowers. We celebrate the winter rains (whenever they come) as they help to rejuvenate the land and watersheds after the typical hot, dry California summers. Amateur and professional botanists, land managers, naturalists and citizen scientists welcome those first glimpses of early spring blooms, knowing all too well that wildflowers give way to less desirable plants, like yellow star thistle.
Yellow star thistle is a rapid-growing, nonnative, invasive annual plant considered to be one of the most economically damaging invasives in our state, according to the California Department of Agriculture. It affects more than 22 million acres in California, including Land Trust of Napa County permanent preserves and conservation agreement lands.
Historically, this southern European/western Eurasia native was first introduced to the Bay Area around 1869, most likely as a contaminant to alfalfa seeds. With an output of up to 30,000 seeds per square meter and the ability to remain in the soil's seed bank at least three years, yellow star thistle is a rapid colonizer that competes with native vegetation for space and nutrients. As a result, it displaces native wildlife by removing their natural food sources. It also depletes soil moisture in grasslands and decreases both the forage quantity and quality of rangelands. While toxic for horses, other grazing animals will eat the yellow star thistle before it flowers.
All is not lost for property owners, though: Yellow star thistle is controllable and can be successfully removed from affected areas. For established yellow star thistle populations, timing is key to successful removal. Weed managers usually implement a regime that combines physical, mechanical or chemical treatments such as hand removal, prescribed burns with follow-up herbicide treatment, mowing, grazing, or herbicides combined with bio-control methods. Because of its seed longevity in the soil, removal plans should include approaches that last at least four to five years. The Land Trust, through diligent and longtime efforts by dedicated volunteers, has virtually eliminated yellow star thistle from the Archer Taylor Preserve's walnut orchards.
Who cares? At the Land Trust, our land protection efforts include not just the acquisition or permanent protection of properties, but also the long-term management and stewardship of those same protected lands. The more proactive and effective we are in addressing noxious plants on our own properties, the more it will help reduce their impacts on the sensitive habitats, while also reducing the seed dispersal to our neighbors' lands and those farther down the way. Invasive plants, like yellow star thistle, dramatically affect those precious landscapes that we have all worked so hard to preserve. Controlling infestations comes at a high physical and monetary cost. And really, come late summer, no one enjoys walking through a prickly, visually unappealing patch of yellow star thistle.
These are all reasons why the Land Trust is actively working to control yellow star thistle through our stewardship activities. Our efforts include a series of volunteer work days on the Dunn-Wildlake Ranch Preserve, focusing on a grassland restoration project started in June 2013. The first year of the project entailed the successful removal of 6 cubic yards of yellow star thistle by hand over the course of five volunteer workdays. Motivated by the scenic backdrops and views into Bell Canyon, 15 volunteers were dedicated to ridding the project area of this hardy invasive.
Also in 2014, the Land Trust has hired American Conservation Experience crews to manually remove yellow star thistle in some of the most extensive, most inaccessible grasslands on the Dunn-Wildlake Ranch and Archer Taylor Preserves. We are also working with conservation agreement landowners to reduce the impact of yellow star thistle on wildlands through sheep grazing.
For those who are interested, we invite your participation in a number of volunteer workdays on our permanent preserves. Invasive plant removal is a central activity to address not only yellow star thistle, but a number of other common invasives. Check out NapaLandTrust.org under Field Trips for workday information.