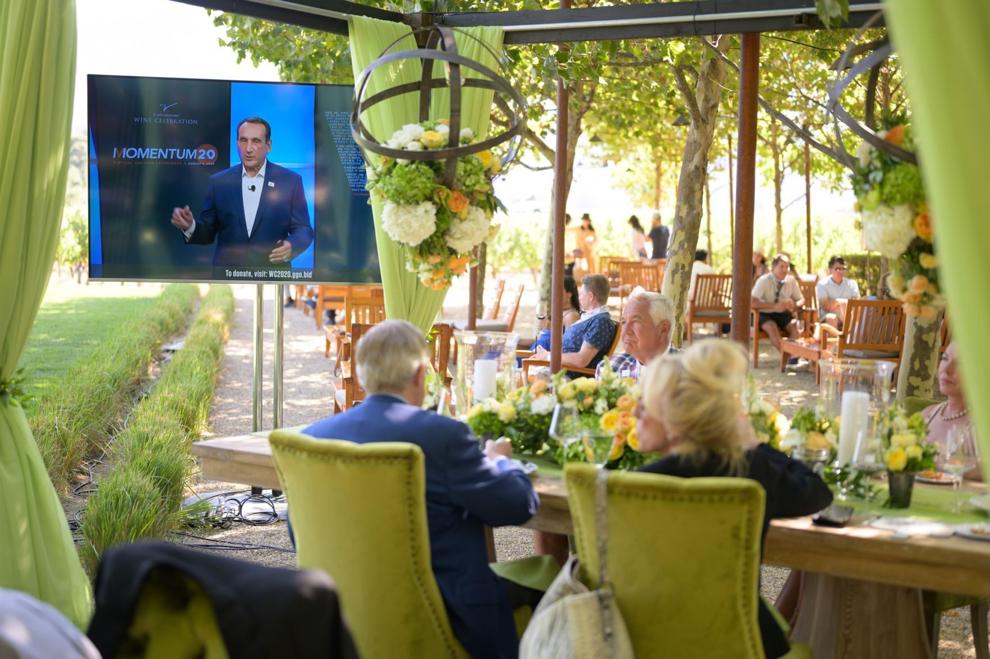 MOMENTUM 2.0, the V Foundation Wine Celebration held virtually on Aug. 8, raised more than $3.6 million to support the V Foundation's cancer research.
It was hosted by NCAA basketball coach Mike Krzyzewski, ESPN college basketball analyst Jay Bilas, ESPN's SportsCenter anchor Sage Steele, and auctioneer John Curley.
The day began with the Answer for Cancer Symposium, followed by V for Victory, a one-hour television special on ABC. The Virtual Auction Gala followed, with lots that included experiences at the Super Bowl and the ESPYs and a sail-fishing competition with Emeril Lagasse. The top lot of the evening was a ruby encrusted 3-liter bottle of 2019 Gemstone Ruby Barrel Selection, which garnered $300,000.
The event concluded with the fund-a-need, supporting the V Scholar Grants, starting with a challenge donation of $1 million from longtime event supporters Wayne and Nan Kocourek.
The 2021 V Foundation Wine Celebration was held Aug. 5–8 in the Napa Valley. The V Foundation Wine Celebration has raised more than $118 million for cancer research over the last 22 years. For more, visit winecelebration.org.
A new hire at Reynolds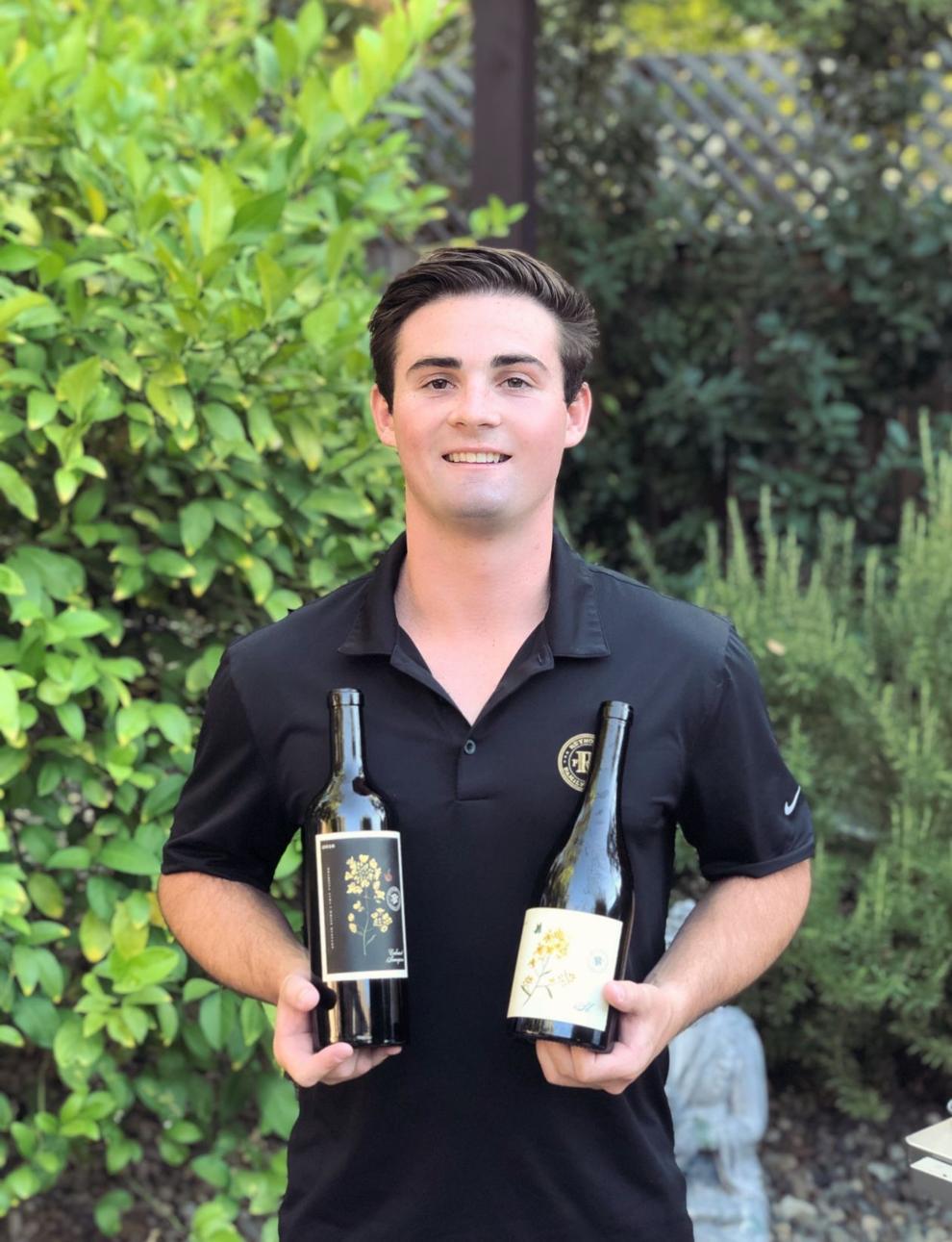 Reynolds Family Winery has appointed Cameron Reynolds as national sales manager. A recent graduate from Cal Poly, San Louis Obispo, he graduated with a Bachelor of Science degree in Enology/Viticulture with a minor in business.
Steve Reynolds, owner, and wine maker said his son "will be instrumental in educating our distribution partners of the quality and value of Reynolds Family Wines and we couldn't be prouder to have our son in the family business."
Steve and Suzie Reynolds started the winery in 1999 on the Silverado Trail and produce 7,000 cases annually. The winery produces a full line of wine varietals with a focus on small-batch Cabernet Sauvignon and bold red blends.
News from Cakebread Cellars
Aaron Fishleder has been named the new vice president of operations for Cakebread Cellars.
In the newly created role, Fishleder will oversee all operations for the family-owned winery, including viticulture, winemaking, and facilities.
"I am honored to join one of Napa Valley's most iconic wineries," Fishleder said. "The Cakebread family's dedication to quality, innovation and sustainability is one of the many reasons I was drawn to join the team." His first day at the company was Aug. 6.
Fishleder is a graduate of UC Davis with a Bachelor of Science degree in plant science and Masters in horticulture with an emphasis in Viticulture. Upon graduating, he became the viticulturist at the Far Niente winery where he progressed to president of their farming operation over his 20-plus years there. He lives in Napa Valley with his wife and three children. When he is not working, Fishleder enjoys landscaping projects, playing tennis, running, and working with his wife Heather on design projects around the house.
A new lounge at Inglenook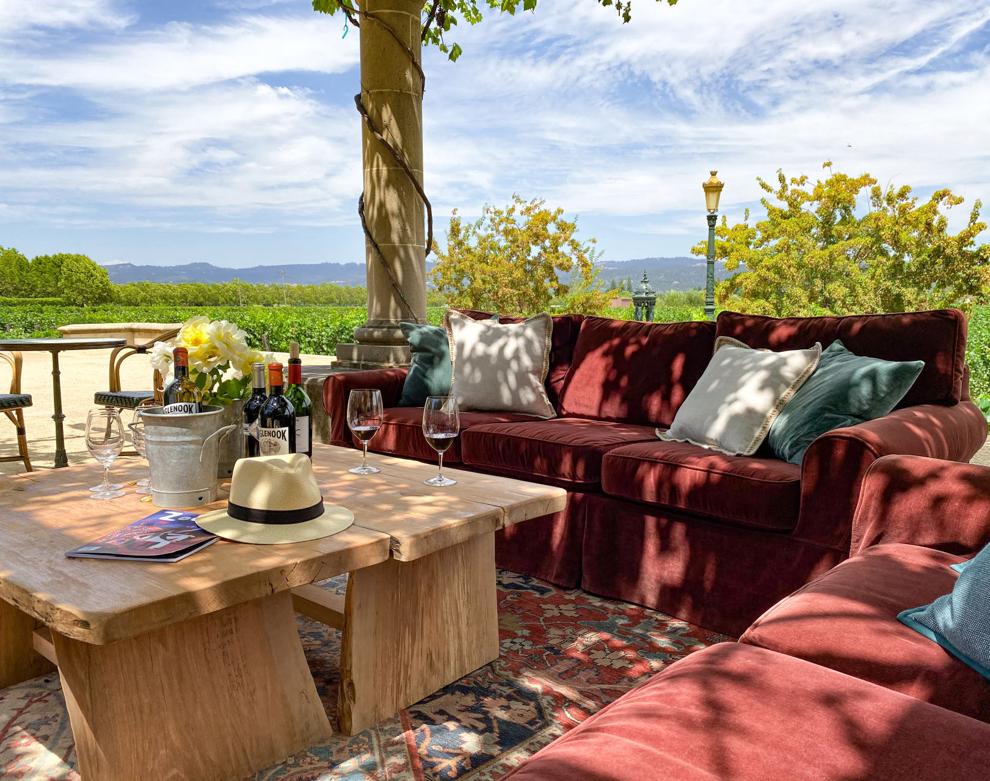 Inglenook has opened a new pergola private lounge in their courtyard looking out at views of the estate vineyard. A three-course Food & Wine Pairing menu, served family style with a selection of Inglenook wines, is $150 per person for a four-hour reservation. The Wine Flight ($100 per person for a two-hour reservation), is accompanied by a cheese and charcuterie platter, and includes a selection of Inglenooks Sauvignon Blanc, Blancaneaux, Edizione Pennino Zinfandel, Estate Cabernet Sauvignon, and Rubicon. These offerings are for eight guests or fewer.
The tasting experiences are available by appointment only. Reservations should be made, at least 48 hours in advance, by calling 707-968-1161 or by emailing reservations@inglenook.com. More information on Inglenook's tasting experiences can be found at nglenook.com/visit.
Ashes & Diamonds teams up with Carneros resort
Carneros Resort and Spa is introducing a new package, The Ashes & Diamonds Experience, which offers guests all the perks of being an Ashes & Diamonds wine club member on the day of their visit, without having to buy the membership. Among the perks, guests can take or ship wine home without paying a premium. For more information, visit carnerosresort.com.
Stretch & Sip with Duckhorn
A 45-minute yoga session will be guided by certified yoga instructor Amanda Barragan. Then, led by Migration and Decoy winemaker Dana Epperson, explore three rosé wines, Migration Brut Rosé Sparkling Wine, 2019 Decoy California Rosé and 2019 Goldeneye Anderson Valley Vin Gris of Pinot Noir. Only 50 packages are available. Participants must be 21 and over to attend. The cost is $135, plus shipping and tax, or $110 for club members.
Watch now: Winepawlooza 2020