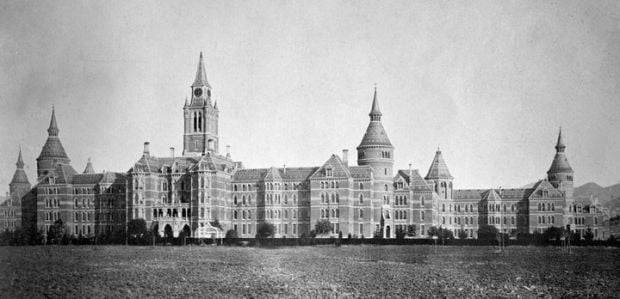 Over its 138-year existence, political correctness has played a huge role in the name of that large institution on the south side of the city of Napa.  
In the beginning, it was the Napa Insane Asylum, and early maps marked its location with the words "Insane Asylum."
 Later, the name was changed to Napa State Hospital, but, to local citizens, it was called Imola. Today, it's still officially Napa State Hospital but locals refer to it as Napa State — like it's a state college.
Regardless of what it's called, the institution has played an important role in the state's hospital system, and an even more important role locally. Throughout its long existence, it has been one of Napa's major employers.  
Back in the old days, BW (before wine), Napa and Napa Valley were noted not for agriculture but for the insane asylum. Tell folks you were from Napa and their immediate response was, "Who let you out?" Our Napa High athletic teams, when playing out of town, were especially vulnerable to such taunts from the fans of our opponents.
Many of Napa's citizens, including yours truly, worked at what I still refer to as Imola. My first full-time job after graduating from Napa High in 1948 was as an "attendant" working on the wards taking care of the patients. (Back in those days, they were caringly referred to as patients. Now they are called "residents." More PC.)
Then, the hospital was housed primarily in the four-story, stone, castle-like, Gothic structure complete with seven towers. The towers were visible from rooftops in downtown Napa.
According to the hospital's website, the facility was built to ease overcrowding at the Stockton Asylum, the first state hospital.  
Construction started in 1872, and the first two patients, from San Francisco, were admitted in 1875.
The website advises that initially 192 acres were purchased from a land grant owned by General Mariano Vallejo. Eventually, through land acquisition, the acreage would total more than 2,000 acres. It stretched from the Napa River to the ridgeline east of today's Skyline Park.  
Over the years, the landholdings were reduced. Napa Valley College, Kennedy Park and Skyline Park now occupy what was once the agricultural and wilderness areas of hospital land.
The hospital was almost totally self-supporting. It had its own dairy, pig farm, poultry ranch, vegetable gardens and orchards. It had its own kitchens and bakery and even had an underground railroad where meals and bakery goods were transported to the wards on rail cars.
The original design was for a 500-bed hospital. The population peaked in 1960 with more than 5,000 residents, but has declined steadily over the years due to changes in treatment and admitting criteria.
The striking stone castle was razed in the early 1960s and replaced by ho-hum, unimpressive buildings of a design prevalent at that time.  
"Napa State" is still a credit to the community and plays an important role in the care of what has now come to be called "developmentally disabled residents."  
Today, the hospital is still there but, it's not like it once was. I miss the castle.  
I will continue with discussion of Napa State in my next essay two weeks hence.
Be the first to know
Get local news delivered to your inbox!