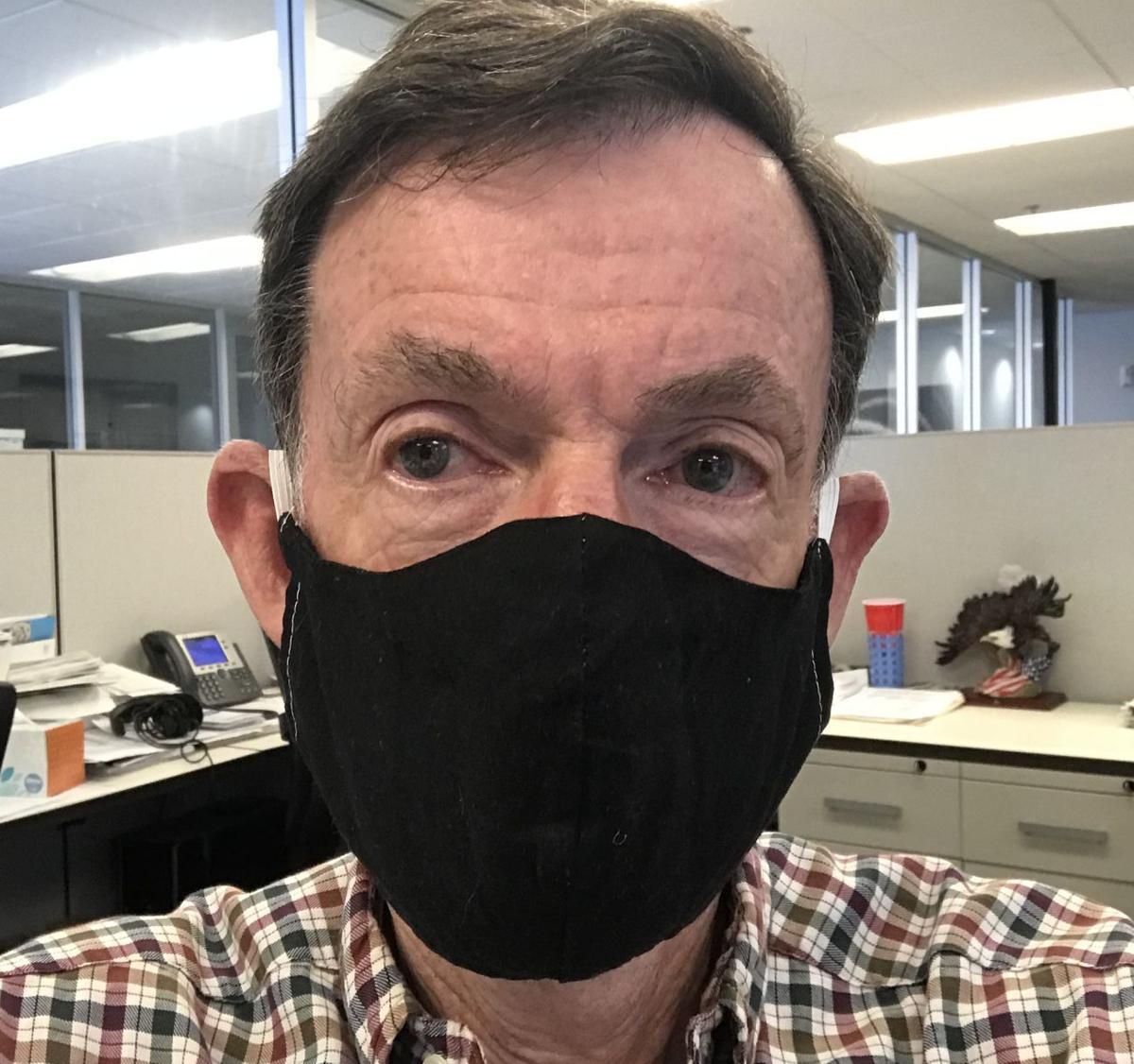 Cheryl and I exchange text messages throughout our workday. If she finds a typo in the paper, that's a text. If she hears sirens, that's a text too.
I text less often. Because I'm WORKING, right?
I've reviewed our texts over the past month. Soooo much trivia. Sooo much fun. And yes, dollops of bad news.
Apparently, Sept. 15 was a smoky day for I let loose with: "AQI 107"
Her response: "I've been out — 3 worms"
I can interpret. She'd found three tobacco budworms in her potted geranium — and squished them.
Then she texted: "They didn't know what was in store for them ha ha"
Life took a more dramatic turn on Sept. 18. Cheryl sent me a disturbing photo of a bumped baby toe — her own. "my toe is black and blue" she reported.
Me: "That's a sea cucumber?"
She: "worsening." Then she sent a more ominous toe photo.
Me: "My god! Potential amputation?"
Health issues lingered. Three days later she sent a link: "For Older People, Reassuring News in the Statin Debate."
She's always sending me health news. Because she loves me.
The next day I received a photo of an unrecognizable woman with a bag of ice strapped to her face. This was Cheryl, just returned from a visit to an oral surgeon.
"Can I bring home something?" I asked.
She responded with a worm emoji. While convalescing, she was again picking through her besieged geranium.
Hours later she texted: "Still numb" and "I have to be strong," accompanied by a flexed bicep emoji.
Exchanges on Sept. 25 took a dark turn.
Upon learning that Dave Stoneberg, the esteemed editor of the St. Helena Star had been let go for budgetary reasons, I delivered the news to Cheryl: "Stoneberg axed"
Then I reported that Tim, our copy editor, had met the same fate.
On Sept. 28, as the Glass Fire raged, I asked if we could put up Jesse, the St. Helena Star reporter who'd been evacuated from his Angwin home, in our spare bedroom.
"He's welcome here, but then I have to move 10 boxes of photos ha ha," she replied.
Those boxes had been assembled earlier that day after receiving a misdirected cellphone blast that said we should be prepared to evacuate.
An hour later my phone buzzed. "I moved the boxes," she texted. Then another text: "and guitars" belonging to a son.
More fire news flew back and forth. Cheryl was trying to make sense of the destruction.
Then came the smoke that fell over Napa like a filthy blanket.
She: "Smoke is coming into the bathroom through the vent. So now I have the vent (motor) on"
A little bit later: "ash incredible on deck"
Later: "Hear a lot of sirens" and "washed off deck. Looked like snow"
I wasn't holding up my end of the texting exchange. I was swamped trying to get out news for Register readers.
"Fire update?" she finally inquired.
Me: "status quo. I'll probably be home after 5:30"
She responded with an Air Quality Index update: "air is 452!!!!!" I was exasperated by this insanely high AQI. Were birds falling from the sky?
My measured response: "this is in error. it is 162" and "I will be home close to 6"
The fire threat eased, air quality got better. We went some days without texting.
Then driving to work one morning I was overcome by morning chill and hint of autumn.
"sweater weather" I texted.
She: "brrr" Apparently our house had become an ice chamber.
More days passed, then last Saturday's I got this classic:
What a lovely sentiment. Wouldn't we all like to be grass seed! Then I left the plumbing department at Home Depot and joined her in gardening.
Kevin can be reached at 707- 256-2217 or Napa Valley Register, 1615 Soscol Ave., Napa, 94559, or kcourtney@napanews.com.