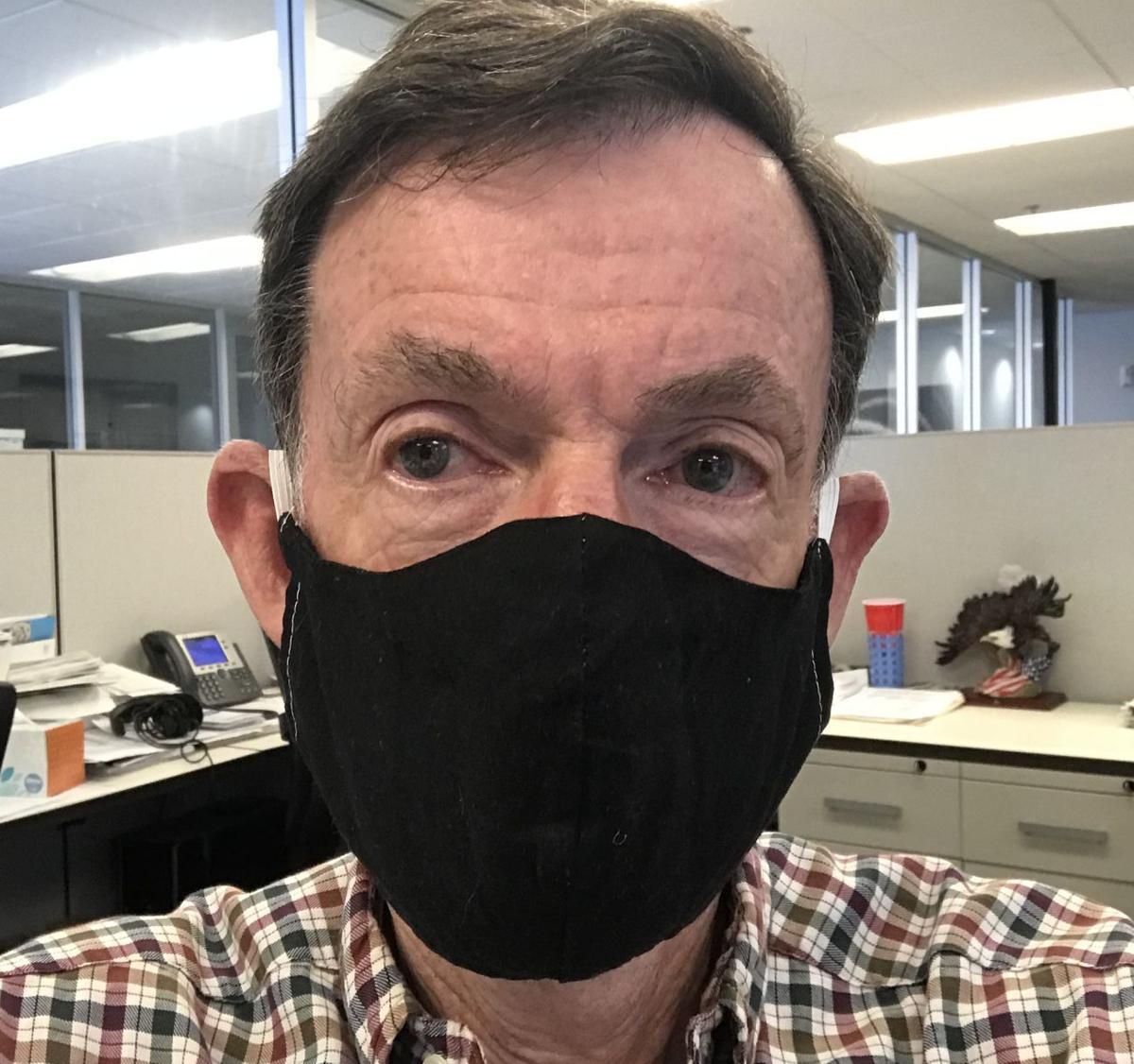 Who expects to encounter a wild animal as he sails out the back door on his way to work.
As I opened the door, something furry on the mat caught my eye. I recoiled in a microsecond and slammed the door shut.
I had glimpsed teeth and a snout. What kind of creature did they belong to? Not to our cat, Calico, that was for sure.
My first thought was a reach: Wolverine!
There may not be any wild wolverines in California, but they apparently live in my imagination. And here was one stalking me at my house.
Peeking through the glass, the threat became less severe. I spied a curled up raccoon on the smallish side.
Raccoons romp at night on our property, but they don't stick around after daybreak. I figured this one was out of its mind, maybe dead or dying.
Hearing my commotion, Calico approached from the garage, then froze when she spotted the wild thing. She gives raccoons wide berth. That's how she's survived all these years.
Now Calico again did the smart thing: She sloooow-walked away.
I called out to Cheryl. Come and see this!
She was horrified. This balled up raccoon might as well have been a snarling wolverine. She ran through the house and out the front door.
It wasn't to render first aid. Her response was more primal. She was rushing to barricade Calico inside the garage.
An overreaction? What did I know? Maybe the raccoon was rabid?
For sure it wasn't dead. Its eyes were open. It appeared stunned as I stepped out and around it to leave for work.
I figured we'd let the raccoon rest on our porch all day. If it was dead when I got home, I'd bury it.
Cheryl had another thought. Call animal control!
Yes, that would be a good thing to do, too.
When I got to work I called animal control, which meant going through the police dispatch center. The dispatcher also suggested I call the county trapper.
I didn't think this dazed raccoon needed trapping, but I complied and called both resources.
In a matter of minutes, I got a call from an animal control officer who said he'd come right out. But once he assessed the situation, he warned, he might have to put the animal down.
I called Cheryl with the good news. A raccoon specialist was on his way.
Call him off, she said. She now feared what would happen if we handed a sick raccoon over to animal control. It would end up in a landfill.
I didn't think so. I expected it would be sent to a rendering operation if it couldn't be saved.
But this was a fine point not worth debating. Cheryl had been to Napa Wildlife Rescue's website. She intended to turn the raccoon over to their vet. Maybe a life could be saved.
Good job, Cheryl. You were so on it!
With just minutes to get to work herself, she'd awakened a neighbor and asked if he'd take the raccoon to the vet. And he'd agreed.
She'd gently loaded the groggy raccoon into a cardboard box using a shovel — no gloved hands for her — and passed him off to Noel who, still groggy himself, shot off with the raccoon in his car.
Vaya con dios, little raccoon guy.
We went through the Labor Day weekend not knowing the creature's fate. Noel didn't hold out much hope. That raccoon was in bad shape, he said.
On Tuesday, I called Napa Wildlife Rescue to try to get a status report.
A woman called back with sad news. The raccoon hadn't been turned over by the vet for Wildlife Rescue to care for. Apparently the little guy hadn't made it.
The whole incident left us both a little sad. The raccoon had curled up against our house as his body gave out. Had he had expected more from us?
Cheryl channeled her emotions into spending more time with Calico and wiping her down with a wet towel when the afternoons got insanely hot last week.
I thought about the precarious lives of wild things.



Watch Now: Red skies on First Street



Kevin can be reached at 707- 256-2217 or Napa Valley Register, 1615 Soscol Ave., Napa, 94559, or kcourtney@napanews.com.