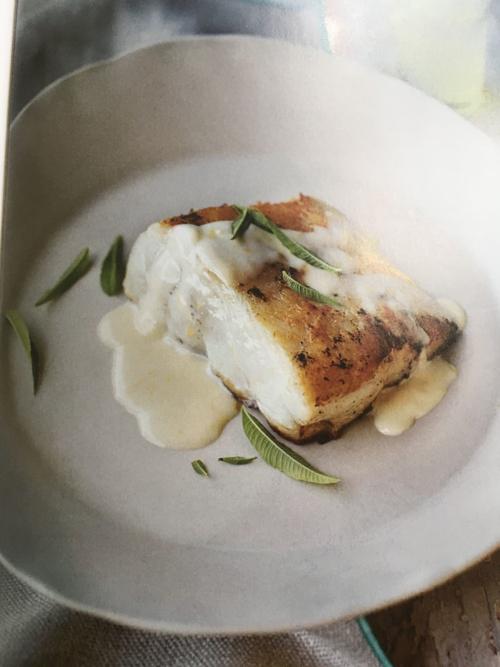 Since May 1 is Sauvignon Blanc Day, and because its crisp style goes so well with fish, here are several simple recipes to help celebrate the day – and the wine. Even though Sauvignon Blanc originated in the Bordeaux region, today it's grown all over the world from California to New Zealand and South Africa, providing lots to choose from. If you don't want to cook, but still want to celebrate Sauvignon Blanc Day, look no further than a chilled glass with goat cheese toasts or oysters on the half shell.
Smoked Trout Paté
Adapted from "La Vie Rustic, Cooking and Living in the French Style," by Georgeanne Brennan, Weldon-Owen, 2017
Smoked or poached fish are easily turned into a spread that makes an ideal accompaniment to a chilled glass of Sauvignon Blanc. Think of this as a basic recipe that combines fish, herbs, and cream and change up the herbs and seasonings according to your whim and what you have on hand.
4 ounces smoked trout or a fillet of white fish such as sole, halibut, or other, poached, drained and cooled
½ teaspoon freshly ground black pepper
3 teaspoons minced fresh tarragon leaves plus extra for garnish or substitute chives
1/2 teaspoon minced lemon zest
1 teaspoon fresh lemon juice
Break the trout into pieces and put them in a bowl with the remaining ingredients and mash together with a fork to blend until a thick paste forms.
Pack the pate into a crock or bowl and garnish with a sprig of tarragon or a sprinkling of minced tarragon leaves.
Sea Bass with Lemon Verbena Beurre Blanc
Adapted from "La Vie Rustic, Cooking and Living in the French Style," by Georgeanne Brennan, Weldon-Owen, 2017
Beurre blanc is a delicate sauce of lemon, cream, and butter that is a favorite in the Loire Valley in France, where it is said to have originated. Fish, both river and ocean, are a central element in the traditional cooking, and Sauvignon Blanc is frequently the wine offered. Of the many Sauvignon Blancs produced in the Loire Valley, Sancerre is perhaps the best known.
10 sprigs fresh lemon verbena, each about 6 inches long plus 8 leaves for garnish, or substitute half cup dried lemon verbena leaves
1 Tbsp. freshly squeezed lemon juice
4 sea bass fillets, each about 5 to 6 ounces, and ¾ to 1 inch thick
1 tsp. freshly ground white pepper or substitute black
1 Tbsp. freshly squeezed lemon juice
1 Tbsp. extra virgin olive oil
In a small saucepan, over medium high heat, heat the cream to just below a boil Add the lemon verbena and remove from the heat. Let the cream and lemon verbena steep until the cream tastes of the herb, about 1 hour. In a small saucepan over medium heat, bring the lemon juice and salt to a boil, reduce the heat to medium and stir in the cream. Simmer, stirring, until thickened, about 5 minutes. Strain the sauce through a Chinoise or a fine wire mesh sieve.
Return the cream mixture to the pan and to the heat, add the zest, simmer a minute or two, then whisk in the butter. Add more butter if desired. Cover and keep warm while you cook the fish.
Place the fish in a large bowl and sprinkle with the salt, pepper, and lemon juice, turning several times to coat. Set aside. In a frying pan over medium high heat, melt the 1 tablespoon of butter and the olive oil until the butter foams. Add the fish fillets and cook until the bottom is golden, and the lower parts of the fillets are opaque, about 5 minutes Turn and cook the other side until golden and the fish is now entirely opaque and easily flakes with a fork.
Place each fillet on a dinner plate or in a shallow, rimmed dinner bowl, and drizzle equal amounts of the sauce around each, reserving a little to drizzle over the top of the fish. Garnish with the reserved lemon verbena leaves.
Papillotes of Sole, White Beans, and Spinach with Saffron Sauce
Adapted from "French Beans," by Georgeanne Brennan, Rancho Gordo Press
Papillotes — half-hearts of sealed parchment packets surrounding a fish fillet, along with vegetables, herbs and seasonings are simple to make but look so very sophisticated. The fish and vegetables steam inside the packets, infused with the flavors of the other ingredients. Saffron sauce, a traditional accompaniment for seafood, makes an elegant finish to the dish.
1 1/3 cups cooked Alubia Blanca, Coco beans, or Cannellini drained, warm or at room temperature
4 sole fillets, about 1½ pounds total
½ tsp. freshly ground black pepper
8 tsp. white wine, preferably Sauvignon Blanc
2½ Tbsp. unsalted butter (divided use)
1 shallot, minced (about 2 tablespoons)
1 cup homemade fish or chicken broth (or low-salt commercial broth)
¼ tsp. freshly ground black pepper
Cut four 14-inch rectangles of parchment paper and fold them in half. Draw a half-heart shape on each rectangle (with the heart's center along the fold), then cut along the lines. Open up the heart-shaped papers and lay them flat. Using a little of the butter, grease each paper on one side of the heart shape. Spoon 1/3 of the beans atop the butter, sprinkle with a little salt and pepper, then lay a fillet atop the beans. Season with a little more salt and pepper, and top with ½ cup of spinach. (The stack will be quite high, but the spinach reduces on cooking.) Sprinkle each stack with 2 teaspoons of wine, and dot with the remaining butter.
Fold over each packet. Starting at the top, fold the edges several times and pinch them together to seal the packet. At the end, twist the paper together to seal completely. Using a spatula, transfer packets to a rimmed baking sheet.
Bake until fish is opaque and spinach has reduced, about 8 minutes. Remove from the oven and keep warm.
While the packets are cooking, make the sauce. In a small saucepan over medium-high heat, melt ½ tablespoon butter. When it foams, add shallots; sauté until golden, about 2 minutes. Add broth and reduce by half. Add cream, saffron, salt, and pepper; cook, stirring until thick and hot but not boiling, another 3 to 5 minutes.
To serve, place a packet on each of 4 plates and slit the packet open with scissors or a knife. Serve immediately with the hot saffron sauce.
Be the first to know
Get local news delivered to your inbox!