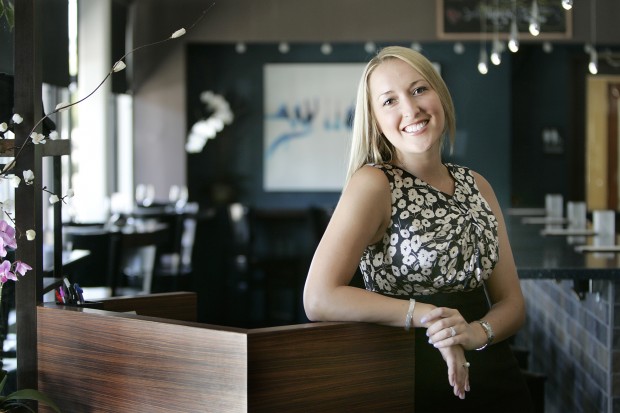 Local restaurateur Stephanie Kendall is having a blast celebrating her first year as co-owner of Carpe Diem Wine Bar in downtown Napa.
Sharing a zest for food and wine with her business partners, Kendall opened Carpe Diem on June 16, 2010, along with her husband, Chef Scott Kendall, and the couple's longtime friend, Steve Distler, the business's wine director hailing from Queens, N.Y. 
Kendall, 27, attributes her adventurous palate to her formative years and catching the travel bug as a youngster growing up in Santa Rosa. Among her favorite travel experiences are treating her taste buds to dishes and wines in far-away locales and seeking out unusual culinary gems. 
"I grew up in a household that loves to travel and eat," Kendall said in an email, adding that fate brought her parents together for the first time in Bali while her father was a pilot.
"Because my parents were very well-traveled and we were able to (buy inexpensive) seats through my father's airline discounts, I was able to see and taste a lot this world has to offer," she said. "I truly plan my trips around food and wine destinations, and it doesn't hurt that my hubby is a chef, either."
Many of Carpe Diem's most unusual dishes, including a popular ostrich burger with Brie and the fried olives with herb and goat cheese filling, were inspired by culinary treats Kendall and her husband discovered while traveling in South Africa and New Zealand, respectively. The international trend extends to Carpe Diem's wine list, which boasts offerings from around the world, but keeps its "main emphasis on Napa," Kendall said.  
In spite of her far-flung travels, Kendall said she and her business partners remain in touch with what locals expect when it comes to keeping a night out in Napa affordable.
"We have priced our wines to be a local spot, rather then a tourist trap," she said. "All the locals here are wine savvy enough to know how much they can buy the wines from direct from the winery or a wine shop around the corner."
When it comes to keeping Carpe Diem running smoothly, Kendall said she faces the same tests other business owners do — especially in today's struggling economy. 
"The most challenging thing is keeping everything organized, from your books, your taxes, your employees (to) all the up-to-date rules and regulations that literally change every few months or so," she said. 
Getting to know her customers and spending time in Napa, she said, is the fun part. 
"I have created some lifelong relationships with many of our Carpe customers," she said. "Opening Carpe Diem in downtown has let me realize what a fantastic community Napa is, and I just love it."
Napa's proximity to the coast, the mountains and its many  restaurants and wineries are among the valley's other obvious charms, Kendall added.  
It's easy, she said, to wrap up a day in Napa Valley with a fine meal created either at a local restaurant or at home, "using your own homegrown heirloom tomatoes paired with your neighbor's sauvignon blanc," she said. "To me, that's paradise."