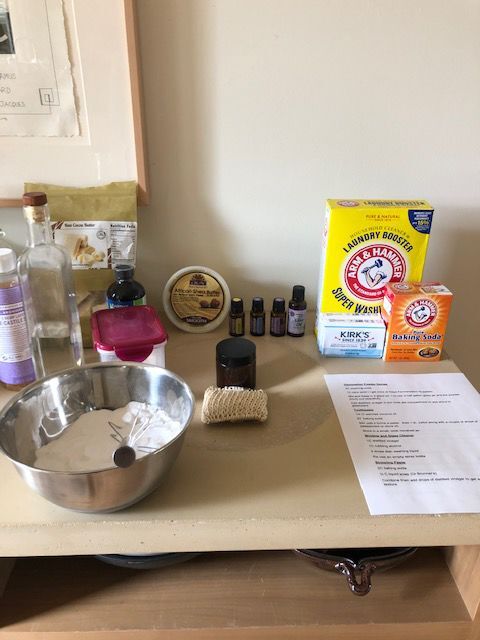 For Napans who enjoy holiday gift-giving with family and friends, but quail at the amount of trash and plastic packaging it generates, Gwyneth McKay has a solution that is both green — and clean.
"For years I've been making my three adult children 'Cleaning Kits,' a large box of home-made, environmentally-friendly cleaning products," said McKay, an architectural designer and long-time Napa resident. The laundry detergent is a huge favorite, and even their friends ask for it."
McKay attributes her interest in green cleaning products to her parents, who were deeply socially and environmentally concerned.
"My mother, Meg McKay, is my great inspiration in what has become a lifelong practice of environmental awareness. She used to have a big block of castile soap on the kitchen sink that she'd rub with the sponge to wash dishes. When I became a mother and a householder, I wanted cleaning products that were economical, but I also had a passionate desire for my children to inherit a world that was healthy and safe."
Over time, McKay discovered economical, simple-to-make recipes for cleaning and grooming products made with ingredients that don't use as much plastic in their packaging.
"Reusing spray bottles for the cleaning sprays agrees with my zero-plastic ethics," she said. "It's important to look at the type of plastic used to package the recipe ingredients and make sure that they can be recycled locally."
McKay is not alone in her concern about the increasing presence of plastics that are produced from fossil fuels. The US, with 4% of the world's population, generates over 17% of the world's plastic waste. Plastics contribute to climate change from cradle to grave and impact public health at every step, from emissions associated with manufacturing to polluting microplastics in the water (https://yaleclimateconnections.org/2019/08/how-plastics-contribute-to-climate-change/).
So this year, she urges everyone to do their friends and family –and the planet — a favor by gifting them with greener cleaning and personal care products. Gwyneth McKay has shared three of her recipes below. For others please visit the Napa Climate NOW! website at http://napa.350bayarea.org/.
Always-In-Demand Laundry Detergent
2 (4 oz.) bars castile soap in recyclable paper
2 (3.6 lbs.) boxes Arm and Hammer Super Washing Soda
10-20 drops of your favorite essential oil (lavender is a popular option)
Finely grate the castile soap. A Cuisinart with a grating blade does the job quickly and well.
Combine all ingredients (this can be done in the Cuisinart with a mixing blade). You might want to wear a mask to avoid inhaling the dust.
Add 1/4 cup per load of laundry. This can also be used for laundry pre-treatment.
Kitchen and Bath Cleaning Spray
1 part ammonia (lemon ammonia adds a more pleasant scent)
1 part rubbing (isopropyl) alcohol
Re-use an empty spray bottle.
Hand and Body Lotion
2-4 Tbsp. sweet almond oil
5-10 drops of essential oils of your choice
Warm the coconut oil, shea butter and cocoa butter in a double boiler until melted. Blend in sweet almond oil and essential oils.
Keep the lotion in a wide-mouthed jar; it will solidify somewhat when cool—like a dense hand cream.
Other actions you can take to reduce plastic waste:
WATCH NOW: YOU SHOULD CLEAN THESE FIVE THINGS TO AVOID GETTING SICK
CHECK OUT A COASTAL CLEAN-UP DAY
Photos: Coastal Clean-up Day
Jemma Williams, Napa County Coastal Clean-up Day coordinator, said that 2,016 pounds of trash, 618 pounds of recycling, and 100 pounds of compost was collected by 160 volunteers in Napa.
County-wide, 422 volunteers collected 3,779 pounds of trash and 5,198 pounds of recycling. 
Notable items included a large metal cable retrieved from Lake Berryessa and a rubber chicken found by Vintage High School. Williams said that significantly fewer plastic bags were found compared to previous years, most likely due to the plastic bag ban. 
Chris Benz is a retired winemaker and founding member of Napa Climate NOW!. Napa Climate NOW! is a local non-profit citizens' group advocating for smart climate solutions based on the latest climate science, part of 350 Bay Area. http://napa.350bayarea.org