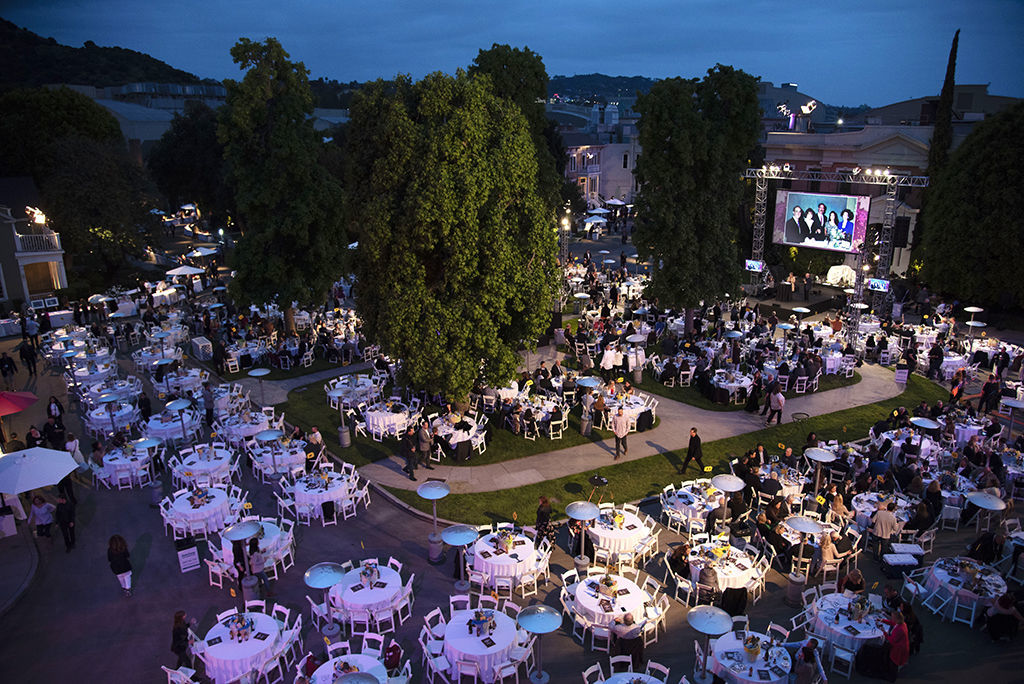 When Barbara Balik called to say that the coronavirus pandemic was causing the cancellation of this year's "Culinary Evening with the California Winemasters," she had a surprisingly upbeat ending to her announcement.
For 30 years, Napans Barbara and Allen Balik have organized this annual fundraiser for the Cystic Fibrosis Foundation. Taking place every May on a set at Warner Bros. Studio in Burbank, it has always drawn generous support from Napa Valley winemakers, vintners and chefs.
It's a grand good time that generates much good. Last year, 1,450 guests dined on fare from 55 chefs, paired with wine from 75 California wineries, and they bid on more than 700 live and silent auction items from fantasy trips to collector wines. Michael Beaulac, winemaker at Pine Ridge was honorary wine chairperson, and Michael Mondavi of Folio Fine Wine Partners in Napa was first honorary chairperson. The 2019 event raised more than $1.7 million for research and care centers. In all, the event has raised nearly $34 million since its beginning.
When I haven't been able to get to Los Angles for it, my son, who is at UCLA medical school for his residency, always manages to fill in for me, dine on the phenomenal fare and find the Phelps table for his annual glass of Insignia. This, apparently, sustains him for one more rotation.
The decision to cancel this year's Winemasters, scheduled for May 16, was no easy task, Barbara said.
"We had been working for more than a year on the 31st Winemasters. It wasn't a switch you can easily turn off. We truly agonized about waiting a bit longer or pulling the plug immediately. Ultimately, we knew that nothing was more important than the health and safety of everyone who supports us — guests, chefs, winemakers, staff and our many volunteers. More important than fundraising; more important than the entire year of work getting ready for the event.
You have free articles remaining.
"It felt like all our fundraising efforts were lost for this year," she said. They duly began notifying their sponsors, donors and guests, earnestly hoping that "next year we will all be in a better place."
Then, Balik said, "Something truly amazing occurred."
"Immediately, the chefs and winemakers got in touch, saying we could count on them for next year, and they had already marked their calendars for May 15, 2021."
Next, sponsors reached out telling them to keep their 2020 contributions "so we count on their donations for this fiscal year," Balik said.
And auction donors began getting in touch, "all of them suggesting we use their lifestyle lots — sports memorabilia, diamond jewelry — and travel packages (both domestic and international, which don't expire until the end of 2021) and many hundreds of wine lots in an on-line auction."
As a result of the unexpected outpouring of support, she said, "We immediately picked ourselves up from the disappointment and pivoted to the idea of multiple online auctions, which we will schedule towards the end of May. We have a new determination and purpose, which feels great to everyone."
They are anticipating the online auction will take place mid-May; to add your name to the list to be informed of plans and details, Barbara said to email her at bbalik@cff.org.
"If you have a calendar for 2021," she added, "please mark May 15 down as we hope everyone will join us at Warner Bros. Studios."
Be the first to know
Get local news delivered to your inbox!