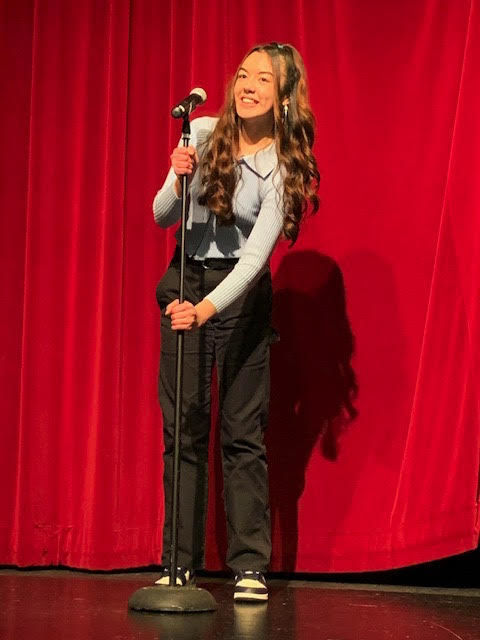 One day last November, Malia Cruz, a senior at Vintage High School, couldn't sleep. Out of nowhere, she says, she took out her phone and began to write. She said that the words began to flow out of her. It was effortless, automatic. She put into words something she felt, but had not seen. She put into words her truth.
Little did she know that the poem she wrote that night would win the statewide 2020 Poetry Out Loud Competition for best original poem.
It started in her AP English class, where she was practicing the recitation of other poems, when Cruz read the poem to her teacher, Newton Thomas. He knew, in that moment, that they should submit it to the competition.
"Her voice is so powerful, and indicative of so much of this moment in our state and country's history," he said. "I didn't want to miss the chance for her to share her perspective. My only role was in convincing her to submit it. The rest was all Malia."
The poem is an excoriating look at the experience of a young brown girl in a white world. She decries the prejudice Mexicans have endured under white rule and how they continue to be persecuted and condescended to. Their struggle against the oppression is real to her, and she articulates it powerfully in the poem.
"From my point of view, with every step taken forward, we are forced to take a step back," Cruz said. "Although we have been able to gain the right to an education, worker rights and basic independence, we still struggle with prejudice and racism on a daily basis."
Her original poem was not her only entry in the competition. Students also compete to see who can recite a poem by an established poet. Malia chose to recite three. "The Only Mexican" by David Thomas Martinez and "The Contract Says: We'd Like the Conversation to be Bilingual" by Ada Limón are both works by contemporary poets that address the role Mexicans play in American society. Her third poem was "Batter my Heart, Three-person'd God" by John Donne, (1572-1631) a dense, ethereal sonnet whose style couldn't be farther from her original poem and the others.
Cruz competed against nine other students from five high schools to win the county competition sponsored by the Arts Council Napa Valley. From there, she went on to the state where she won first place for original poetry, a first for Napa County.
The competition was supposed to have taken place in Sacramento on March 15, but due to the COVID-19 virus, the event was canceled. The organizers decided to hold the competition virtually, so her teachers got together and filmed her reciting the poems.
Jenny LaMonte, adviser of the Poetry Club at Vintage, saw that Cruz was a powerful public speaker. "I wish you could hear her read before a live audience because she is remarkable, the way she is able to completely inhabit the voice of the poem and bring her audience with her as she makes her way purposefully and powerfully through each reading," LaMonte said.
Cruz has been accepted into the nursing program at the University of San Francisco and will start there in the fall. But it is unlikely that she will leave poetry behind. "Malia's poem and her voice speak to the very core of why poetry matters," Thomas said. "Malia has a gift that transcends the classroom, taking poetry to its most fundamental, most profoundly human places. Her voice is about connection, finding those moments that remind us of who we are, and by extension, who we might become."
John Henry Martin sees that the difference between journalism and poetry is stark. If you have a favorite poem, or want to read Malia's in entirety, email him at jhm@johnhenrymartin.com.