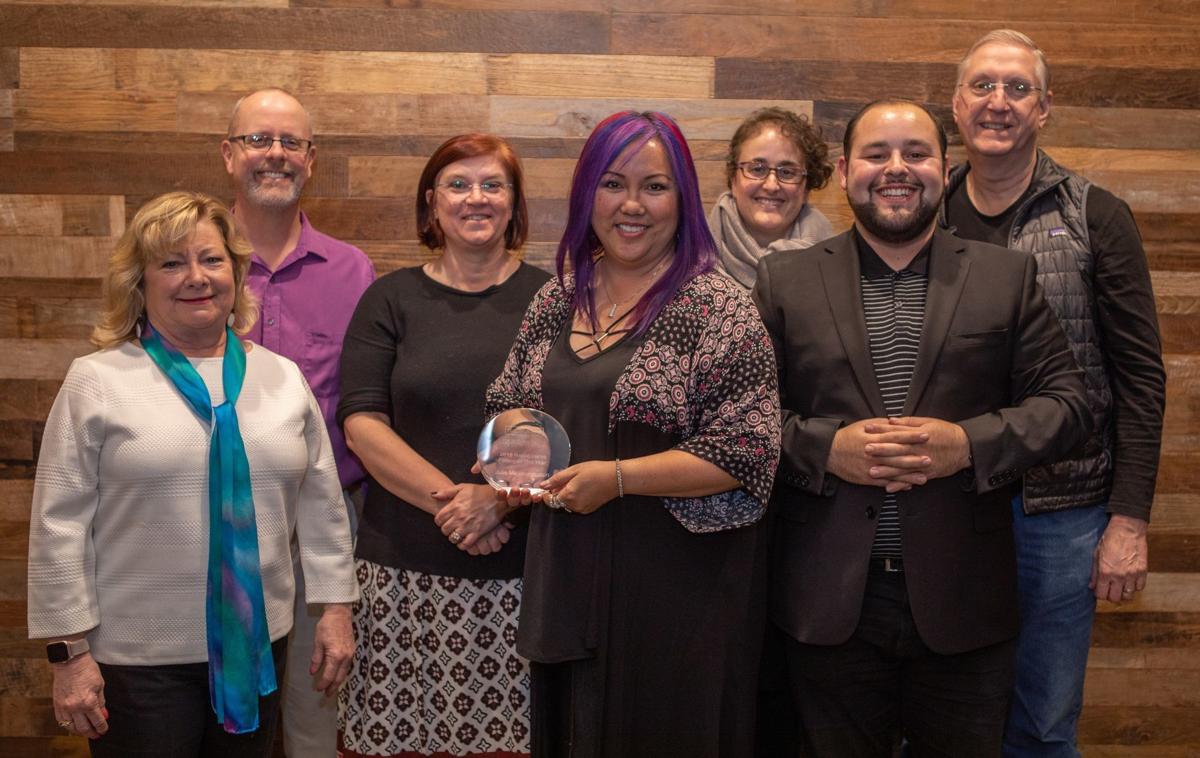 Since 2010, 150 Napa County teachers have earned or have nearly earned master's degrees in Innovative Learning, focusing on how to use technology and digital environments to engage students and prepare them for future careers, thanks to a program funded by local non-profit NapaLearns.
On Wednesday, representatives from NapaLearns and Touro University honored the most recent group of graduates at a reception at the Archer Hotel in Napa. The degree recipients are called NapaLearns Fellows and, according to Executive Director Peg Maddocks, they comprise a third of the teachers in Napa County with master's degrees.
"The NapaLearns Fellows program is designed to help teachers integrate technology into their teaching practices," Maddocks said. "Today's students are very comfortable working in digital environments. However, their teachers have not grown up with the same tools. This degree provides opportunities for teachers to adapt their curricula using innovative technologies for learning to interact with their students on the same playing field."
2014 Fellow Ron Eick, who teaches at American Canyon High School, says he agrees with that assessment.
"Typically, teacher credentialing programs don't offer a lot of insight into how to use tech to benefit the students. It's like "use a website" or 'have the students make a powerpoint,'" he said. "A big takeaway for me was how to use technology to make learning more engaging for the kids. For example, in a Math 2 class, students might get together in a collaborative group and make a video to explain a concept to their peers. It is much more student-centered and engaging than the traditional classroom lecture-based learning."
The Innovative Learning degree was co-designed by NapaLearns and Dr. Pamela Redmond, professor and chair of graduate studies at the School of Education at Touro University. To date, 98 percent of the teachers who have enrolled in the program have graduated and 97 percent of them have continued to teach in Napa County. NapaLearns pays half of the costs for any Napa County public school teacher who completes the 18-month program and has invested $750,000 since the program began.
According to Maddocks, the program attracts teachers from all levels and districts. So far, 47 elementary teachers, 52 middle schools teachers and 43 high schools teachers, from Calistoga Joint Unified, Howell Mountain Elementary, Napa Valley Unified and St. Helena Unified school districts, have completed degrees, as well as eight district administrators.
NapaLearns Fellow of the Year Award
Also on Wednesday, NapaLearns and Touro University recognized Julie Meyer-Houston, a fourth grade teacher at Canyon Oaks Elementary School in American Canyon, as NapaLearns Fellow of the Year. Meyer-Houston and three runners-up were recognized for continuing to innovate in their classrooms, taking on leadership roles within their schools and districts, and impacting student success.
According to Maddocks, Meyer-Houston was selected for leading the 100 percent schoolwide participation in the annual national Hour of Code; for introducing robotics to the school; and for creating a Family STEAM (Science, Technology, Engineering, Arts, Math) Night at Canyon Oaks, where her students taught the attendees how to use 3D robots.
Three other NVUSD teachers were recognized for their innovative work: Jen Ellison, technology design lab teacher at Phillips Magnet Elementary School; Lisa Gottfried, digital design educator at New Tech High School; and Scott Marsden, digital media teacher and robotics coordinator at American Canyon High School.
"We are so proud of the work and creativity all these NVUSD teachers bring to their classrooms," said Dr. Rosanna Mucetti, superintendent of Napa Valley Unified. "This recognition is a testimony to the dedication our teachers bring to improving their skills and engaging our students every day."
Get local news delivered to your inbox!
Subscribe to our Daily Headlines newsletter.