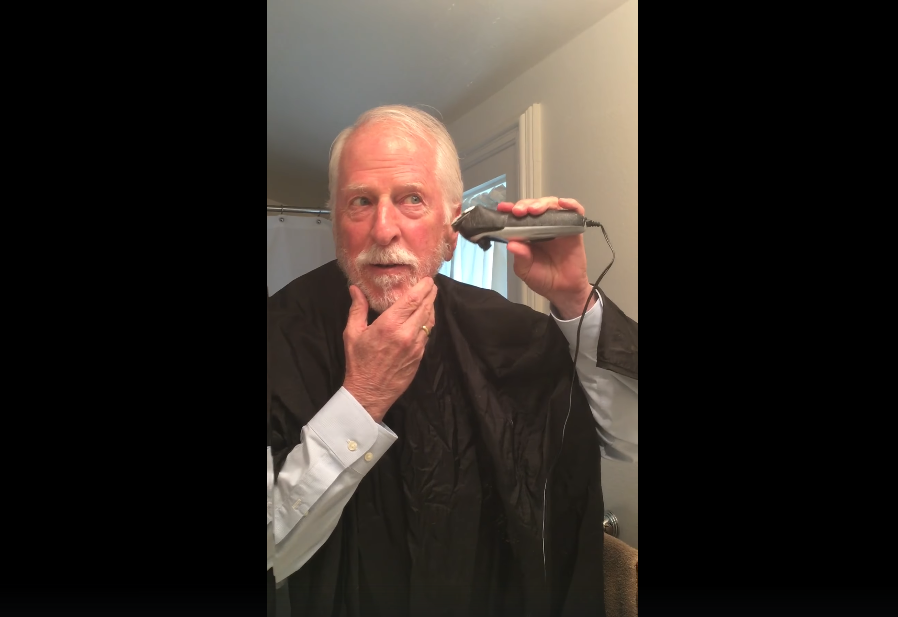 Today's the day," Congressman Mike Thompson can be heard saying as he eyes himself in the mirror, a barber's cape slung over his shoulders and a razor in hand. Shaving his beard would be a matter of five minutes – and $20,000.
Almost 2,000 people Wednesday watched a Thompson broadcast himself shaving what he'd referred to as his "coronavirus beard" — a facial hair trend that's emerged during the shelter in place order — on Facebook.
Thompson had already decided the beard would have go before his return to the nation's capital in mid-May.
"And then we said, well — we ought to see if we can't help some great charity out along the way," the Congressman said in an interview.
In the end, he raised more than $20,000 for Community Action Napa Valley (CANV), the privately run non-profit responsible for seven food pantries in Napa County and its Meals-on-Wheels program. Pantries county-wide have seen need increase exponentially over the course of the pandemic, staff have said, and monetary donations are a constant need. CANV does not receive funding from the city or the county.
"The big thing ahead of us is how we're going to pay for this," CANV Executive Director Drene Johnson said. April saw the food bank spend $62,000 more than it normally would on food supplies, according to food bank director Shirley King. Demand for the food bank's services, according to Johnson, have increased something like 400%. Demand for Meals-on-Wheels, which serves the county's senior population, has increased almost a third.
The money Thompson raised will directly impact CANV's buying power, Johnson said. Asked if she'd been expecting a donation so large, she laughed.
"We weren't expecting anything," she said. The whole process of Thompson shaving his beard has been a "great source of tension relief" for her staff, she added, and came together almost completely spontaneously.
"But even if it was five dollars, we're ahead from the day before. Having this kind of money is just wonderful," Johnson said. CANV does receive some federal funding from the Federal Emergency Management Agency (FEMA); they also partner with United States Department of Agriculture (USDA) and Cal-Fresh to ensure food supply. But about 85% of the pantry's budget – just under $1 million dollars, according to Johnson – comes from fundraising, either through grants or private donors.
Thompson cited the rising number of constituents and community experiencing food security as motivation for his fundraising. The donation of the Napa Valley community continues to impress him, he said.
"A huge kudos to our non-profit community," Thompson added. "They're doing a wonderful job, and I'll do anything I can to help."
"We can use (monetary donations) to expand the reach of our program," Johnson said, explaining that the food bank purchases food items in bulk at prices lower than those on grocery store shelves. Much of the heavy lifting the food bank has done in recent weeks has been thanks to volunteer effort and the National Guard, who will remain with CANV until the end of June. Her paid staff, too, has been "outstanding."
Napa County Sheriff John Robertson — a friend of Thompson's and his fellow cycling enthusiast — sent Thompson a text commending his fundraising efforts, the Congressman said.
"He said, 'now you can ride faster, but you'll need to shave your legs (like a professional cyclist),'" Thompson said. "That's something I've never done before, but I sent him a message back: 'how much do you think that would raise for charity?'"
Concerned about COVID-19?
Sign up now to get the most recent coronavirus headlines and other important local and national news sent to your email inbox daily.