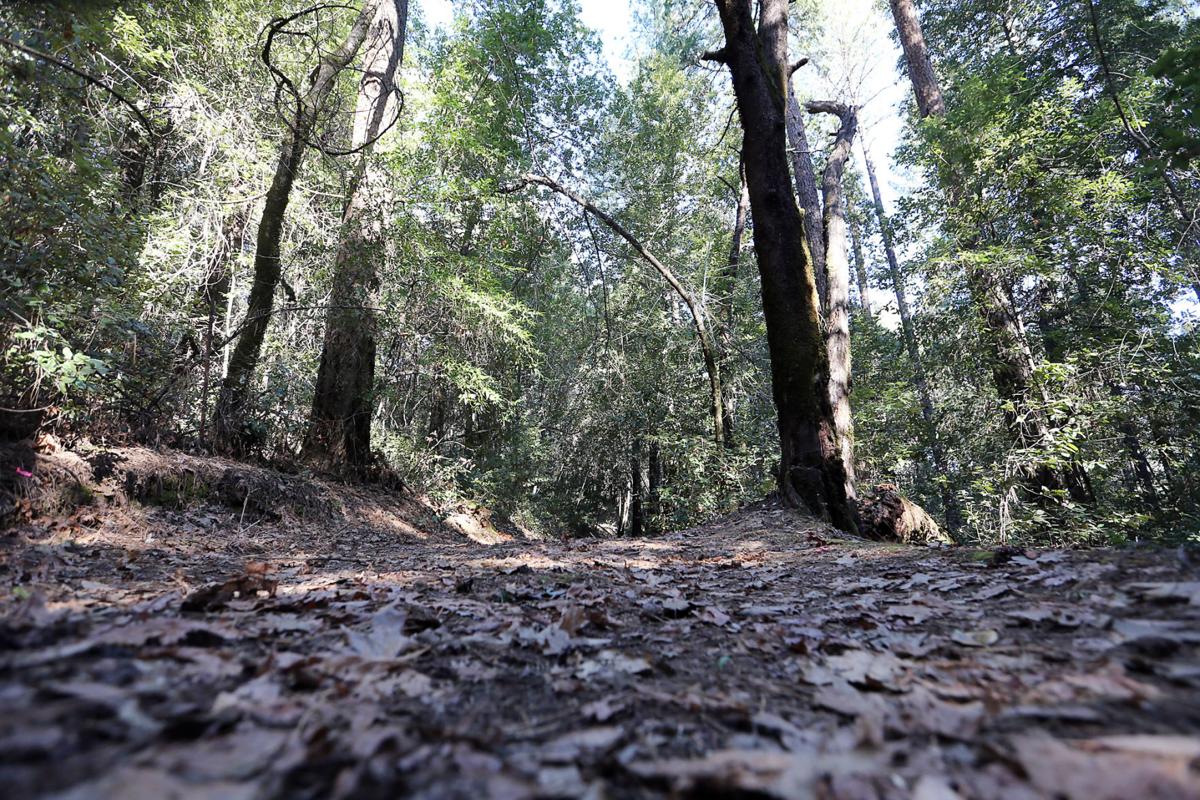 A forested parcel in Angwin could be the future home to as many as 3,000 people, but they won't be living in the area.
They'll be buried at a new "green" cemetery proposed for a 112-acre space on Howell Mountain Road.
Steve Morgan of Natural Passages of Rocklin bought the undeveloped land in October. The business paid $1.4 million for the acreage at 1225 Howell Mountain Rd., according to the County Recorder office. It was sold on behalf of the Eleanor Badè living trust.
While it will be licensed with the state as a cemetery, the Natural Passages land won't look or function anything like a traditional graveyard.
With green burials, bodies are not embalmed. They are not placed in hardwood caskets and concrete vaults, said Morgan.
Instead, non-toxic and biodegradable materials such as caskets of untreated or soft wood, cloth shrouds or urns are used to inter the deceased.
"This is an environmentally friendly solution that comes back to how we've historically laid our people to rest," said Morgan.
"We are going back to our forefathers' method, where bodies are buried in a shroud or biodegradable casket and we let them return to earth."
"We think people will appreciate" such an alternative for burial, Morgan said.
"We were looking for a buyer who would keep the land in a wild form as much as possible," said Michael Badè, one of six siblings from the seller's family.
"It was very hard for us to come to the decision to sell but we're pleased that this is the direction it's going."
Napa County has the right demographic and green-minded culture to support such a venture, Morgan said.
The land itself will remain in a natural state, said Morgan. Turf is not planted. Nothing is mowed.
"There is no landscaping, period," he said.
Vertical tomb markers will not be used. Instead, flatter markers are installed at the burial site. Eventually, the landscape can grow over those markers, so Natural Passages will provide GPS coordinates to families so they can locate a particular burial site in the future.
According to the Green Burial Council, green, or natural burial, is a way of caring for the dead with minimal environmental impact that aids in the conservation of natural resources, reduction of carbon emissions, protection of worker health, and the restoration and/or preservation of habitat.
Morgan admitted that many people are surprised when they hear about green burial.
"The general concept takes a while for people to digest," he said. After he explains how it works, Morgan said most people seem accepting of the idea.
"It's just a beautiful way to do something good for the environment and protect pristine landscapes," he said. "You're returning yourself back to nature and the nutrients of the soil."
In the years to come, "Families can come and visit their loved ones and enjoy nature at its best," he said.
The traditional funeral industry has become expensive, he said. That's why cremation has become so popular. But cremation impacts the environment too, he said.
At the Natural Passages cemetery in Angwin, the acreage would be open to the public in the same way a traditional cemetery would be, said Morgan.
There would be trails and walking areas for visitors. The parcel is located a little more than two miles from the middle of Angwin.
The average Natural Passages burial would cost about $3,000, he said. A traditional burial including embalming, casket and concrete vault, can cost as much as $12,000 or more, according to Morgan.
After death, the deceased is preserved at a mortuary in cold storage. On the burial day, the body is then transported to the green cemetery and buried. Natural Passages sells the plots and opens and closes the graves, he said. Ashes can also be interred, he said.
To facilitate more "rapid, efficient" decomposition, bodies are buried at three to four feet from the surface.
This is different than the common burial depth of six feet. However, according to the Green Burial Council, this depth of soil is "more than sufficient to remove any smell that animals, much less humans," can detect.
After burial, Natural Passages monitors "the integrity and health of the property" and makes sure it remains secure.
Morgan's other business, Wildlands, Inc., has been providing land reclamation and conservation services for more than two decades.
After learning about green burial, "we thought it was an intriguing way of expanding our business."
With such a business model, "We can take a pristine landscape and turn it into a green cemetery, guaranteeing that that property wouldn't be converted into another use in its life."
Natural Passages has a total of three properties planned as green cemeteries. Besides the Napa County project, there are sites in El Dorado and Placer counties. Each parcel is approximately 100 acres and all are in the planning or permitting process.
In the U.S. there are about 400 cemeteries that offer some form of green burial, according to Morgan. In California there are about 33 such cemeteries, he estimated.
In Napa County, Tulocay Cemetery has been offering green burial services since 2015. Fourteen families have used this service. Tulocay, which offers traditional ground burials and cremations is in the process of creating 276 additional green burial sites, the cemetery said.
The Angwin site "will be exclusively green," Morgan said.
Morgan said he hopes to submit his application for the Angwin cemetery with the Napa County Planning Department in the coming weeks.
Morgan said Natural Passages will begin selling plots as soon as the cemetery is permitted and licensed by the California State Cemetery and Funeral Bureau. The proper easements will be established.
Napa County Planning Manager Vincent Smith said the proposed cemetery fits the zoning of the area.
"It's a permitted use," said Smith.
Badè said his grandfather bought the land in 1924. While the family didn't live there permanently, "We spent gobs of time there in the summer," he said.
Before the sale closed, the family gathered one last time at the site. "It was hard to say goodbye but we did," said Badè.
Badè said he might consider the new cemetery for his own final resting place. He said he loves the land and feels "deep attachment" to Angwin and the community.
This story has been modified since first posting to acknowledge that Tulocay Cemetery in Napa also offers green burials.