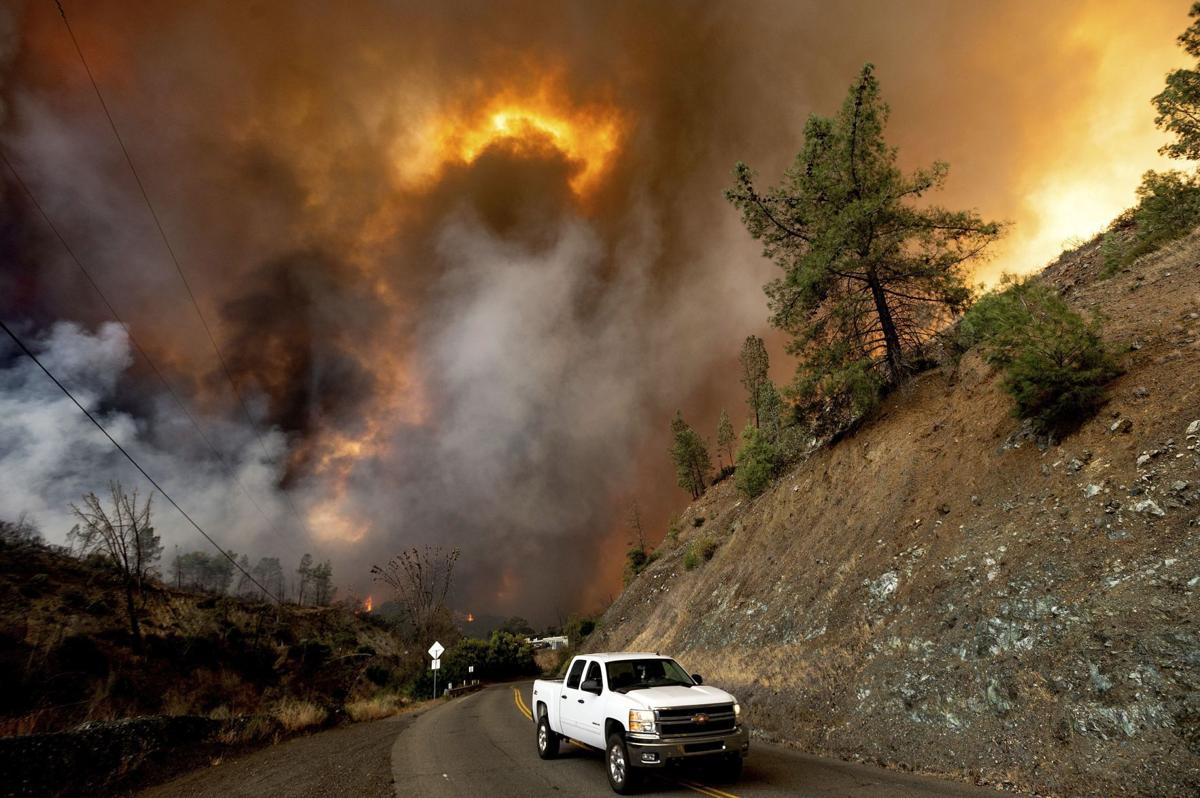 When Cliff Handy fled his residence on Soda Canyon Road at 8 a.m. Wednesday, he took with him two humans, four cats, two dogs and an African Grey Parrot.
And they needed somewhere to stay.
Handy had awoken at 3 a.m. Wednesday to the sight of visible flames from the LNU (Lake-Napa Unit) Lightning Complex fires. He'd been bracing for the possibility that fire would come for his property, just west of Atlas Peak—but for a while, it seemed the wind Tuesday night was blowing in their favor.
That changed in a matter of hours as wind switched directions. As flames edged closer to the property, Handy scrambled to evacuate his ex-wife, Bess O'Hara, and her daughter, Tracy Murphy. By the time the three had gathered up the animals on the property, "it was in the backyard," Handy said of the fire. They'd left in a matter of minutes, and there'd been no time to spare.
"It was in the field burning right up to the house," he said.
They'd managed to pack several kinds of pet food, O'Hara's medicine and not much more, Murphy said.
"I got the clothes on my back," Murphy added, asked what else she'd been able to save. There had not been time to search for the stray cats she looks after, Murphy said, tearing up.
Handy, O'Hara and Murphy had come to the CrossWalk Community Church to ask volunteers for advice: did they know of hotels that would accept two small dogs for a night or two?
Handy had balked at the thought of bringing O'Hara, who sometimes requires supplemental oxygen and needs a nebulizer for her asthma, to stay in the shelter: the threat of COVID-19 deterred him.
The three had evacuated during the Atlas Fire in 2017, O'Hara said. But then they'd been able to stay in a mobile home parked outside of the home of Handy's mother, who is now deceased, and the fire had ultimately missed their property.
"It just came over the hill," O'Hara, a 35-year resident of Soda Canyon, said of what she'd seen Wednesday morning. "This time we couldn't take the mobile home. I know it's going to burn. The fire was right next to it."
At least 2,200 households in impacted areas of Napa County—about 6,600 people—had been evacuated as of Tuesday morning, a spokesperson for Napa County said. Almost 4,000 more residents were under evacuation warnings.
Ten families spent Tuesday night at CrossWalk, according to a county spokesperson. An eleventh, the Buchanans, arrived early Wednesday morning.
They'd been evacuated from their home in Berryessa, resident Tim Buchanan said, which was near the fires. They'd spent the night in a hotel in Fairfield—but repetitive nights away from home could quickly become expensive, Buchanan knew, and so he'd relocated his wife and three children to the shelter.
"The only thing that saved everything was the vineyards," he said of conditions in northeast Napa County. Vineyards, often the best-irrigated part of Napa Valley's grasslands, can act as natural fire breaks.
Staff "triaged" Buchanan and his family as they entered the shelter, taking their temperatures and asking questions about potential exposures to COVID-19. Shelter capacity has been reduced in the wake of the pandemic, a county spokesperson said, and shelter residents are being asked to take all available precautions against the spread of the disease.
Barry Kessey and his wife spent the night in their motorhome, parked in CrossWalk's parking lot, after leaving their Pope Valley home Tuesday night. The county Sheriff knocked on their door and advised them to do so, Kessey said, though having seen the fire's advances earlier that day, they'd spent the hours prior packing up their car and the motorhome with important documents, photographs and their two cats and dog.
Kessey and his wife arrived in Pope Valley in the late 1990s, he said, shortly before he retired from a career in aerospace engineering. It took a decade to build their log house on the property; the pair moved into the home in the 2000s.
Their home was about a mile outside the mandatory evacuation area, but the fire had gotten visibly closer to their property, which is in part surrounded by heavily wooded forest, overnight, Kessey said. Cal Fire told him Wednesday that he and his wife had likely been evacuated because of road closures, though he knew of several neighbors who had remained in their homes in the area.
Speaking Wednesday morning after spending the night in their motorhome in CrossWalk's parking lot, Kessey was fairly calm.
"We've been through so many of these fires that you're just kind of resigned to take the hand life deals out to you," he said. "We're both in our mid-70s. If we have to start over again somewhere else, we'll do that. But hopefully (we don't have to)."
Watch Now: Hennessy Fire as seen from Nichelini Winery in St. Helena
Editor's Note: Because of the public safety implications of the wildfires, we are providing access to this article free of charge. To support local journalism, please visit https://napavalleyregister.com/members/join/ and consider becoming a member.
Get local news delivered to your inbox!
Subscribe to our Daily Headlines newsletter.