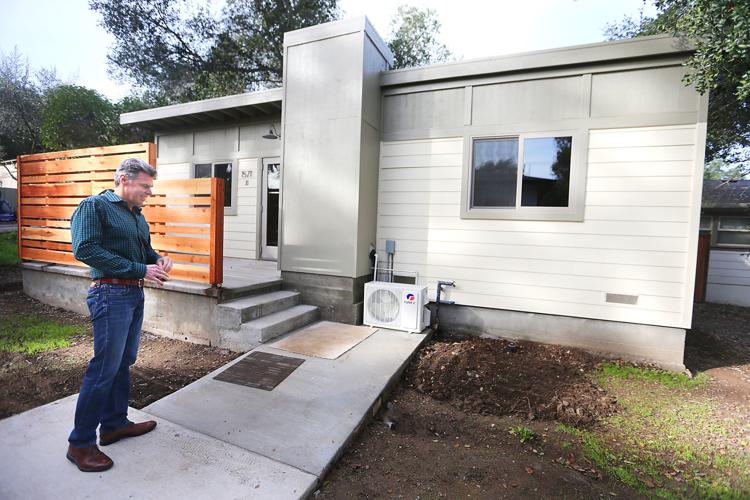 Realtor Bob Frappia and developer Steve Waterworth are making a dent in Napa's tight rental market, one tiny house at a time.
In 2016, the city passed an ordinance that loosened many of the rules to build Accessory Dwelling Units. An ADU is also known as an in-law, granny unit or a "tiny" house.
The new ADU ordinance also made it more affordable to build such homes by reducing or eliminating some fees.
Today, on a large lot on Silverado Trail, Frappia and Waterworth have built one of the first ground-up units allowed under the new ordinance.
The tiny house — just 410 square feet — was built behind, but not connected to, an existing single-family home at 1571 Silverado Trail, south of Lincoln Avenue.
The duo bought the third-of-an-acre property in late 2015 for $415,000, said Frappia. It contained one small home, but was zoned for as many as seven units, he noted. Their goal is to eventually include a total of six units on the parcel. Some may be built as ADUs but others may not be.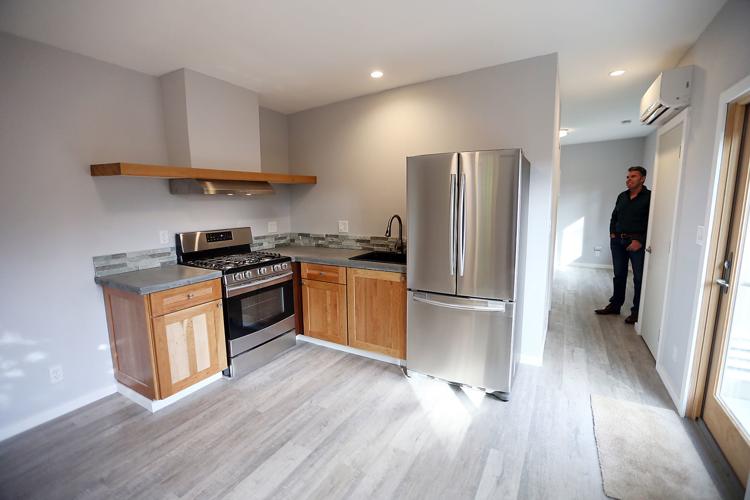 Frappia said he and Waterworth figured they would "help the community by giving another opportunity for housing," while at the same time receiving some rental income and increasing the value of the property.
Others have already built such units, sometimes referred to as junior ADUs. Those units are typically attached to existing single-family homes. Frappia, who is affliated with ReMax Gold, said his is the first detached units to be built under the new ordinance.
According to Michael Allen, associate planner with the city of Napa, 34 ADU applications have been approved by the city.
He wasn't sure how many have been finished and what number are detached versus attached.
While there has been interest in the new housing option, some would-be builders are under the impression that fees to build such units have been eliminated, said Allen. That's not the case. The fees are reduced, but not removed, said the planner.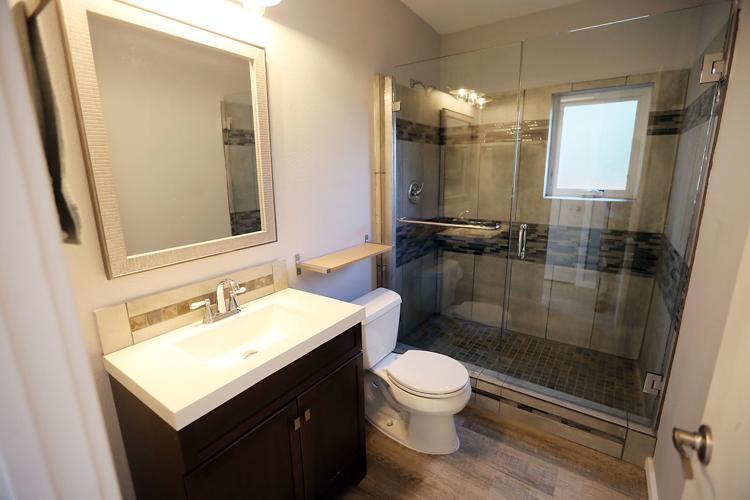 At just 410 square feet, Frappia and Waterworth's one-bedroom, one-bath home packs a lot into a small space. It includes a high-efficiency cooling and heating system, LED lighting, a tankless water heater and energy-efficient washer and dryer.
Their budget was $76,000, but they ended up spending $90,000, said Frappia.
"We had some additional fees we didn't expect, we added a laundry room and outdoor patio and some materials cost a little more than we thought," he said. Construction took about seven months.
The unit was listed to rent for $1,820 a month.
You have free articles remaining.
Over the weekend, Frappia identified a tenant. A veteran in his 40s hopes to rent the unit with the help of a program called the HUD-Veterans Affairs Supportive Housing (HUD-VASH).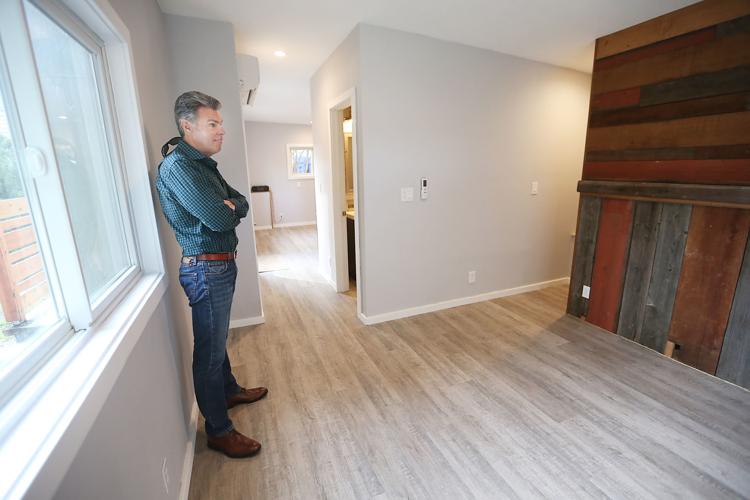 The program combines Housing Choice Voucher rental assistance for homeless veterans with case management and clinical services provided by the Department of Veterans Affairs.
The program will subsidize up to 70 percent of the rent, leaving the tenant responsible for 30 percent. This particular veteran is employed and living with another veteran in Santa Rosa, Frappia said.
Frappia said he has used the program before to rent another unit and it was a success.
"I think it's a good opportunity to help a veteran," said Frappia.
According to Zillow real estate service, the average cost of a Napa rental home is $2,690 per month.
With reduced fees from the city and other cost reductions, "we probably saved $30,000" total during the building process, said Frappia. "For a project of this size," that's a lot of money.
The new ADU ordinance made it possible, he said. For example, the normal setback for the location of a new house is 10 to 20 feet from the property line. Under this ordinance, it's five feet. Fire sprinklers are not required an ADU of this size, saving them at least another $3,000.
Because the house is less than 500 square feet, sewer hook-up fees were all but eliminated. Normally, such a fee runs $8,900.
His property also had the required parking, which saved the two another $10,000.
In addition, Frappia and Waterworth, owner of Axis Building of Napa, saved on construction costs. The unit was designed to take advantage of certain pre-cut lumber sizes, he said. The roof is flat.
By building a structure less than 500 square feet, they estimated that they saved another $2,100 in other permit fees.
The two men said they are already thinking of building their second new home on the property. Frappia said it could be a prefab unit. It's much faster to install and can be bought for about $90,000, including the foundation, he said.
"It's just a matter of convincing my partner," he said.
Frappia said that living in a tiny home does require a new mindset about how much space a tenant really needs.
"If they can get over that, it's really a nice place."
Regardless of who ends up moving in, "It's very rewarding and fulfilling to know we are helping the housing situation" in Napa, said Frappia.