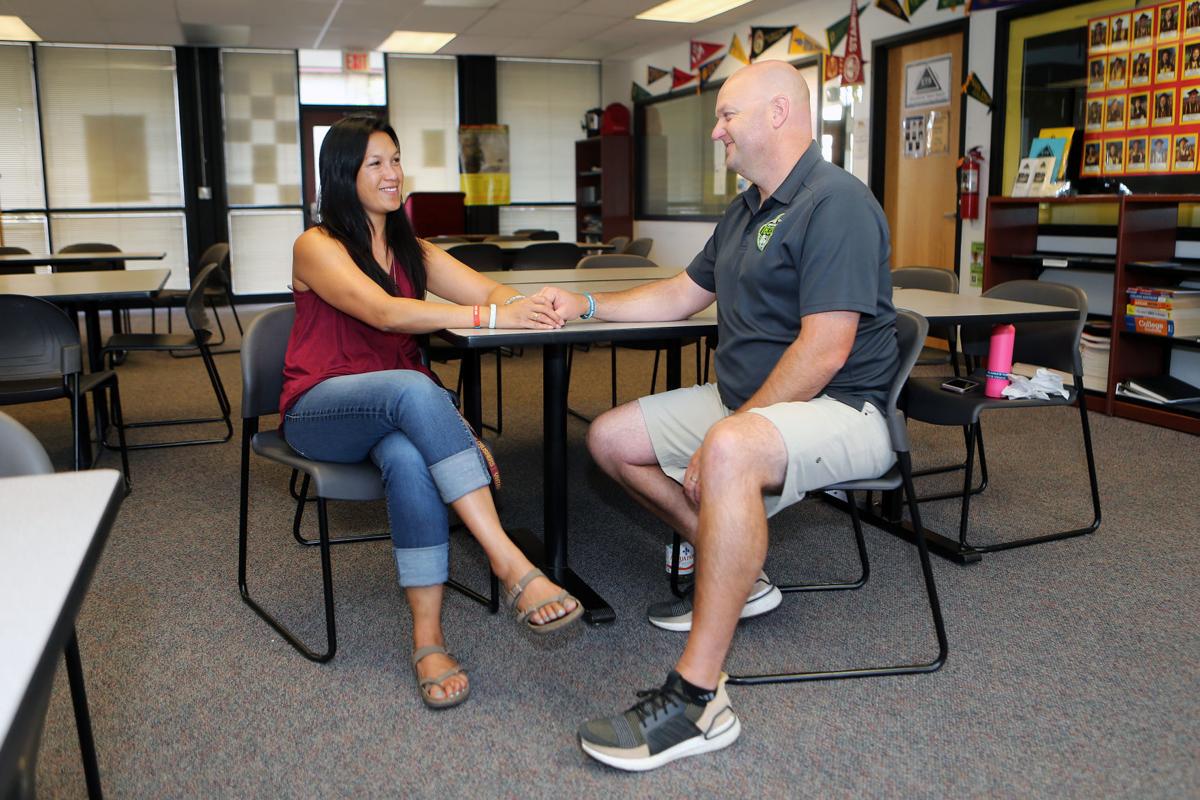 On Thursday, Arik and Hannah Housley will attend a ceremony in a Thousand Oaks memorial garden to remember the daughter they lost one year earlier in the Southern California town.
Afterward – and in the same way they have done since Alaina Housley and 11 other people died in a mass shooting Nov. 7, 2018 – the Napa couple will continue their work to prevent the next such attack from happening, and to spare other families the pain that gun violence has inflicted on them and others.
The death of the 18-year-old Housley, a recent Vintage High School graduate and Pepperdine University freshman, at the Borderline Bar and Grill country-western bar stirred a show of public grief rarely before seen in her hometown.
Two slogans began appearing during those days of mourning and remembrance: ALAINA'S VOICE and ENOUGH. The former became the name of the Alaina's Voice Foundation, a nonprofit organized by Alaina's parents; the latter was its stark and forceful motto.
An early example of the foundation's reach was the awarding of two college scholarships to local high school graduates in June, one each from Napa and Vintage, where Alaina graduated in 2018. The Housleys also are advising the members of Enough-labeled student clubs devoted to violence prevention, one of which is meeting at Vintage, with another being developed at Napa High.
While Alaina's Voice has raised more than $200,000 since gaining nonprofit status early this year, the full scope of its work is still emerging, according to the Housleys. However, the couple has focused on the goals of fostering mental health, music and education – to honor their daughter's devotion to singing, piano, guitar and musical theater, and to fund counseling and peer-support efforts to keep others from slipping into the kind of alienation that may curdle into violence.
"The mental health piece, it's about support for people," said Arik Housley. "The level of depression is at an all-time high in our country, as well as the use of prescribed anti-depressants. That worries me when gun violence issues are continuing to increase. It makes me think there's some sort of (connection)."
Amid their work toward a safer, more caring and less violent society, Hannah and Arik Housley have sought not to let their new mission overtake their lives – particularly with work commitments at home and their "soon to be 16 going on 21" son, Alex, to raise.
Hannah continues to serve as an activities director and history teacher at Vintage while Arik, in addition to his business interests and ownership of the Napa Valley 1839 FC soccer club, volunteered for the Napa Valley Unified School District's advisory committee that this summer studied the upcoming closures of two campuses.
"Where we're at, in life in general, we want to be there for Alex," said Hannah. "We'd like to pursue other places where we can help, whether that's for groups like Teens Connect or individuals that need help but don't have the funds if tragedy has struck their family and they're in need of therapy or support. We feel like that has helped us, to have therapy.
"It's a slow process, we tell ourselves. It's a marathon, not a sprint."
Perhaps the toughest barrier the Housleys have faced has been to prevent their mission from being swallowed up by the bitter, often confrontational politics of gun control – a fact Arik said he endured firsthand through social media attacks from those accusing him of supporting widespread firearm bans.
"It's always assumed when you say 'enough' that this is about gun control and background checks and gun laws," he said. "I don't believe that's the message; the message is 'Enough gun violence,' and that can be 'People, let's come and talk! Why are we where we're at? The 'enough' message is 'enough' with someone going up into the Mirage (in Las Vegas) and taking out 50-some people during a country concert."
"It's positive change because you're spreading love and positivity," Hannah added. "It can be as simple as saying hi to someone, getting to know someone better, knowing they have a story. Everyone has a story and when asked about your story, there is that feeling of love and being liked. It changes your direction; that's the 'enough' piece – enough of not being heard."
In the year since Alaina Housley and 11 others lost their lives in Thousand Oaks, the mass shootings have continued taking place across the country, including the slaying of three people in July at the Gilroy Garlic Festival and the killing of 22 people in an El Paso, Texas Walmart. But in Napa, a gesture by Alaina's father brought her name, and those of other victims of gun violence, back to the fore.
Ahead of an Oct. 19 home match for the Housley-owned Napa Valley 1839 FC, the soccer club sold more than $19,000 of commemorative jerseys emblazoned with the message #ENOUGH, with proceeds steered to the foundation. The black shirts also bore the names of every U.S. city where a mass shooting had occurred since the team's 2017 inception, along with 15 names – of the dozen victims in Thousand Oaks and the three clinicians killed at The Pathway Home in Yountville in March 2018.
"There's much of this country that's already forgotten about Borderline, or didn't even know it happened," Arik Housley said less than a week after the game. (But) whether it's Borderline or Gilroy or El Paso, to me it doesn't matter – these are all still someone's child that was lost at these events.
"The intent of ALAINA'S VOICE is to be proactive with the mental health services, to get people the support they need before things go down a bad path – not even gun violence, but where they get into a bad place and struggle – and to find ways to create change so this epidemic that continues to grow starts to change, because societally it becomes less acceptable."
Get local news delivered to your inbox!
Subscribe to our Daily Headlines newsletter.