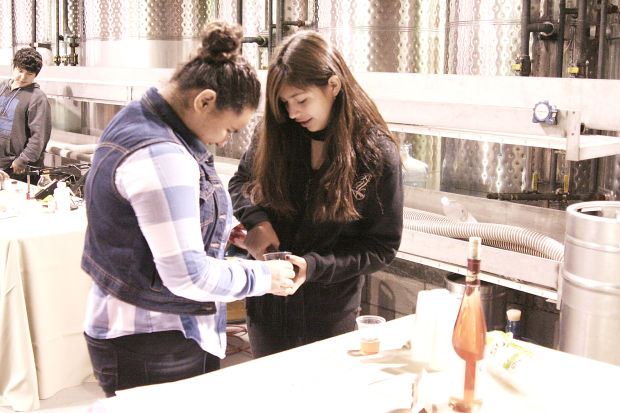 For a decade, an assortment of Napa Valley wineries, businesses and organizations have devoted time, people and expertise toward helping local students. On the cusp of a new school year, directors of the program, Adopt-a-School Napa County, hope to find partners for those schools still lacking them.
Sponsors of the program, in which companies volunteer their time and expertise to give children and teenagers a sense of their schooling's real-world uses, have scheduled an open house at 4:30 p.m. Tuesday at the Napa Valley Museum in Yountville.
Would-be partners will be invited to "adopt" one or more of the 10 public schools in the county lacking partnerships, according to program coordinator Karen Zimolzak. The list ranges from Vintage High to three of the American Canyon schools to alternative schools in Napa and Calistoga.
The aid partner companies can furnish to adoptee schools can range from sponsoring student performance awards to donating equipment and services, but at the heart of Adopt-a-School relationships are the activities and events to help children see the goals of their studies, Zimolzak said.
"There's motivation for students in learning about what their curriculum does in real life," she said. "They learn math and science as part of their coursework, but to see it in reality is much more effective; it creates awareness for them of what's happening in the world."
Jointly founded by the Napa Valley Vintners and the county Office of Education, Adopt-a-School connects local businesses with public schools to broaden students' educational experiences. Partnerships can include mentoring and volunteering services, as well as organizing school events, technological aid or offering expertise in a subject.
One of Adopt-a-School's earliest partnerships links members of the V. Sattui Winery in St. Helena with the nearby Robert Louis Stevenson Middle School. While the winery provides students with more conventional donations such as underwriting student trips and events, officials for Sattui and the school say the bond can best be seen during class visits to the winemaker.
During a winery field trip in April by RLS eighth-graders, a retelling by Sattui president Tom Davies of V. Sattui's 1885 founding became the backdrop to a discussion of Italian immigration into North America in the late 19th century. Later in the day, teens turning profit and loss data into graphs also received a taste of applied mathematics as they did so.
"If they study math, we have a section on how to use math in a business," Davies said Wednesday. "If they study English, how does (one) communicate inside and outside an organization? Or look at science; that's a natural for winemaking. It's a very hands-on program in the winemaking portion; we let them test the sugar content, the pH."
Mary Allen, former principal of the RLS School, said such visits are designed with segments meant to bolster students' understanding of writing, science, history and other subjects -- but also to provide a glimpse of abstract learning turned into real-life skills.
"The winemaker talked about chemistry, about the science of making wine," said Allen, now the director of curriculum and instruction for the St. Helena Unified School District. "Then the students would go back to school and write a business plan. By the time they got out, it was an authentic learning moment."
"At the middle school level, they often ask, 'Why am I learning what I'm learning?'" she said. "And this really helps to show them why."