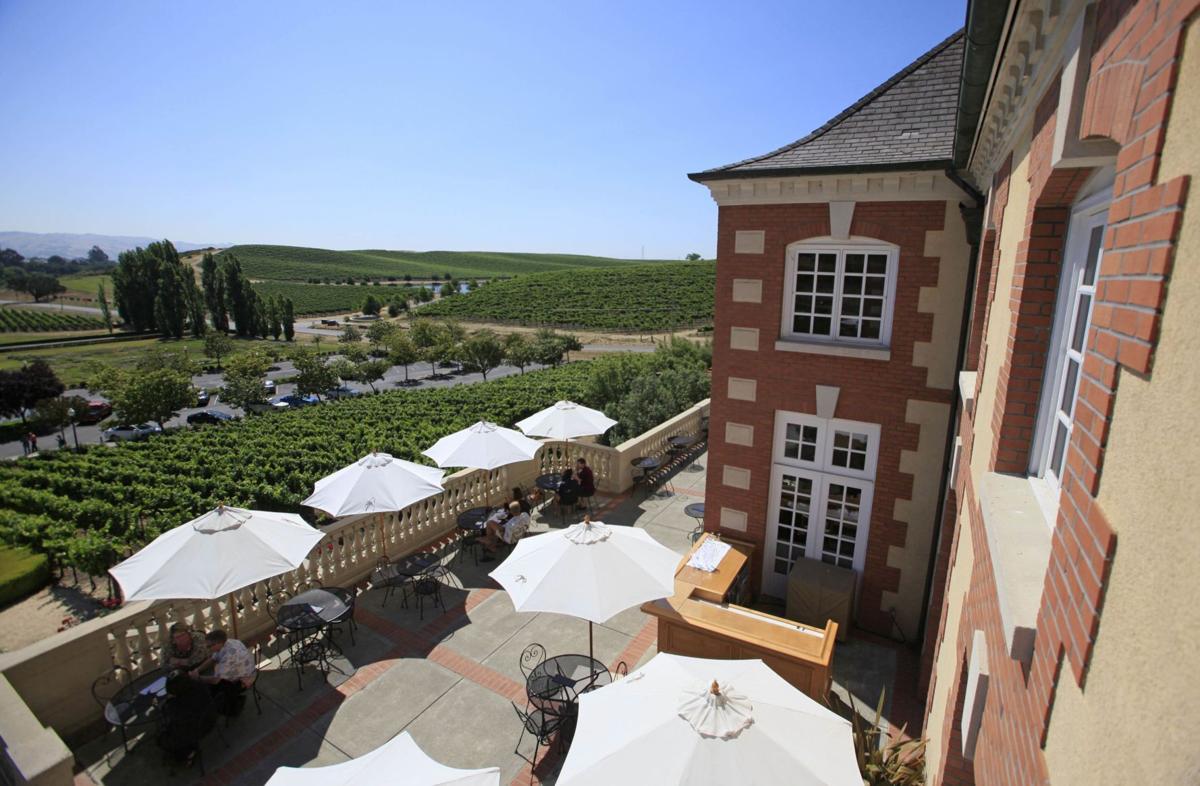 Chairs sat more than six feet apart; tables were thoroughly sanitized. Staff had been trained and masked. Now all that was left to do was wait for visitors to arrive.
And they did. They came to Spring Mountain Vineyard in small groups: pairs or gaggles no larger than six, a size limit the winery imposed after it reopened to the public in early June. The stream of visitors was so steady, in fact, that it surprised director Keith Baker, who said the winery has seen solid weekday traffic and its reservation-only tastings have consistently sold out on weekends.
"We're getting interest not just from the Bay, but from people who are traveling in from other states," Baker said.
When the county gave tasting rooms permission to reopen June 5, Napa had recorded just 129 known cases of COVID-19. But cases in the county – mirroring a statewide trend – soon began accelerating, and on July 6 Napa was added to the state's coronavirus monitoring list with 436 cases. A week later, Gov. Gavin Newsom ordered bars, breweries and nightclubs statewide to shutter their doors once more, restaurants had to stop indoor service, and wineries were again banned from hosting tastings indoors.
An increase in the number of cases and the rollback do not appear to have deflated interest in Spring Mountain's tastings, Baker said, noting that the winery is operating at about half of its pre-pandemic capacity. But he has heard from patrons who say they aren't touring wine country the way they once did.
"They don't want to stay at a hotel chain. They want to stay at a little mom-and-pop place, or an Airbnb – somewhere they're not running into other people," Baker said. "And a lot of them are not looking at tour or driving companies; they're renting a car themselves so as not to worry."
Data from 900 wineries nationwide collected by the software company WineDirect shows tasting room revenue began to cover in early June, rising from about $6 million weekly to more than $10 million at its peak at the end of that month.
Revenue through July has fallen more than 35% from that peak, according to the most recent data available. And online sales have once again begun to trend upward during the period of decline, according to Carly Imhof, product marketing manager for WineDirect.
Visitation has been stop and start at Honig Vineyards and Winery, according to Director of Communications Stephanie Honig – a product of hesitation and some confusion.
"I think some people didn't look into the fine print and thought we were closed period — they didn't look into indoor versus outdoor," Honig said. "But it's a combination. Some people may have just felt that going to wineries and restaurant is what's causing cases, even though the increase here has been (attributed otherwise)."
The winery never reopened for indoor tastings in the first place, according to Honig, so the rollback has not impacted their capacity — about half pre-pandemic levels. It has, however, somewhat dampened enthusiasm for tastings; weekdays are notably less full than they were before Newsom's rollback announcement, though weekends remain fully booked.
Visitation to Domaine Carneros has "come in waves" based on messaging from state and local officials, according to Chief Marketing Officer Erin Stauffer. Following the rollback, the winery saw reservations "dropping off at the last minute," Stauffer said.
Data from Visit Napa Valley shows hotel occupancy rates in Napa County declined almost 8% from May to June of this year, from 38.6% to 30.9%. Data from the last week of June shows weekend occupancy – Friday and Saturday nights – at 58%, notably higher than weekday occupancy (32%) but still lower overall than typical high season levels.
Almost 70% of visitor spending was generated by overnight hotel guests in 2018, according to Visit Napa Valley – a dynamic that has changed since March. As information gradually percolated down to consumers – that wineries remained open for outdoor tastings, for example – Domaine Carneros has seen a retentive stream of visitors. Most are from the Bay Area, Stauffer added, meaning they're able to drive into Napa at their convenience.
Honig, echoing Stauffer, said the majority of guests have been "drive-through" tourists, though the winery has seen a handful of guests from cities like Los Angeles and a few from out of state.
Forecasting at the onset of the pandemic saw Honig brace for a decline in sales as large as 20% to 30% year over year, she said. But so far, the winery is down "a couple digits"—not as much as estimates had shown.
The winery's tasting room makes up about 14% of its total sales. Though capacity has been reduced to about 50% of pre-pandemic levels, visitors are actually spending more on wine than they did before the shutdowns, according to Honig. The winery's wholesale leans heavily on the restaurant industry, which is continuing to nurse its own coronavirus wounds – but even then, sales are "maybe 10% down" overall for the months of June and July so far.
Baker at Spring Mountain said guests have distanced themselves and worn masks; he has encountered just a single person who seemed unconvinced of the pandemic's severity, he said. The winery's concierge-esque phone line – a service it offers to wine club members – regularly rings with questions about which wineries are best upholding safety protocol.
Guests at Honig have also been overwhelmingly respectful, Honig said. Approaching what would normally be the valley's tourism high season, she's cautiously optimistic.
"If we can maintain sales the way they've been going, we'll be fine. But it's just impossible to know what's around the corner," she said. "I do think things will be better in a month or two, but I also thought that two months ago."
Watch Now: 10 of the most affectionate dog breeds