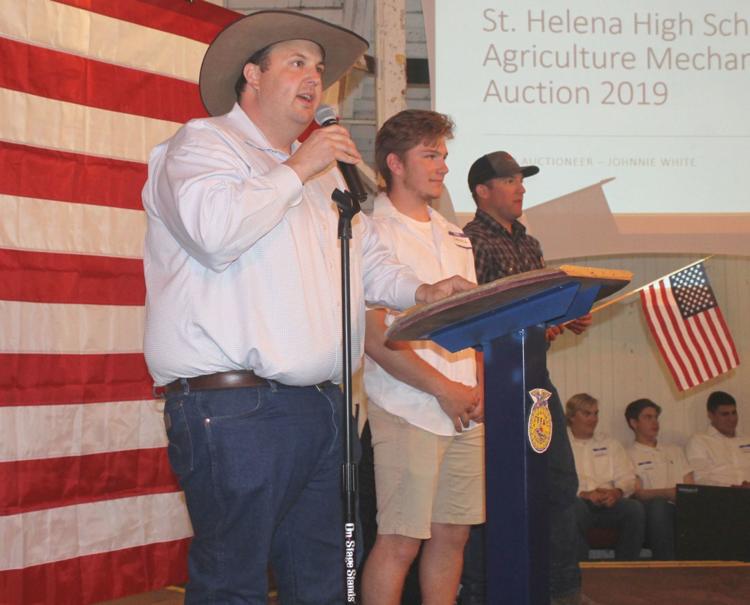 ST. HELENA — This wasn't Auction Napa Valley. It did not attract a global roster of affluent bidders. It did not raise millions for Napa Valley social services.
The St. Helena Ag Boosters' annual Rib Feed Dinner and Ag Mechanics Auction was a far more modest affair.
It raised some $46,000 for 19 Ag Mechanics projects at St. Helena High School. A featured wine auction item was a collaborative three-liter bottle of 2018 Zinfandel.
Auctioneer Johnnie White nearly lost his voice at the end of the auction as he struggled to coax the last dollar out of a willing and generous audience that crowded into the Native Sons Hall on April 17. Several times, he was ready to sell one of the lots when a new bidder raised their hand or their program, seeking to buy one of the 19 unique items.
When he was selling a solid oak table, built by Collin Darrall, he told a male bidder, "Don't let her beat you," as he got a bid for $2,700. Several hundred dollars later, he told the female bidder, "Don't let him show you up." The beautiful table, made from a 100-year-old valley oak that had fallen on the family property, ended up selling for $3,300.
Rutherford resident Rico Abreu, an alumnus of St. Helena High School's Ag program, was active in the bidding, buying both a wine barrel wine rack, made by Larry Trattler, for $1,300 and making several bids to win an ironwood coffee table, built by Gannon Wilson. During the bidding for Wilson's coffee table, White almost sold it for $2,300, but then a new bidder came into the auction and bid $2,600. Abreu ultimately paid $3,100 for it.
Catherine Durand and Lisa Drinkward were sitting in the front, clapping and cheering during the night, especially during the sale of Lot 17, a beautiful Sugar Pine bar, built by Hanna Martin. The two cheered as the bids were at $3,500 and then climbed to $4,000, which was the final bid.
The two-and-a-quarter inch thick Sugar Pine board that was used for the top of the bar came from Cobb Mountain, following the September 2015 Valley Fire. It was milled from a burned and felled Sugar Pine.
Bidding was heavy for the final Ag Mechanics project, a Blue Oak slab table, built by Mitchell Wilms. The wood for the table came from an old Blue Oak tree that grew on the Wilms' family property in Pope Valley. The board were milled at the ranch and the slabs were brought to the SHHS Ag shop where they were "treated with care" and finished.
The crowd cheered as bids reached $4,000, then $4,100. At the point, Auctioneer White told the crowd, "Open up the checkbooks and let's go. This is the last item of the night – you've got nothing else to buy." When he sought a $500 bid for an even $5,000, he got it and then he got another $500 bid for "$5,500 in the back." That was the last bid, by Salvatore Martinez, who looked pleased that he had bought the table.
Before the auction
Before the rib dinner and live auction were held, Randy Mendes said it was "hard to say" how much the auction would raise, although he thought it would be "over $30,000."
Mendes joins Sarah Herdell and Judy Aschwanden as Ag teachers at St. Helena High School. Throughout St. Helena High, some 260 students, more than half of the entire student population, participate in Ag classes.
In the Ag Mechanics pathway, Mendes said there are three different class levels, each that take a year: Intro to Ag mechanics, where students learn to use the tools in the wood and metal workshops; computer-aided drafting, where they learn how to design projects; and the capstone class, Advanced Ag Mechanics, where students design and fabricate their projects, using both wood and metal.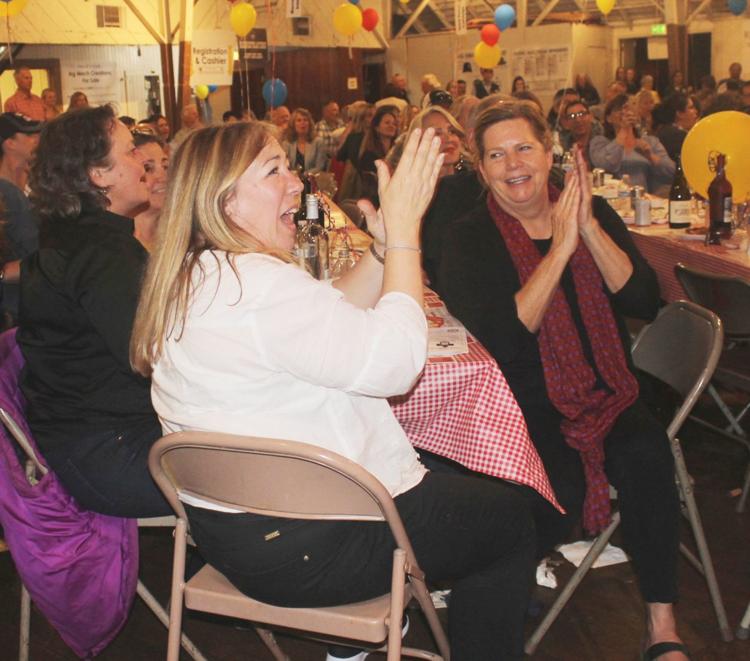 How much help do the students get? Mendes answered, "Once they get to this level, it is pretty much giving suggestions and they are very proficient in the shop at this point. They are good welders, good woodworkers. This is their third year and some students chose to take the Advanced class in their third and fourth year."
In the parking lot at the Native Sons Hall, the 19 projects were spread out. Garrett Pina said his project was a Vine T wine holder, which mounts on a wall. He said he saw one in a winery and was inspired to build one. It took him five months to build it and Pina said he got the vines from his friends, "wherever we could find them," adding it took a couple of weeks to find the right vines. His project sold for $1,300.
Both DeWayne Schooley and Jesse Cole made firepits; Schooley's had American flag motifs on the sides "because everyone likes the red, white and blue," he said. He put bricks on the top, because they don't conduct heat, so people can put their hands on the bricks with no problem. Schooley, a senior, has been in the Future Farmers of America chapter for four years and the firepit was his second Ag Mechanics project.
He said the fire pit took a couple of months to build and it was harder than he first thought, because he measured a brick at the beginning of the process and based his design on those dimensions. But, then, that brick was smaller than the ones he bought, so he had to remake his fire pit. "But, in the end, I finished it and it came out looking beautiful," he added. It sold for $2,200.
Cole is a junior at St. Helena High School and his project is both a table and fire pit, because as he said you can get warm and also have room to set stuff down. He adds, "This is a really good, all-in-one alternative." He used ironwood for the tabletop because it's very dense and durable. "It's fairly easy to clean, and if it gets grimy," he said, you can sand it and "then it looks brand new."
He started designing the project in August, began construction in October and finished it in March. It is his first project and before the auction began, he said he's hoping to get $600 to $700. "That would be awesome, I'd be really happy with it," Cole said. He said he probably save the money, for a vehicle or maybe school, later on. His fire pit and table sold for $1,700.
The event also included a raffle drawing with 26 lots. Half of those were magnums of Napa Valley wines. The live auction also included a large, three-liter bottle of wine, a 2018-2019 Collaborative Winemaking Project, created by local vintners and students in the high school's Viticulture Class. Salvestrin Family Estate donated the grapes for the 2018 Zinfandel, which were from an Old Crane Ranch clone. It was produced and bottles at Davies Vineyards, with winemakers Sean Thompson and Jessica Koga. The barrel for the wine was donated by Tonnellerei O.