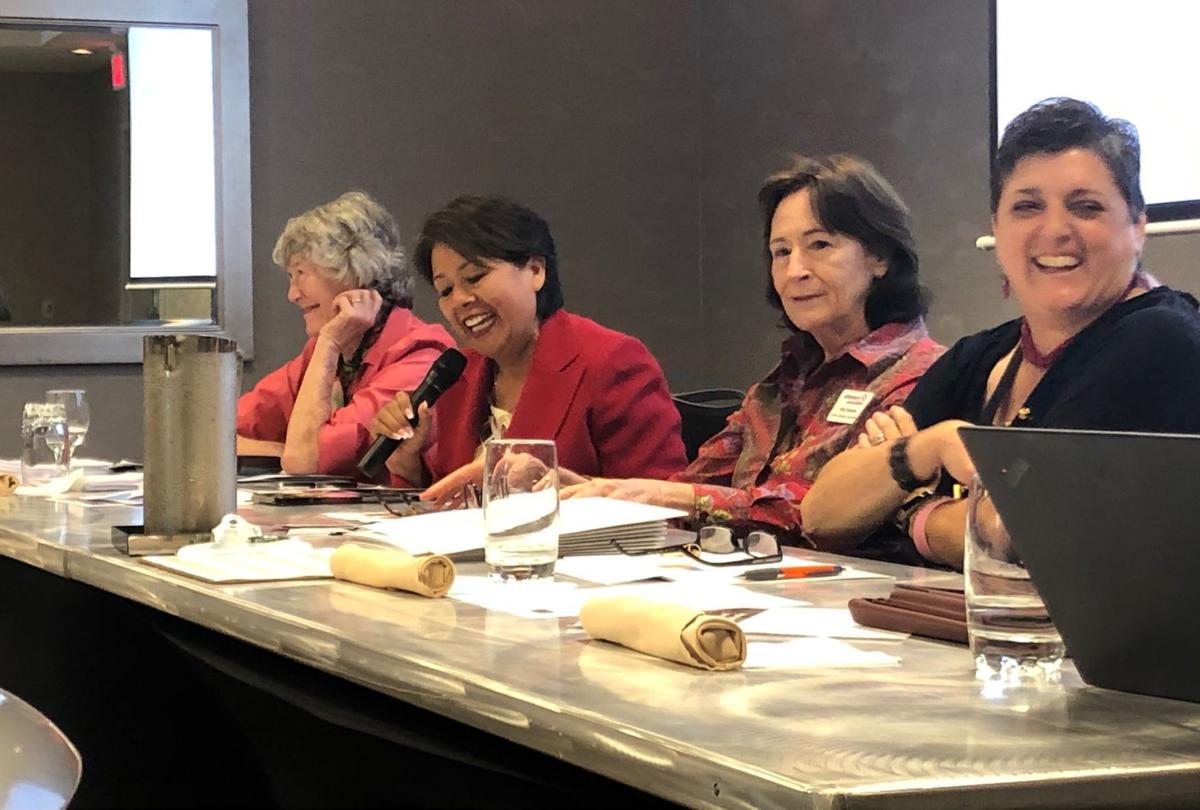 A fifth of Californians are age 60 or older, census data shows. In Napa County, a quarter of the population falls into that category.
As medicine improves, those numbers are expected to keep growing. Napa County's population of residents age 60 or older is expected to grow by half from 2010 to 2030, for a total of 44,000 people.
Latinos — who accounted for half of all U.S. population growth from 2008 to 2018 — will continue to face unique challenges when it comes to aging as the Latino senior population grows, said panelists at a Latino Leader Round Table luncheon last week at Napa's Hilton Garden Inn.
Language barriers, cultural differences and genetic predisposition to certain health problems are at play. Latino families are more likely to live in multigenerational households with older family members, said Jaime Peñaherrera, who organizes the monthly luncheons.
It's not always possible to care for a family member at home, but culturally competent care is important, speakers said.
At Collabria Care, a care center that serves aging patients in Napa, four in 10 patients speak only Spanish, said speaker Celine Regalia, Collabria's executive director.
Holly Rylance, Latino outreach specialist for the Alzheimer's Association, said providing culturally competent care can mean inviting mariachis, bringing in record players to allow people to play their own vinyls or facilitating games of lotería, a Mexican card game similar to bingo.
Latinos are 1 ½ to 2 times more likely to face Alzheimer's Disease than whites, she said. To accommodate that growing population, Rylance said the organization has began offering bilingual caregiver classes.
Alzheimer's disease — a form of dementia that can cause disorientation, memory loss, poor judgment and more — is primarily triggered by aging, she said. The disease can progress until people lose their abilities to talk, walk or eat.
It's not just patients who are affected by Alzheimer's, Rylance said. Caring for an Alzheimer's patient can be draining and time-consuming.
Caregivers serve for an average of eight to 10 years, but can serve anywhere from one to 20 years, she said. So-called caregiver strain can have serious health impacts.
Other effects of aging are not so obvious.
Indira Lopez-Jones, UpValley Family Centers program director, said the organization works with 800 seniors per year, a quarter of whom are Latino. Some seniors struggle with transportation issues, which can make it hard to arrive at doctor appointments.
Aging Latinos who don't speak English can struggle with a language barrier, Lopez-Jones said.
Men can be particularly prone to losing a sense of purpose after a lifetime of work. Seniors may babysit for their families, but have little to do otherwise.
"How are we going to keep our seniors busy?" she asked.
As a result, UpValley Family Centers began offering social programs for seniors, including outings, monthly luncheons and a summertime party.
Also on the panel was Julie Conger, member of the California Commission on Aging and retired Alameda County judge, who said she advises the governor and Legislature on aging issues.
She identified wildfires as a threat to some aging seniors. Pacific Gas & Electric Company has already began power shutoffs on hot, dry and windy days, but this can pose a threat to some who need electricity for medical equipment, she said. PG&E accepts applications for medical exemptions.
Conger noted that Gov. Gavin Newsom has called for a master plan on aging, and a committee recently convened to begin work.
Back in Napa County, Regalia, who is also a member of Live Healthy Napa County, noted that the group hopes to convene a summit on ageism in early 2020. She also pointed to what she called a disturbing trend: a growing number of Napa County seniors are losing their homes and becoming homeless.