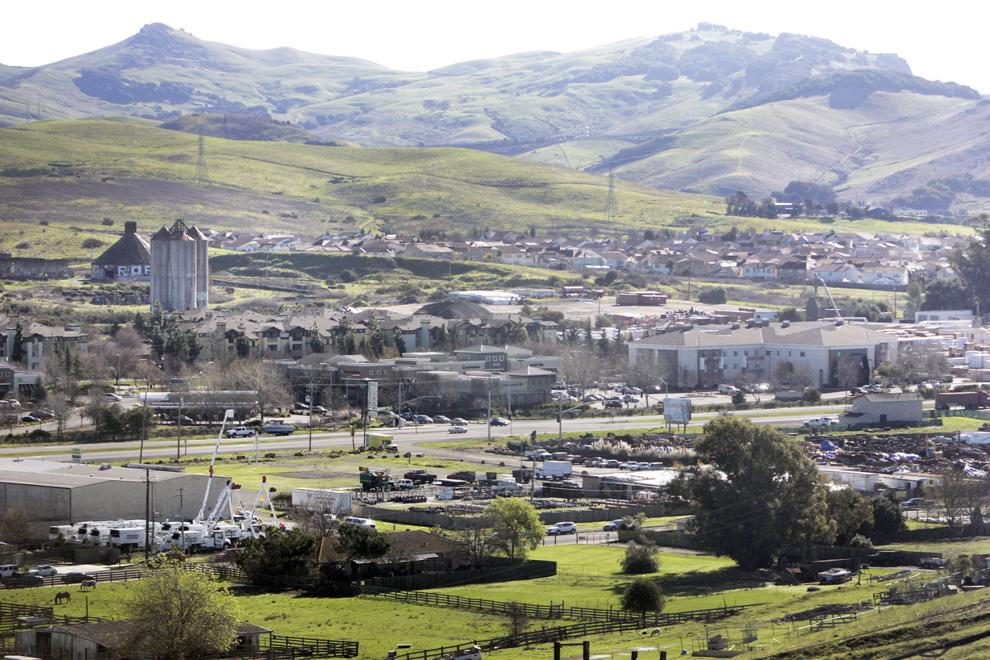 American Canyon is wetlands, a diverse population, gateway to Napa Valley, neighbor to Vallejo, huge wine warehouses, young families, new homes, new schools, a congested highway, a refreshing breeze off San Pablo Bay.
Put it all together and American Canyon after a mere 27 years of existence as a city is unique in Napa County. The young city is working to carve out its own niche on the edge of both world-famous wine country and the urban Bay Area.
Mayor Leon Garcia moved to American Canyon in 2000. The population has doubled since then, with more than 20,000 people living inside of six square miles.
"When you invite 10,000 people to come to town, they don't come just with their furniture," Garcia said. "They come with expectations."
They also bring energy that is molding the community. The results look nothing like the small wine country communities of Calistoga, Yountville and St. Helena, or even the more urban city of Napa.
That's fine for Fran Lemos, who has lived there for some 70 years. She's seen American Canyon grow from an unincorporated area with junk yards and other uses Napa County didn't want amid the Upvalley agricultural landscapes to a full-fledged city charting its own course.
"We're not Napa," she said. "We're not Vallejo either. We're American Canyon. Personally, I think we're known for the wetlands."
This fast-growing community must create its own Napa-style identity. That quest is continuing.
A starting place for identity-creating is the raw materials that a city has to work with. One ingredient is location.
American Canyon is contiguous with Vallejo, a big Bay Area-style city with a ferry connection to San Francisco. The massive traffic-mover that is Interstate 80 is only a few miles away and easily reached by taking American Canyon Road. So is the Highway 37 link to Sonoma and Marin counties.
Yet American Canyon also has a rural side to its east and north. Grassy hills and even trademark Napa vineyards can be seen.
"We live in both worlds," Garcia said.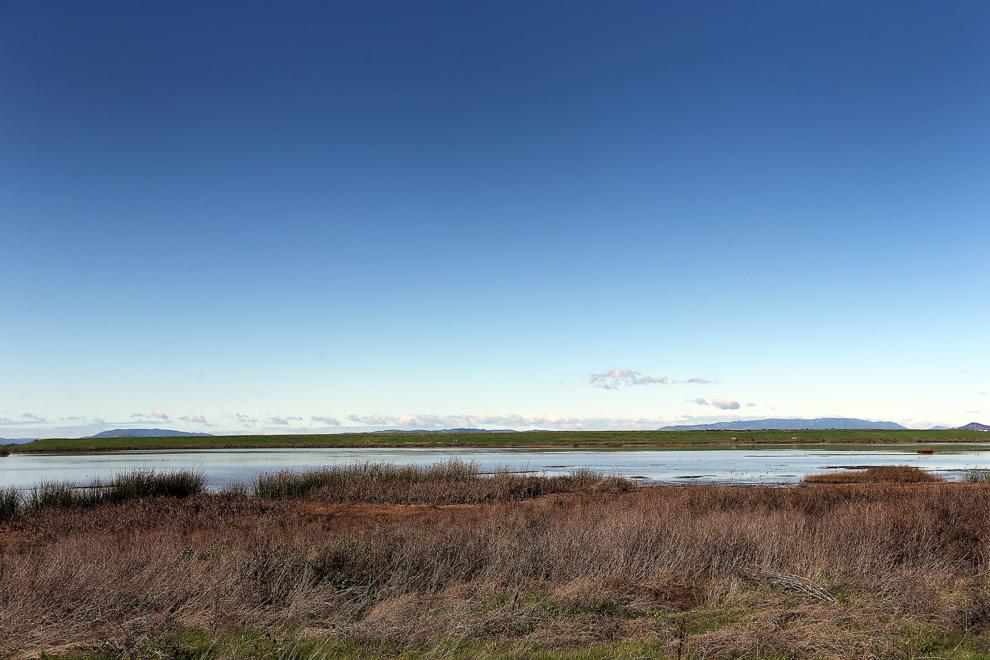 And there's water, plenty of water. "Born in the wetlands of American Canyon" is how the American Canyon High School group Public Display of A Capella described itself in a recent concert program. Wetlands are a major part of the city's environment.
The Napa River is far wider here than it is in the valley, with vast, muddy tidal marshes along its shores and, beyond that, San Pablo Bay. Visit American Canyon's popular wetland levee trails at high tide and water seems to stretch to distant Mount Tamalpais.
"The sunsets we have are just out of this world," Lemos said.
Weather is also different in American Canyon than other Napa County cities – milder, with less winter frost and summer heat. Sunset Western Garden Collection includes American Canyon in the same maritime climate zone as San Francisco, while other county cities are in the zone for inland areas with some ocean effects.
Then there is the raw ingredient of 20,341 people. American Canyon is Napa County's second largest city – behind the city of Napa – but is the leader when it comes to diversity.
Napa County as a whole is 72.6 percent white, 2.1 percent black, 7.9 percent Asian and the rest of other races. The county is 33.7 percent Hispanic or Latino of any race, according to the American Community Survey.
In contrast, American Canyon is 38.5 percent white, 8.2 percent black and 35.7 percent Asian. It is 27.3 percent Hispanic or Latino of any race.
This diverse population commutes to diverse places. Garcia said American Canyon residents work in the Bay Area and Sacramento area, as well Napa County. Some come from other parts of the Bay Area attracted by less expensive housing prices and have ties to Daly City, to the East Bay and other places.
"So it's very mixed," Garcia said.
Zillow puts the median home value in American Canyon at $562,000, more than double the median for the United States. On a local scale, though, it compares to $670,000 for Napa County as a whole and $877,000 for Alameda County in the heart of the Bay Area.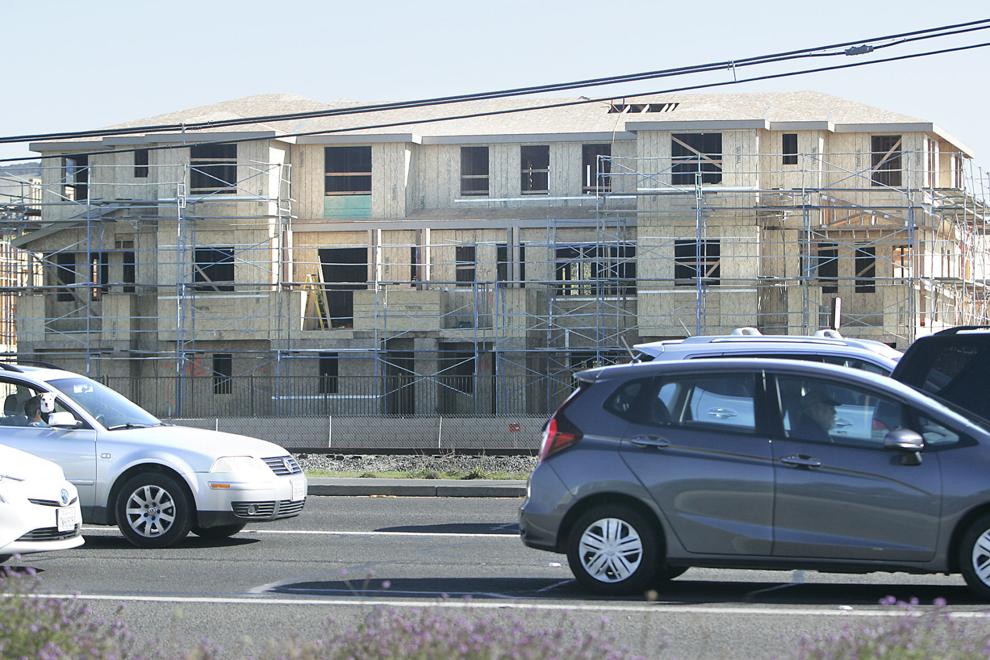 Bumping up against the Solano County line gives American Canyon residents convenient out-of-county shopping choices. They can reach Vallejo or Fairfield's Green Valley area in Solano County just as easily – perhaps more so - as the city of Napa.
American Canyon is known as the place with the traffic. Many out-of-towners spend more time there than they'd like, sitting in a long line of autos on Highway 29, cursing the stop signals at the Walmart and other locations.
County Supervisor Belia Ramos, an American Canyon resident, said Highway 29 traffic is a factor when residents decide to work or shop out-of-county. Traffic is a roadblock to greater connectivity with the rest of the county.
"It doesn't make them, it doesn't make us in American Canyon any less Napa County," she said.
American Canyon could also someday be the place with the trains. Railroad tracks run through Napa Junction. Transportation leaders have talked of someday having passenger train service to Amtrak in Suisun City and to Sonoma Marin Area Rail Transit, with a local train station.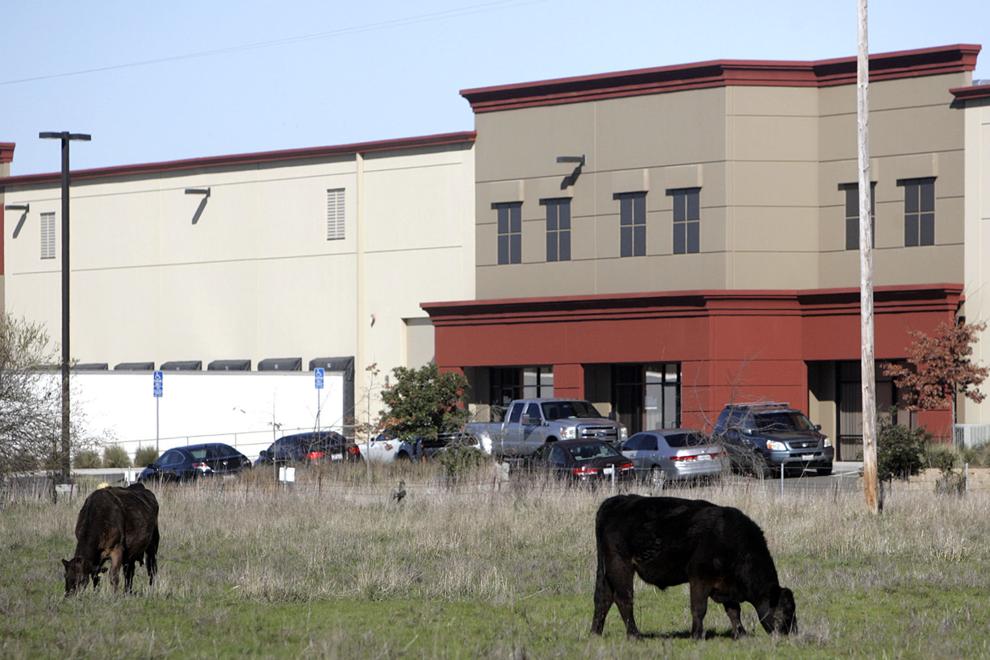 The city lacks a downtown. Its Main Street is the Anywhere, USA car-culture strip of neon that is Highway 29. Instead of the charming, century-old brick buildings found in every other Napa County city, American Canyon has a  Walmart Supercenter.
No matter. The city, in the American can-do tradition, will try to create its heart-and-soul. It plans to turn the century-old Portland Cement Factory ruins into a town center with event center, community center, plaza and stores.
"It's hugely important," Garcia said. "People have wanted that for years and years. It will be the identity of American Canyon."
American Canyon and wine country
There's one ingredient that American Canyon is missing that other Napa County cities have – it is outside of the geographical Napa Valley. It might be near wine country, but it's not in the heart of wine country.
"It's the gateway to the Napa Valley," long-time resident Jill Madron said. "I think that American Canyon is trying to move toward that feel."
Indeed, there is a sign at Highway 29 and American Canyon Road that says, "Where your Napa Valley experience begins." The backdrop is not vineyards, but an electrical station. It's one more illustration of American Canyon dichotomies.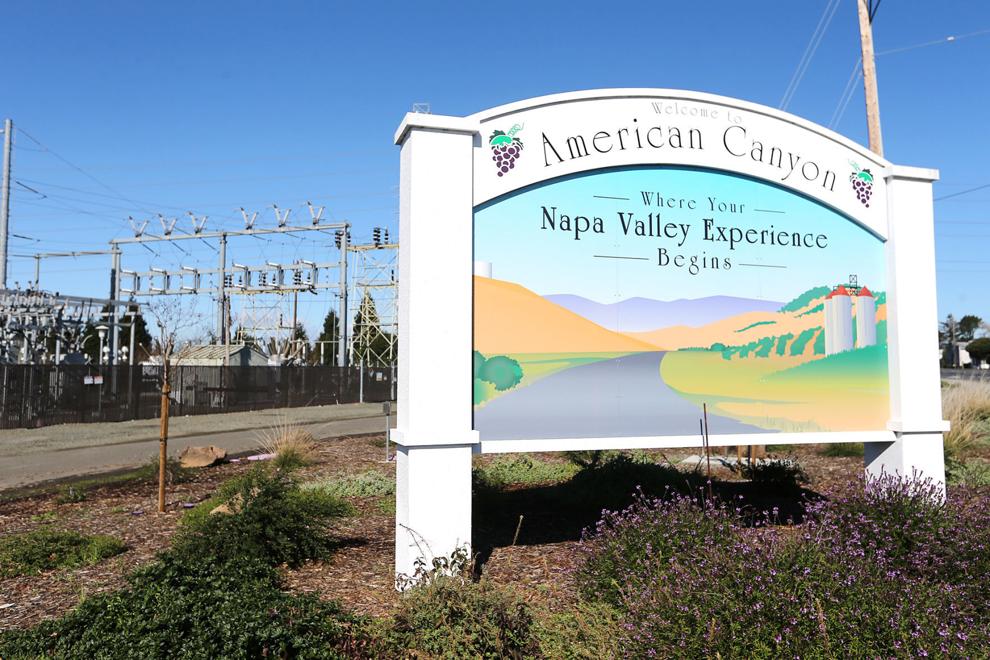 The city has what it bills as the first Napa Valley welcome center for those approaching along south Highway 29. Still, some wine country tour books come without a mention of American Canyon.
Clay Gregory of Visit Napa Valley sees changes coming. American Canyon has those plans to create that town center at the cement factory ruins. It has those wonderful wetlands that lots of people don't know about. It's near to golf courses, he said.
American Canyon can be a gateway to Napa Valley, which includes the Napa name, Gregory said. But he thinks it can be something else, too.
"They're not trying to be a little Napa," Gregory said. "They're going to have their own feel and their own experiences. That absolutely will take some time, but I think they're on the right track."
American Canyon Chamber of Commerce CEO Mandy Le sees another wine country role that American Canyon plays. Businesses in the Green Island industrial area store wine, bottle wine, put the tops on wine, she said.
"It's all the stuff that's not glorified in the wine industry, but it's very necessary," she said.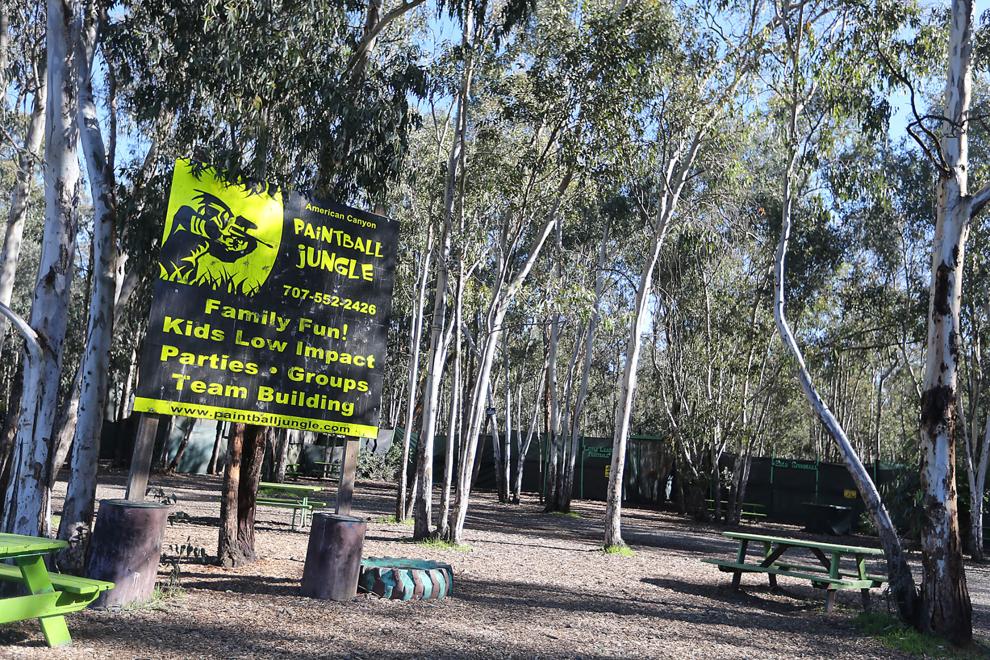 American Canyon has the best access to the freeway for trucks going to these businesses. The city is the biggest, and unnoticed, supporter of the wine industry, Le said.
Ramos has a similar view.
"When you think about Napa County, you think about a world-famous wine region," Ramos said. "When I think what role American Canyon plays in it, I think of bottles that leave the American Canyon warehouse district to be enjoyed all over the world."
Meanwhile, people come to American Canyon to live for reasons that have nothing to do with wine country. They experience the evolving American Canyon identity in their everyday lives.
Chris James and Tammy Wong moved to American Canyon from Montara eight-and-a-half years ago. They chose the city to be near family and found other positives.
"We like the sunsets," said Tammy Wong, and given they live on Wetlands Edge Road, they can watch the sun reflect off marsh waters as it sinks behind Mount Tam.
Chris James said he likes the trails, open spaces and flat areas to bicycle on.
But Chris James and Tammy Wong don't like speeding cars on Wetlands Edge Road. They worry things could someday grow worse if the city should ever connect Wetlands Edge Road with the industrial area, making it part of a west side connector alternative to Highway 29.
"I think the city's growing too quickly," Chris James said, adding he sees the growing pains.
They try to shop local. They might head to downtown Concord to watch a movie, given American Canyon lacks a theater. Tammy Wong said if they go to the city of Napa, they watch the time so they don't run into Highway 29 congestion between the two cities.
Brenda Mancilla moved to American Canyon five years ago from Napa.
"Because it's cheaper than Napa for a house," she said.
Her husband commutes to Fairfield in Solano County for work. Her two children go to American Canyon schools. But she still maintains her city of Napa ties.
"For everything," she said. "For the doctor, for my friends, for the store."
Then there are long-time residents such as Madron, who moved to American Canyon in 1985 before it became a city. The area included a few subdivisions and a string of auto dismantling shops and other Highway 29 uses. She's seen a big change.
"I think it's a great place to live," said the office manager at the city's Canyon Oaks Elementary School. "It's close to things. It's a good location … there's a good sense of community here, even though it has grown tremendously in the last 18 years."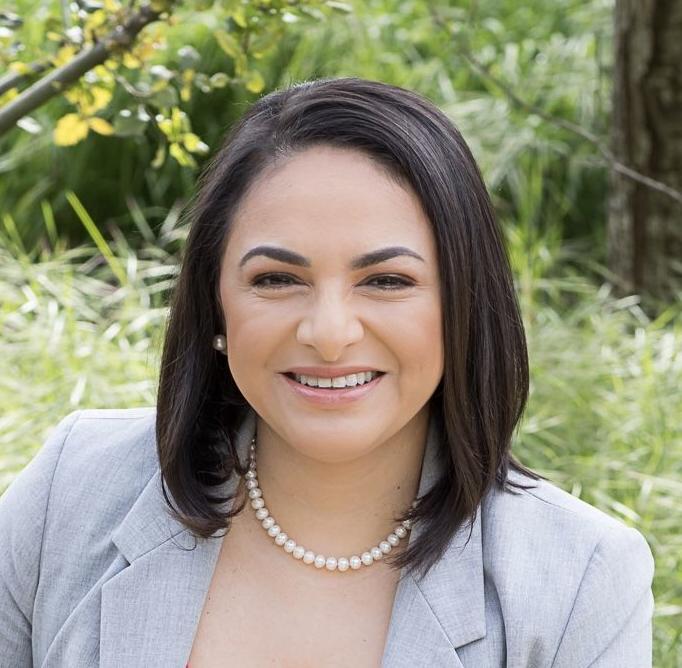 Ramos came to American Canyon in 2005. She didn't like the condo life in San Francisco where she worked. Family, housing prices and a convenient commute location made American Canyon attractive.
Upvalley cities for a century have had identities as hospitality destinations, said Ramos, who grew up in St. Helena. She finds American Canyon more fluid – and she's not complaining.
"It's still finding its identity, it's still molding its identity," Ramos said. "It's not locked into any specific category. As it's growing, it's coming into its own. It's exciting to be able to see that."
As American Canyon has grown, so has its political muscle. The city has 10,855 registered voters, 14 percent of the county's total voters. Only the city of Napa and unincorporated county have more.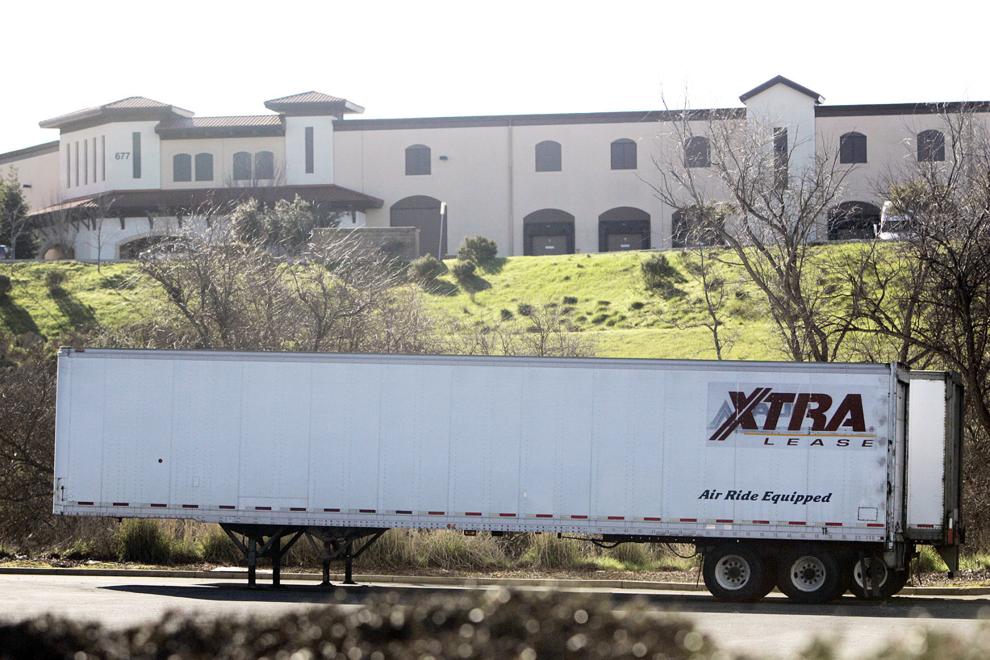 The city's political clout showed in the June 2016 Measure H school bond race. The $269 million bond barely passed, in part because of American Canyon support. Registrar of Voters John Tuteur at the time said one American Canyon precinct was 70 percent in favor.
American Canyon is today reaping Measure H fruit, with the bond to fund a new American Canyon middle school and relocation of Napa Junction Elementary School. Schools are important in a city with young families.
But American Canyon voters aren't always in lock-step with their Upvalley counterparts.
Measure C, the watershed protection measure which narrowly lost in the June 2018 election, failed to carry American Canyon. It had 1,842 "no" votes and 1,405 "yes" votes there. Only 32 percent of registered voters in the city cast a ballot on the issue.
"That is the only city that didn't pass Measure C," Measure C co-author and Angwin resident Mike Hackett said. "It's a unique community. A lot of attention needs to be paid to American Canyon."
Supporters went door-to-door twice in American Canyon, Hackett said. Still, he said, they clearly didn't do enough.
"It is the place where a tremendous amount of effort should be made," he said. "They deserve it."
The last word on American Canyon goes to long-time resident Lemos. She worked to help establish the city in 1992 and is a regular at City Council meetings. She said she's happy with the American Canyon she sees today.
"We have people here who love the city," Lemos said.
Lemos doesn't portray the American Canyon before cityhood as a sorely missed golden era. She likes the changes she's seen.
"There just wasn't any community," Lemos said. "There wasn't any place to meet. We had a gas station and we had a couple of little fruit stands and that was about it, during those years."
Today, she sees people who are happy to raise their families in American Canyon. They can walk at the wetlands. They can travel to such destinations as Sacramento or San Francisco. She called the city's location "perfect."
As an American Canyon old-timer, these types of things make her feel good, Lemos said.