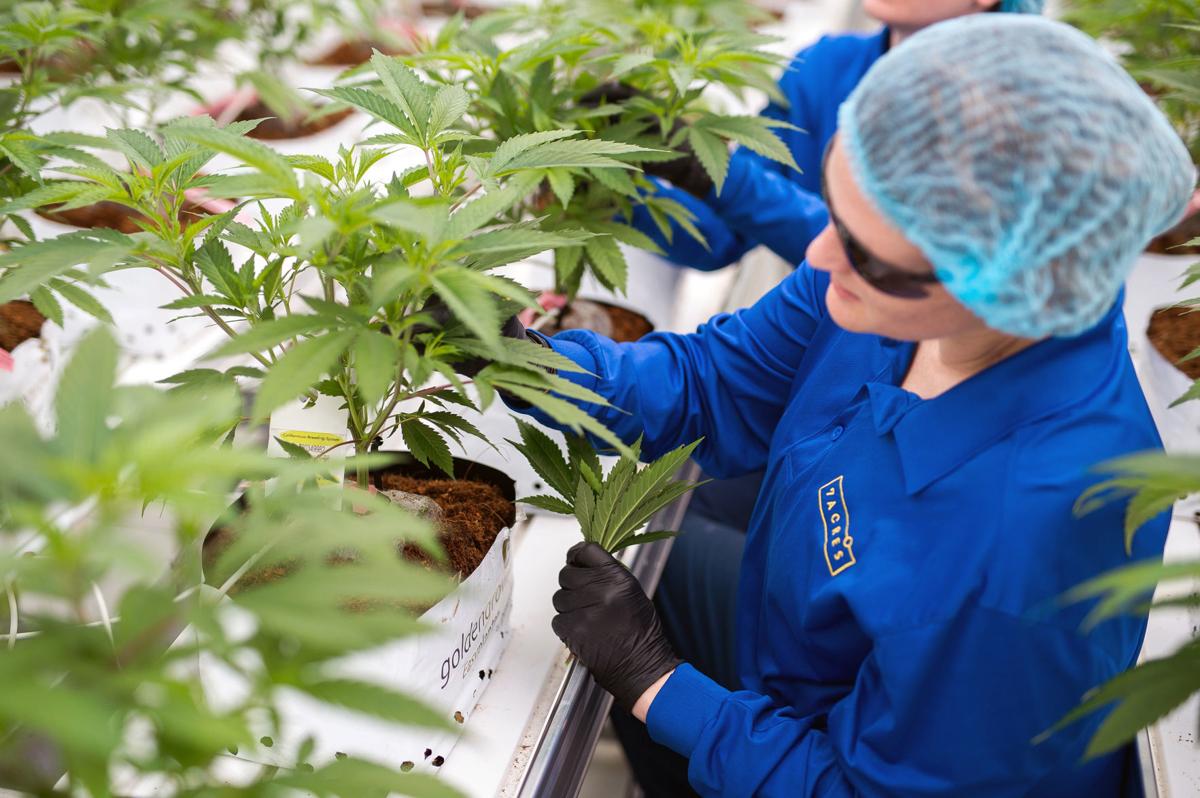 American Canyon has become the first city in Napa County to authorize recreational marijuana businesses, though it stopped short of allowing retail dispensaries within the city.
The ordinance was approved 4-0 by the City Council Tuesday evening. Councilmember Mariam Aboudamous was absent from the meeting.
The new local law permits companies to open in the Green Island Industrial District to conducting indoor commercial cultivation, manufacturing, testing and delivery of cannabis products via non-storefront operations.
It does not allow dispensaries or storefront retail cannabis businesses in American Canyon.
The ordinance also bans outdoor cultivation, though residents can grow up to six marijuana plants inside their homes for personal use under Proposition 64, the 2016 statewide initiative that legalized recreational cannabis.
Aside from American Canyon, only the city of Napa and Yountville have passed cannabis-related ordinances to date. Napa has dealt with medicinal marijuana, not recreational. Yountville allows cannabis delivery with a permit.
Napa County officials are considering the possibility of allowing a recreational cannabis dispensary in an unincorporated area of the valley.
American Canyon officials decided to allow only certain cannabis operations after holding numerous community meetings and workshops, and conducting a survey that garnered 650 responses from those supporting and opposing recreational marijuana.
The feedback revealed a community divided on the issue, according to city officials, with many residents strongly opposing dispensaries on grounds that recreational cannabis might wind up in the hands of local youth.
Councilmember Mark Joseph said he wanted to emphasize that "we looked at both sides" of the issue and developed "a fair compromise" that allows some cannabis businesses, but not others.
Councilmember Kenneth Leary said it was important for the city to adopt its own ordinance because absent of that, state law would govern cannabis operations in American Canyon.
"If we don't pass an ordinance," Leary said before voting 'yes', then anything could happen because the "state will control what we do here in American Canyon."
Half a dozen individuals spoke on the issue during the public comment period. Longtime resident Beth Marcus said she's not opposed to marijuana in general, but "I am against having a storefront here or delivery."
Anne Steinhauer with 6539 Consulting, who is working with the Napa Valley Cannabis Association, encouraged the council to approve the ordinance because it means "bringing economic drivers" into the community in the form of new businesses that can create jobs.
Following the passage of Prop. 64 in November of 2016, the City Council adopted an emergency moratorium banning all cannabis operations until a local ordinance could be established. The moratorium expires Nov. 14, but the ordinance is expected to go into effect on Oct. 18 as long as the council approves it again at their next meeting on Sept. 18.
The new ordinance creates a three-step process for businesses to obtain the necessary permits and licenses to perform indoor cultivation, manufacturing, testing, or delivery, or some combination of these permitted operations.
The ordinance allows individual businesses to offer one of the authorized operations, as well as microbusinesses that function as vertically integrated companies that can handle several cannabis-related operations under one roof.
A company will have to obtain from the city a local cannabis business license and a conditional use permit before approaching the state for a cannabis license. If they intend to operate as a microbusiness, the owners will have to obtain a microbusiness license from the city and state.
The licensing process will include a requirement that all employees of cannabis operations in American Canyon undergo a background check (Live Scan™) through the Napa County Sherriff's Office.
State law imposes certain limitations on cannabis microbusinesses. They can have only 10,000 square feet of indoor cultivation, and if performing manufacturing, they can't use "volatile solvents," including butane, hexane, propane and ethanol.
In addition to restricting cannabis operations to the city's industrial zone, the ordinance establishes a 600-foot buffer to prevent businesses from being too close to "sensitive" areas, including schools, daycare centers, public parks, youth centers or any parcel with residential zoning.
On top of that, the ordinance creates an additional 600-foot buffer zone in the southern portion of the Green Island area that bars the development of cannabis operations.
The ordinance does allow the delivery of cannabis products to American Canyon residences by businesses located in the city or from outside of it. For American Canyon-based businesses, these would be "non-storefront retail" operations that can sell products only via delivery.
The local law does not include provisions for taxing recreational cannabis operations.
However, city staff intends to bring to the City Council before the ordinance goes into effect a proposal for creating a permit application and fee program that would enable the city to recover costs for reviewing and issuing cannabis business applications.
They will also present options at a future council meeting for a potential new cannabis tax that would require voter approval.
The city may also establish "reasonable standards" for the indoor growing of six marijuana plants allowed under Prop. 64 that could address such things as water or electrical use for indoor cultivation, according to Cooper. He said Prop. 64 permits local jurisdictions to adopt such standards.
This story has been modified since posting to note Yountville's approval of cannabis delivery. 
Get local news delivered to your inbox!
Subscribe to our Daily Headlines newsletter.