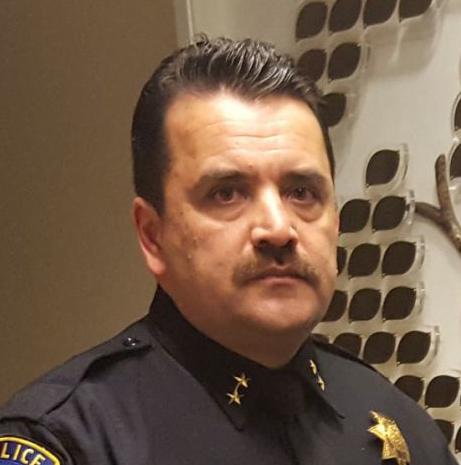 American Canyon had an uptick in major crimes in 2019, though it still recorded the third lowest total in seven years.
"Crime is not spiking up, American Canyon is still a great town, but we have a slight rise," Police Chief Oscar Ortiz said.
American Canyon for the fourth consecutive year had no murders, new statistics show. It had six rapes, six robberies, 130 assaults, 56 burglaries, 346 larcenies and 23 auto thefts.
American Canyon reported having 568 violent and property crimes. That compares to 533 in 2018, 584 in 2017, 551 in 2016, 763 in 2015, 707 in 2014 and 627 in 2013. The figures combine homicide, rape, robbery, assault, burglary, larceny and auto theft.
Property crime is the reason for the uptick, Ortiz said. The city had rashes of vehicle burglaries. The main shopping centers with Safeway and Walmart continued experiencing thefts.
"The problem with property crime is growing throughout the state of California," Ortiz said. "American Canyon is not immune to it."
The reason is recent criminal justice reform measures that "effectively decriminalized" many types of crimes, Ortiz said in a March 3 report to the City Council. He gave Proposition 47 and Proposition 57 as examples.
Officers in 2019 gave 125 cite-and-release tickets for cases involving methamphetamine, cocaine and opiates. Ortiz said methamphetamine is a particular problem in American Canyon.
"People can have cocaine, heroin or meth and they get a ticket," Ortiz said. "Whereas, before Prop. 47 specifically, they would actually get a trip to the jail to at least try to push them into some counseling or some rehabilitation."
At 1:30 a.m. Feb. 24, an officer stopped a man walking down a residential street near Gadwall Park. The downtown Fairfield resident on probation for burglary had a bag of methamphetamine in his pocket. He received a ticket and went on his way.
"We didn't get any burglaries that night in that neighborhood," Ortiz said. "But those are the type of crimes where it would have resulted in a trip to jail, historically or in the past."
Councilmember David Oro said he hoped the man got the message not to return. He said the city wants a reputation that criminals know they shouldn't come to American Canyon.
Councilmember Kenneth Leary asked what citizens can do to discourage crime. Ortiz urged residents to call police if they see anything suspicious.
Ortiz said 62 residents have joined the Police Department's home video surveillance camera registry. The database lets police know what addresses have cameras. Police might contact the homeowner if a crime takes place in that area.
"Have we looked at surveillance cameras that the city would own and manage?" Councilmember Mark Joseph said. "I know there are privacy issues and all of that. But, as you mentioned, at the end of the day, eyes-and-ears is how you catch bad guys."
Ortiz said he and City Manager Jason Holley have talked about that idea. There are challenges, such as the cost of storing the data for a year as required by government code.
Traffic citations on local roads fell from 774 in 2018 to 382 in 2019. Citations on the American Canyon stretch of Highway 29 fell from 662 to 219.
"The number did kind of surprise me, how low it was compared to past years," Ortiz said.
One reason is a veteran motorcycle officer retired and the department had to train the replacement. Another is police put more effort on residential streets in reaction to public requests, which resulted in fewer citations but created good interaction with the community, Ortiz said.
Joseph said a purpose of giving speeding tickets is to reduce collisions. Collisions on local roads fell from 89 in 2018 to 79 in 2019. Collisions on Highway 29 fell from 80 to 58.
"Ultimately, you're achieving the real objective," Joseph told Ortiz. "Especially if you are out in the local neighborhoods, slowing people down, then giving warnings – all of that is good stuff."
The American Canyon Police Department is a division of the Napa County Sheriff's Office. The city last year agreed to pay the Sheriff's Office $6.75 million in 2019-20, $6.95 million in 2020-21 and $7.19 million in 2021-22 for police services.
Get local news delivered to your inbox!
Subscribe to our Daily Headlines newsletter.