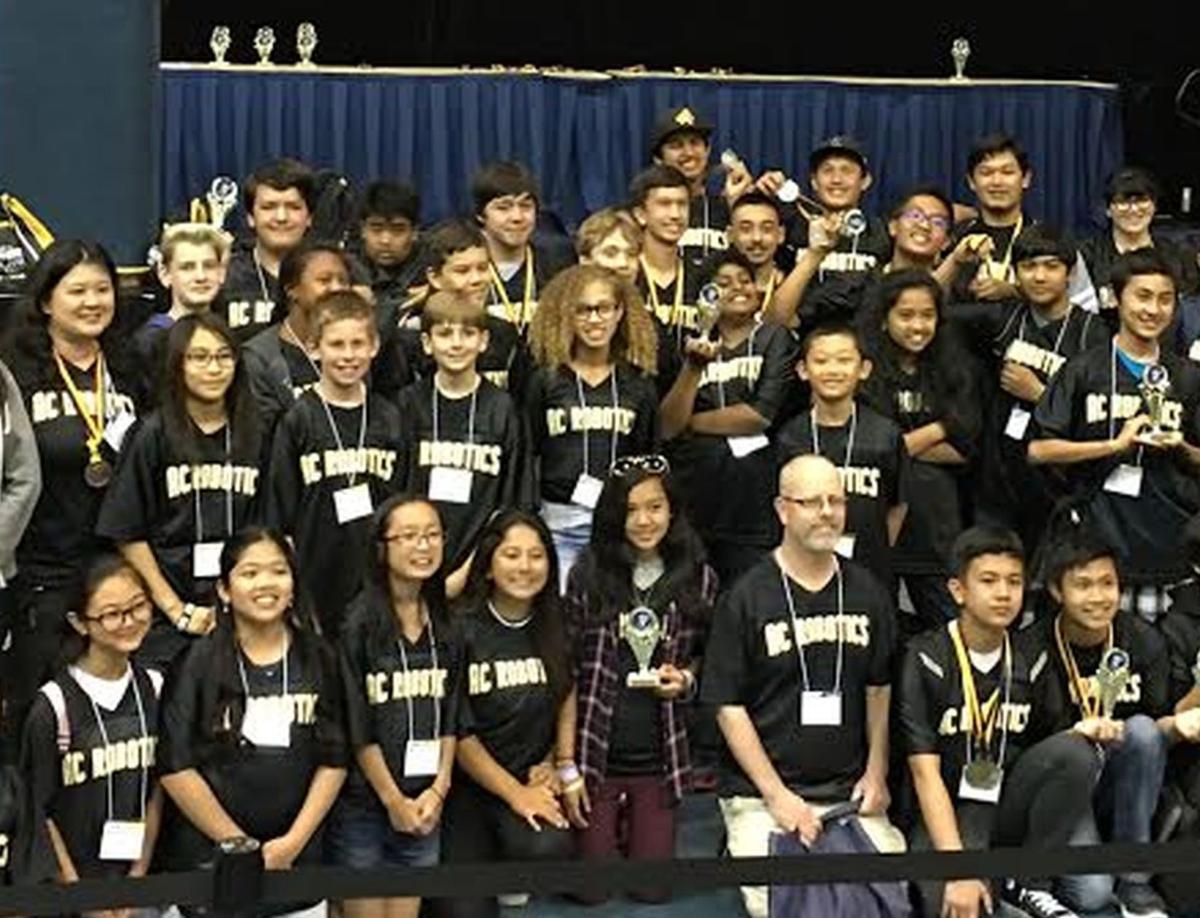 UC Davis has awarded teacher and administrator of the year honors to three educators in American Canyon for their work developing successful robotics programs at their schools.
American Canyon students have participated for the past five years in UC Davis' C-STEM Day, where high school and middle school students from Northern California spend an entire day competing and programming small modular robots called Linkbots.
They have racked up multiple honors during these competitions, including 16 awards for individual and team achievement at the 2017 competition.
Their continued success each year at UC Davis' C-STEM Day prompted Napa Valley Unified School District officials to add robotics this year at four schools: Redwood Middle School, Valley Oak High School, St. Helena High School and Vintage High School.
Teacher of the Year was presented to Tammy Lee, an American Canyon Middle School teacher who launched the first robotics program in the Napa Valley Unified School District five years ago.
Lee also helped bring robotics to American Canyon High School, where Scott Marsden was also honored with Teacher of the Year by the UC Davis Center for Integrated Computing and STEM Education (C-STEM). STEM stands for science, technology, engineering and mathematics.
Lee and Marsden were two of seven teachers from California and other states to receive the award.
Former ACHS principal Damon Wright, now NVUSD's executive director of secondary education, was one of three people to receive Administrator of the Year at UC Davis' annual C-STEM conference on Nov. 4.
Marsden said his award "is a reflection of the amazing work over four years by the dedicated members of the ACHS Robotics Club."
"These students have truly excelled at the CSTEM RoboPlay Competition," said Marsden, referring to an annual summer event at UC Davis in which American Canyon students have successfully competed.
"I also would not have received this award without the dedication of ACMS math and robotics teacher Tammy Lee, who helped me to found the ACHS Robotics Club four years ago and has supported and mentored me since then," he added.
Expansion of robotics to Napa schools has been supported by NapaLearns and the Napa County Office of Education. NapaLearns contributed $150,000 toward the expansion.
County Superintendent of Schools Barbara Nemko praised Lee's work, saying she "revolutionized how middle school teachers can inspire students of all genders, nationalities, cultures, and abilities to become passionate about STEM."
"Ms. Lee's students were so inspired by her class," said Nemko in a press release. "They attended NVUSD school board meetings and petitioned to make it an official C-STEM Math I course — a most unusual and compelling way to change curriculum."
Peg Maddocks, executive director at NapaLearns, noted the successful work of Marsden and Lee at their schools in American Canyon.
"When our board members and donors visited their C-STEM classrooms and saw how engaged the students were and how well they were mastering math, we enthusiastically agreed to fund the expansion into other schools," said Maddocks.
In addition to starting the first robotics program, Lee has been active in encouraging girls to get involved and strive for success in C-STEM subjects as a way to shrink the gender gap in computer science and mathematics.
Lee said she's "beyond proud of my students," and noted that some of her female students went to form a club at ACHS called Girls Can Too!
Get local news delivered to your inbox!
Subscribe to our Daily Headlines newsletter.