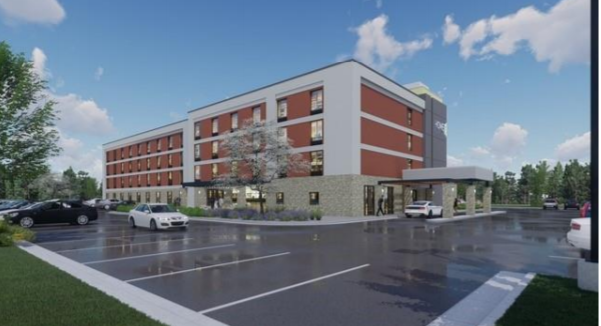 Groundbreaking for a tall Highway 29 hotel, grading for hillside luxury homes and construction on the last link of a Highway 29 parallel route should be among this year's American Canyon activities.
"What you can expect in 2021 is major investment," City Manager Jason Holley said Tuesday during the annual "state of the city" presentation for this south Napa County gateway community.
Expect more than $100 million in private investments, he said. He then ticked off a number of projects.
Support local news coverage and the people who report it by subscribing to the Napa Valley Register.
A four-story Homes2 Suites by Hilton hotel was approved by the city in January 2020 at the site of the now-gone Strawberry Patch fruit stand along Highway 29. Holley said groundbreaking should happen this summer.
Homes2 Suites at a planned 55-foot height will be American Canyon's tallest building, according to a city report from 2020.
In addition, medical offices should break ground at Napa Junction, he said.
On the home-building front, work is to get underway on the long-planned Watson Ranch. The development that is to eventually have more than 1,000 homes will start off with a 98-home subdivision recently approved by the city.
Holley also expects work to be done on Canyon Estates. This 35-lot custom home development is to be located in the hills east of Newell Drive near the Newell Open Space Preserve. The city granted approvals for the project in 2015 and 2016.
Also in 2021, the city is planning $20 million in capital projects.
Of regional significance, it is to start building a final, half-mile Devlin Road segment that will allow Devlin Road to serve as a Highway 29 reliever route. With this link in place, Devlin Road will run a continuous 3.5 miles from North American Canyon at Green Island Road to near the Grapecrusher statue and Butler Bridge south of the city of Napa.
Holley expects work to be done on renovating Green Island Road, a major entrance to the city industrial area and currently a rough ride. He expects renovations on James Road in a residential area.
The city could plan a "Westside connector" alignment. The link will run between the industrial area and the heart of the city, a trip that can now be made only on Highway 29. But some residents are concerned a connector could send traffic into their neighborhoods.
Participants in the state of the city address answered questions that residents submitted ahead of time and Holley read. County Supervisor Belia Ramos fielded one about the poor condition of American Canyon Road beyond city limits approaching Interstate 80.
"As a cyclist who actually takes that road up over into Hiddenbrooke, I can certainly appreciate the concerns about that road," Ramos said.
Catching up on deferred rural road maintenance will take time. The county uses a pavement rating scale to decide which roads to do first. American Canyon Road is to be renovated in 2023-24, though a patch job could take place in late March or early April, she said.
A questioner asked what residents can do to present ideas for businesses they'd like to see come to town.
American Canyon Chamber of Commerce CEO Valerie Zizak-Morais responded that the group is looking at business recruitment. The effort will include finding out what businesses residents want and which are good fits.
"I'm looking for suggestions, I'm looking for ideas," she said.
Also speaking during the state of the city address were Dr. Karen Relucio, county public health officer and Fire Chief Michael Cahill.
This year's state of the city event differed greatly from last year's when about 100 people attended at the Boys and Girls Club. This one was done online only because of the COVID-19 pandemic. Holley expressed hope the 2022 version is back before an in-person audience.
"Welcome everyone to our first virtual state of the city and hopefully our last one," Holley said.
WATCH NOW: HOW THE PANDEMIC HAS AFFECTED SUPPLY LINES
Catch up on Napa County's top news stories
SEE NAPA'S LEAST EXPENSIVE JANUARY HOME