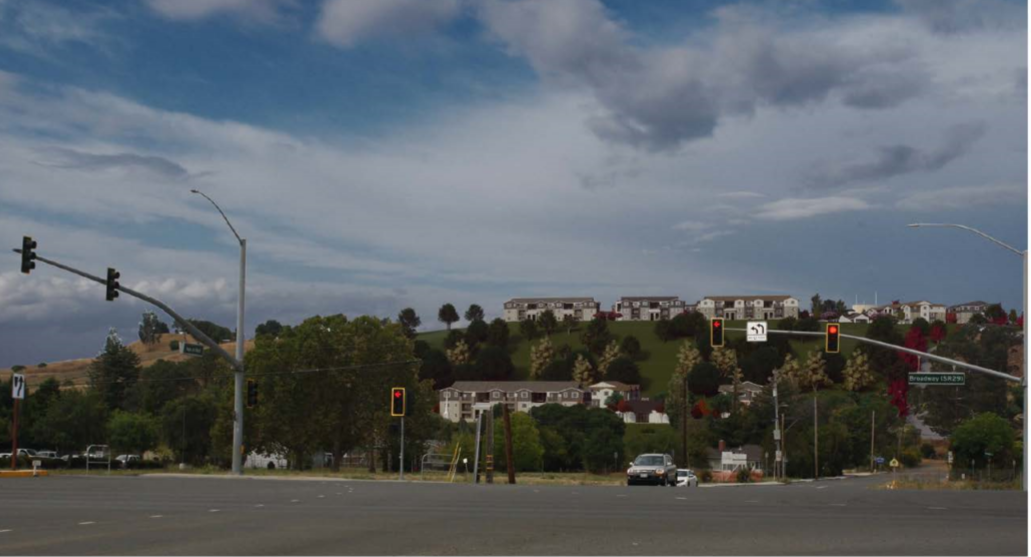 American Canyon is exploring whether allowing several hundred multi-family homes on a hill prominent from Highway 29 could mar the view, tie up traffic or cause other ill effects.
The city has put a proposed 291-home Oat Hill development under the microscope of an environmental review. Consultants found no potential problems that can't be overcome.
People and agencies have until March 10 to submit written comments to the city saying whether they agree or disagree. In addition, they can make verbal comments during a March 25 Planning Commission public hearing.
Support local news coverage and the people who report it by subscribing to the Napa Valley Register.
Oat Hill at 185 feet tall seems like an anthill compared to such prominent local peaks as 2,680-foot Mount Veeder and 4,343-foot Mount St. Helena. But it's a standout rising out of the American Canyon wetlands and lowlands and is just a few blocks west of Highway 29.
"A local scenic resource," said the study done for American Canyon by Raney Planning & Management, Inc.
No stealth subdivision is possible, given the brushy hill has few trees. But the study concluded that building multi-family homes on the flanks nearest to Highway 29 wouldn't be an eyesore.
The homes would be designed with enhanced elevations, colors and materials. They wouldn't have a greater visual impact than industrial uses that could otherwise be built under existing zoning where some of the homes are proposed, the study said.
In addition, parts of Oat Hill targeted for homes have scattered debris and materials. Building the homes would enhance rather than degrade the site, it said.
Make certain lighting is directed to the site and away from other properties and the visual impacts are "less than significant," the report concluded.
Traffic has long been an issue on nearby Highway 29. The proposed Oat Hill development would generate an estimated 660 vehicle trips daily, of which 77 would come during evening rush hour, the study said.
A sidewalk or pedestrian path should connect the homes and an existing Napa Junction Road sidewalk. Housing units should have space for bicycle storage. Such steps as helping with carpooling and ridesharing should be taken, the study said.
Mitigations will make the potential transportation impacts "less than significant," the study concluded.
Another potential issue is that Napa County Airport is 1.75 miles away. Part of the proposed project is within Zone D of the Napa County Airport Land Use Compatibility Plan, which puts it off-limits to housing.
The county's Airport Land Use Commission in December 2019 expressed concern about an earlier version of the proposed Oat Hill housing project.
"Airplanes are going to be in very close proximity to all these residential areas," pilot and Commissioner Norman Brod said at the time.
The environmental study doesn't see a problem. Airplane noise levels would be within accepted standards. The homes wouldn't be under flight paths for normal operations and wouldn't obstruct flight paths, it said.
Homes would create a "less than significant" impact for the airport, the Raney study concluded.
If the project goes forward, the Airport Land Use Commission would vote on whether the homes and airport are compatible. Should the commission vote "no," the American Canyon City Council could overturn the determination by a four-fifths vote.
R. H. Hess Development wants to build 291 multi-family homes on two parcels totaling 20 acres. One parcel would have 206 units, a community loop trail, a recreation building, outdoor seating and a pool. The other would have 85 units, a recreation building, tot lot, and an outdoor lounge and viewing area.
Primary access would be from an extension of Napa Junction Road westward. The city would have to rezone parts of the land from industrial and estate residential to allow multi-family homes.
The environmental study for Oat Hill is an initial study for a mitigated negative declaration. It essentially says that an environmental impact report isn't needed because there are no significant impacts.
The initial study is 132 pages and 1,500 pages counting the appendices. Go to https://bit.ly/3b7CrQu to see it.
WATCH NOW: NAPA COUNTY HISTORY LESSON: ABANDONED SOUTH NAPA RUIN ONCE TRACKED SPUTNIKS DURING COLD WAR
SEE FACES AND PLACES PHOTOS
Catch up on Napa County's top news stories