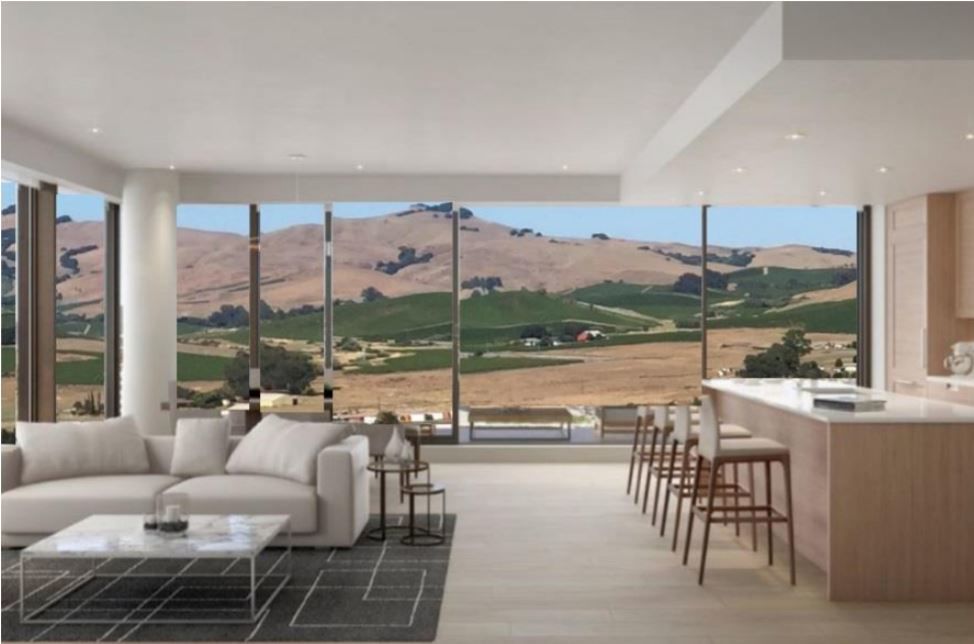 American Canyon is moving to someday allow housing on Oat Hill, but probably not a pushing-the-envelope "tiny home" community suggested at a recent Planning Commission meeting.
Oat Hill is west of Highway 29 and City Hall. It is a hill amid flatlands and reaches an elevation of 260 feet.
"It's a pretty significant landmark in town," city Community Development Director Brent Cooper said. "You can see it from various parts of the city."
Rick Hess owns 30 acres on the eastern slopes that he wants to build on. The lower part could have apartments and the upper slopes homes. Hess told the American Canyon Planning Commission on Nov. 21 that he could submit a plan early next year.
Planning Commissioner Tammy Wong said she'd like to see a "tiny home" community on Oat Hill – tiny homes are usually only several hundred square feet. That might appeal to people who want to live in a smaller home and have a simpler life, she said.
But Hess said economics would probably prevent him from joining the "tiny home" movement and building such a subdivision.
"You have to get the sales price big enough to spread some of that cost over," Hess said. "When you're building, say, a 600-square-foot house, it isn't even remotely possible."
City and school fees, street improvement costs, sewer hookup fees and other fees come to about $160,000 for a house before even starting to build, Hess said. A new state law requires most new homes to have solar panels.
"The costs just keep going up and up and up," Hess said.
He'd love to build a tiny house community if the city would waive fees and help with the development, Hess said. Short of that, he's studying possibly building condominiums, he said.
For now, though, the upper slope of Oat Hill is zoned for industrial with a commercial overlay and the lower slope for residential estate. The city must change this before the community envisioned by Hess can become a reality.
Hess wants assurances that the city agrees with his residential vision before making a big investment. He said he spent $855,000 in 2005 on an Oat Hill plan requested by the city that stalled and $300,000 in 2012 for a project that didn't go forward.
He doesn't want to keep throwing money down the tubes, Hess said.
The City Council in August decided it wants to give Hess some assurances that a residential project is possible on Oat Hill. The Planning Commission last Thursday recommended the City Council take a couple of technical steps that would earmark the land to be studied for residential use.
"This is just simply putting everybody on notice that this is going to ultimately have residential development," Hess said.
Cooper called the move a "mid-step." Hess would then make a more specific development proposal that includes a general plan amendment, rezoning and design permit.
Like all California cities, American Canyon is supposed to meet state-mandated housing goals. Cooper said having housing on Oat Hill could help the city in this regard.
American Canyon for the 2015-2023 cycle was assigned 392 homes. Cooper said early indications are the next cycle might bring allotments twice as high to help deal with the state housing shortage.
"Looking for opportunities for more housing is really a way to help with meeting those needs," Cooper said.
Hess said his family has owned the property since 1978. The current industrial zoning is not a preferred use on the hill, he said.
"We're ready to clean up the whole thing and build something that's going to be pleasing to the city and is going to be a benefit to the community," he said.