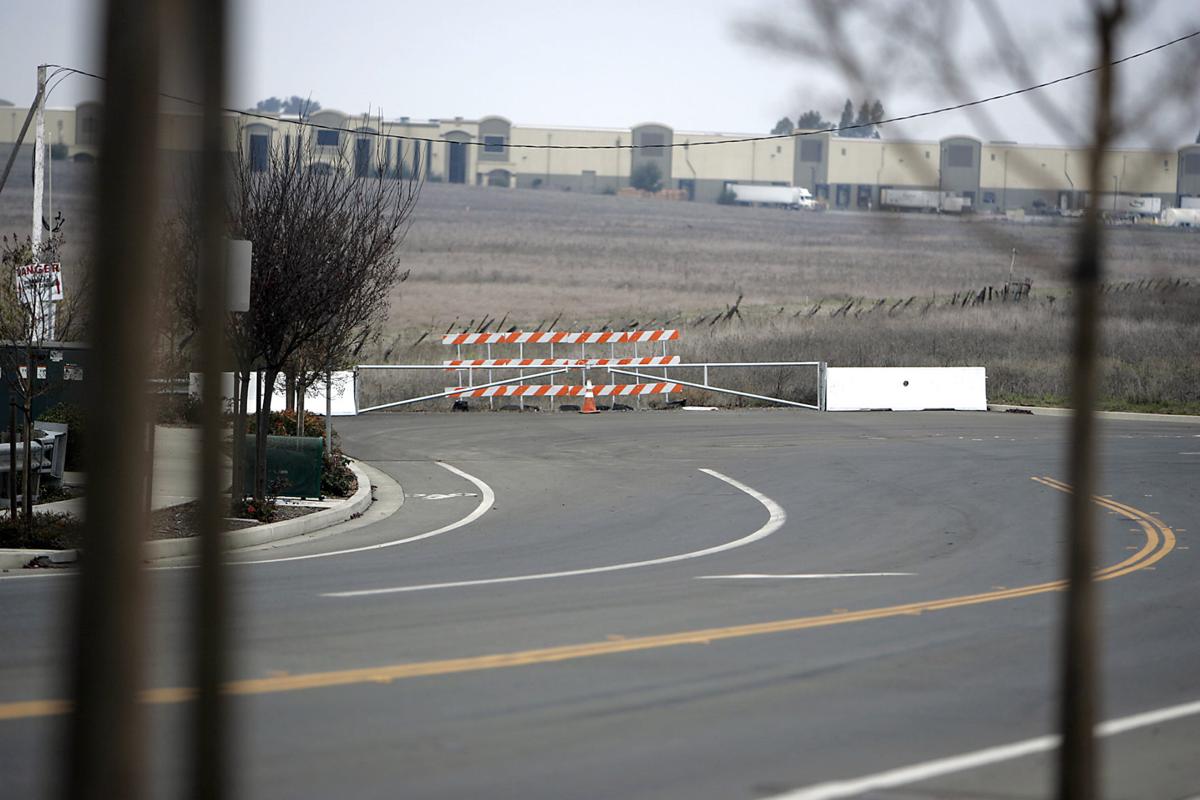 American Canyon is attacking some infrastructure gaps, one by building the Donaldson Way sidewalk project and the other by preparing to build a Devlin road extension.
The Donaldson Way project is to provide bicycle and pedestrian improvements between Highway 29 and Carolyn Drive, a distance of about one-third of a mile. The project budget is $635,000 and F. Loduca Co. holds a $530,000 construction contract awarded last summer.
Public Works Director Steven Hartwig at Tuesday's City Council meeting said Donaldson Way is "a pedestrian safety project above all things, mainly for children and trying to get them to schools safely."
The project is undergoing mid-construction modifications for the "bulb-outs," which are curb extensions designed to calm traffic and create shorter pedestrian crossing distances. The changes will better accommodate bus movements. Hartwig said any additional costs will be within the project's contingency budget.
City Council members said they've heard comments from the public about the bulb-outs. But City Councilmember David Oro said, despite gripes, the safety aspect makes this a very important project for American Canyon.
"That part of Donaldson looks a lot better already," Oro said.
There's more work to be done when the weather is suitable following a week of big storms.
"Right now, the delay is the rain and waiting for the ground to dry up," Hartwig said.
Devlin Road has a different type of gap. Someday, the road is to extend 3.5 miles from Green Island Road in American Canyon to Soscol Ferry Road near Highway 29 at the Butler Bridge. Two key sections are missing.
American Canyon is preparing to build the half-mile, southern terminus from Green Island Road to Middleton Way, complete with a roundabout. That will connect the city's Green Island Road Industrial area with the county's airport industrial area. The City Council on Jan. 15 approved the project's environmental study.
The wait is on to bring out the bulldozers and get to work on what's expected to be about a nine-month project.
"We're hoping this summer," City Manager Jason Holley said.
That will depend in part on the California Transportation Commission. The city in March will ask the state to advance $4.1 million in funding targeted for 2021-22.
Instead of doing an environmental impact report to satisfy state law, the city completed a less-involved "mitigated negative declaration" because there are no significant impacts expected. Even so, this document by GHD consultants tops 300 pages.
A single-lane, 140-foot diameter roundabout is to be built at the intersection with a future road to Napa Logistics Park. This is part of a trend in Napa County and the state to use roundabouts instead of stop signs or traffic signals at certain intersections.
A new Napa Valley Vine Trail segment is set to run along the new Devlin Road section. Plans call for an 8-foot-wide bike path with 2-foot shoulders. That would add another half-mile to a bike-and-walking path that is to someday extend 47 miles from Vallejo to Calistoga.
The other key gap in Devlin Road is in the unincorporated county. The county could begin work on this project next month.