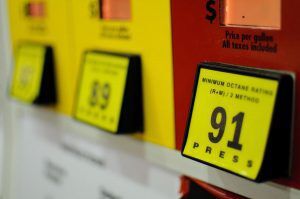 American Canyon wants to avoid having its main road become a gasoline alley, but a high-tech highway is another story.
The city's quest to decide how many new gas stations should be allowed along Highway 29 continues. One option is to ban new gas stations altogether, freezing the number at four after the latest planned station is built.
Planning Commissioners during a June 24 fuel station workshop tried to envision the vehicle-powering future of Napa County's southern gateway. They wanted city policies that encourage gas alternatives.
Support local news coverage and the people who report it by subscribing to the Napa Valley Register. Special offer: $1 for your first 3 months!
"I'm just wondering why no comment about fuel cells and hydrogen stations … it's already out there, not very successful in part because there are not fuel cell stations," Commissioner Eric Altman said.
Commissioners talked about having electric vehicle charging stations. Charging stations might be in parking lots, so people could charge their electric vehicles while they shop.
Commissioner Andrew Goff saw yet another opportunity. The city could require electric charging stations to be at new buildings, including new homes. Residents who have charging stations are more likely to buy an electric vehicle, he said.
Still, Commission Chairperson Tyrone Navarro didn't see zero-polluting vehicles as addressing Highway 29's most notorious problem — congestion.
"Moving vehicles, whether they are causing pollution or not, do increase traffic congestion and make it more difficult for pedestrians and non-motorized vehicles," Navarro said.
The city earlier this year imposed a moratorium on new gas stations that is to last until Feb. 21, 2022. This move is designed to buy time for city leaders to decide how many gas stations is enough.
Dozens of people have spoken out on the topic, either vocally during a series of American Canyon public meetings or in writing. Most have asked the city to ban new gas stations.
"If you can follow through with this and put more teeth in it, you're going to set a precedent for the other municipalities in the county," said Bayard Fox of Napa Climate NOW!
American Canyon's 3.4-mile stretch of Highway 29 has three gas stations, with a fourth station — a Circle K — approved and to be built. Rotten Robbie and 7-Eleven want to build stations, but are subject to the moratorium, making their prospects uncertain.
"We really don't need any more gas stations in this city," resident Chris James said.
High school students involved with the group Napa Schools for Climate Action have been vocal.
"Cleaner energy is the key to the sustainable future we hope to have," Napa High School junior Alisa Karesh said.
Resident Jessica Rennie has another reason for favoring a new gas station ban.
"Our city does not need or want another gas station with another convenience store. We need a decent grocery store, like Trader Joe's or Sprouts. This would create more job opportunities for our town as well," she wrote to the city.
Samuel Bayless of the California Fuels & Convenience Alliance earlier this year gave the gas station industry viewpoint. He said California has a 60,000 gap in electric vehicle chargers.
"Gas stations are an integral part of this," he said. "We are in the best locations in areas. We are the best at providing these services to these consumers."
Gov. Gavin Newsom has called for all new vehicles sold in California by 2035 to be zero-emission vehicles. Even so, Bayless doesn't see the need for new gas stations disappearing anytime soon.
"We're going to have liquid fuels long into the future, whether it's 2050, 2060," he said. "These vehicles are still going to be on the road. These consumers are still going to be on the road, they're still going to need lower prices."
American Canyon in the coming months will continue discussing how many of those stations should be within its borders on south Napa County's main road.