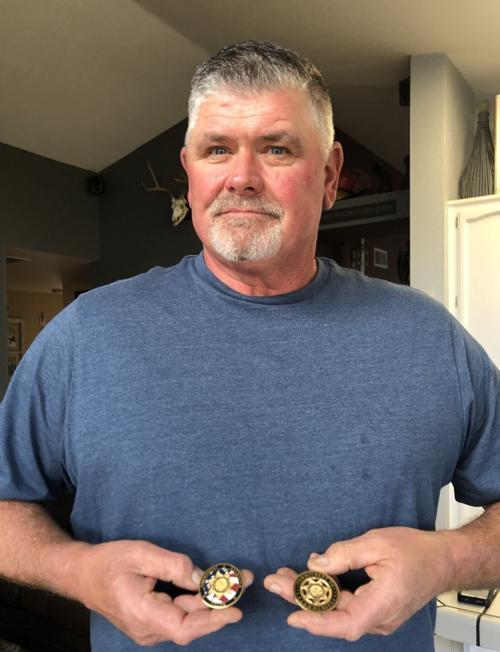 AMERICAN CANYON — A panicked young child desperate for her mother ran toward roaring traffic on Highway 29 last month. At the last second, she was snatched back to safety by Steven Jarvi.
"When I saw the (gas station) video, it scared the heck out of me," Jarvi said in a phone interview on Friday. "I had to go talk to my wife. I've never been so emotional with an incident. I even cried a little."
Jarvi, a 58-year-old father and grandfather who has worked for the City's Public Works Department for 15 years, said he was driving a city maintenance vehicle when he noticed a young child, perhaps 4 or 5 years old, get out of her car seat and exit the car while her mother was either pumping gas or paying at the American Canyon ARCO.
We're offering our best deal ever with this Editor's Special. Support local news coverage by subscribing to the Napa Valley Register.
The child hid behind a pump as her mother, apparently unaware that one of her two children was no longer in their car seat, drove off.
"She walked around the pump a little bit, and it was her, alone, in the station, and then she took off, I speculate, in the direction she saw her mother drive off," Jarvi said.
Jarvi pulled his truck into the station and sprinted toward the child.
"I ran for her, and she was (just off the curb) and I could hear cars rushing by at 50 or 60 miles per hour right behind. It was really scary. I didn't think my old knees could move that fast."
Jarvi said that after scooping the child out of the street, he held and calmed the girl who was crying for her mother, then called 911. When he left about 10 minutes later after police officers had arrived, the mother had still not returned, he said.
"I feel bad for the mother," he said. "She must be a total wreck. Thank God, the little girl didn't get hurt."
That is the same reason American Canyon Police Chief Oscar Ortiz gave for not publicizing the incident on the department's Facebook page.
"We didn't want to have this become about vilifying the mom, who is already traumatized," Ortiz said.
Ortiz said he, too, thanks the Almighty, but also Jarvi for his quick thinking and heroic actions.
"I saw the video and it made an impact," Ortiz said. "The child was running toward the street and Superman Steve jumped into action. It could have really been a terrible tragedy."
The officers at the scene were also moved, Ortiz said.
"It shook everybody up," he said. "Even my officers who were there, said, 'Wow, that could have been bad.' They called me and said, 'Chief, you really have to do something for this guy.'"
Jarvi was recognized as a hero at a recent City Council meeting. The city issued a proclamation and present Jarvi with two commemorative coins.
The proclamation, read into the record by Mayor Leon Garcia, noted that Jarvi's actions at about 12:30 p.m. on Thursday, Jan. 21, likely prevented a terrible tragedy from occurring.
Ortiz, who is also a father, said he knows children can surprise you with their "amazing escape skills" and doesn't fault the child's mother.
But, he isn't convinced that Jarvi was there simply by chance, either.
"I think there was a reason Steve was in the right place at the right time," he said. "I think some things like this aren't accidents."
WATCH NOW: BEL AIRE PARK MAGNET SCHOOL HOSTS SOCIALLY-DISTANCED PICTURE DAY
SEE PHOTOS OF THE CITY OF NAPA'S LEAST EXPENSIVE HOME SOLD IN JANUARY
Catch up on Napa County's top sports stories