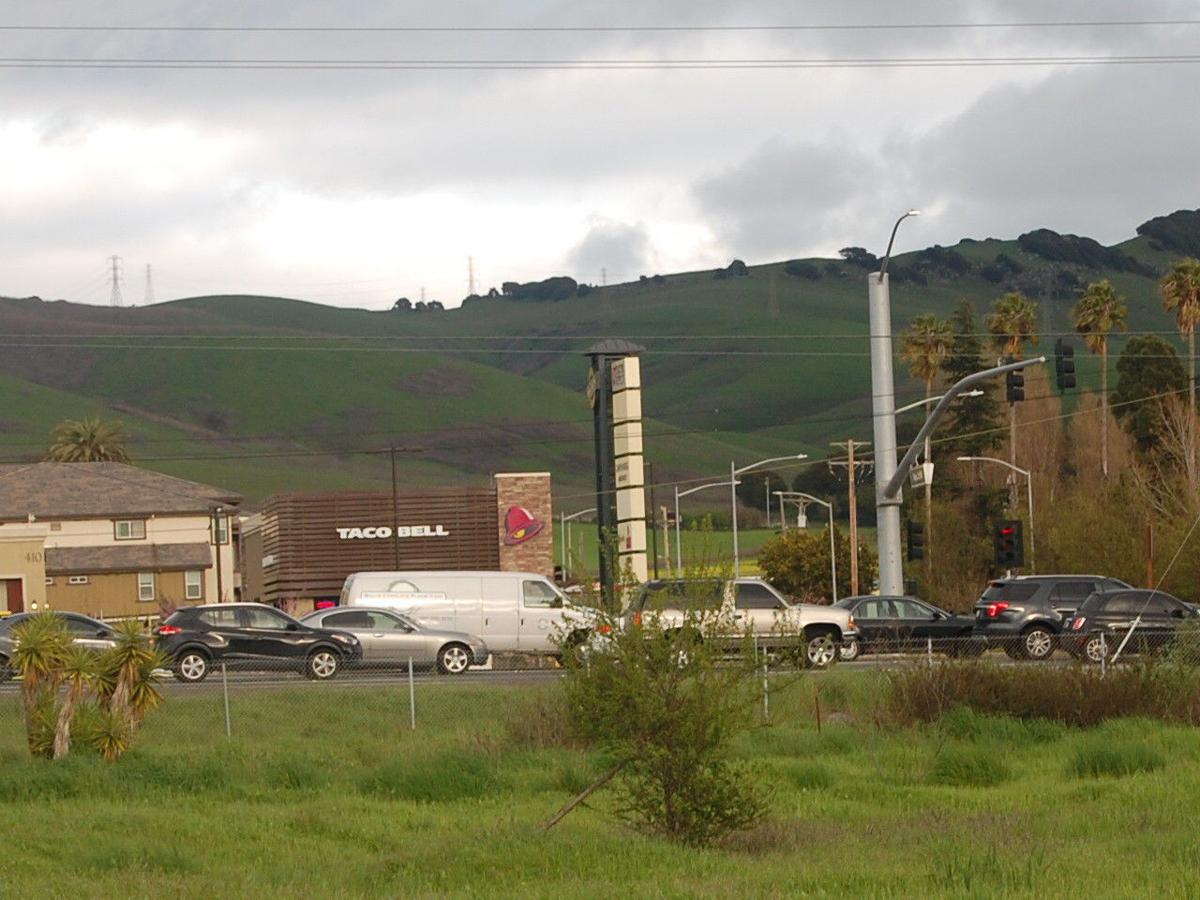 American Canyon is giving its regards to – and pinning a lot of hopes on – Broadway.
Broadway, a.k.a. Highway 29, is the city's main drag lined by a patchwork of modern shopping centers, decades-old businesses and vacant lots. It is a rush-hour traffic tie-up that both unites the city and cuts it in half.
On June 18, the American Canyon City Council endorsed the Broadway District Specific Plan that has been six years in the making. Among the plan's stated goals are to transform Highway 29 into an attractive, pedestrian-and-cyclist-friendly town core with a sense of place.
"We have set in motion the opportunity for investment and improvement along 29, which is sorely needed, because it is quite the eyesore as you come through town," City Councilmember David Oro said.
Pictures in the Broadway District Specific Plan show ideas from other communities for a future streetscape with a different look. People are dining outdoors and walking amid landscaping.
The plan calls for 1,200 new apartments, townhouses and other residential units and 840,000 square feet of new commercial space on 292 acres scattered along the highway. It seeks to impose order in an area that grew as a mix of uses and styles. It calls for convincing Caltrans to impose a 35 mph speed limit and adding such features as landscaped medians.
"The whole purpose of this is to breathe life into the main street of American Canyon," Community Development Director Brent Cooper said.
One goal is to widen congested Highway 29 from two lanes each direction to three lanes each direction. But Mayor Leon Garcia said in the years since that idea has come up, a viable concept has emerged to synchronize traffic lights.
"That may in fact improve traffic flow to an acceptable level," Garcia said. "It's certainly less expensive than developing a third lane through the entire city, which gets you about a mile-and-a-half and you're back to traffic congestion again."
Not that Garcia is giving up on the idea of having three lanes going each direction. Perhaps a third lane could be for local access, with the other two lanes moving traffic through town, he said.
The Broadway plan environmental impact report found cumulative traffic is a "significant unavoidable adverse impact."
"(Highway) 29 operates at deficient levels of service right now," report consultant Grant Gruber said. "Anything that would add a substantial amount of new traffic to this existing deficient condition, it's going to have a significant impact."
Still, the report concluded that the Broadway District Specific Plan vision isn't the main culprit. Almost 80 percent of traffic growth on the highway is regional, it said.
"The city of American Canyon is neither responsible for nor capable of mitigating the impact on its own, so the impact is considered significant and unavoidable," the report said.
One way to fully handle cumulative regional  traffic growth is widening Highway 29 to eight lanes, four going each direction, the environmental impact report said. But an eight-lane highway won't fit within the right-of-way and would mean removing buildings.
Cooper said one feature of the Broadway plan is connecting neighboring properties, so people can drive and walk among them without getting back on the highway.
Several people addressed the City Council during public comments.
Stephan Schnitzer of Brandman Development favored an alternative calling for 300 more residential units and 100,000 less square footage of commercial space. His firm controls a nearby property.
"We think doing so would provide badly needed additional housing in close proximity to the downtown core," Schnitzer told the council.
City Councilmembers considered the idea. Vice Mayor Mariam Aboudamous didn't view the loss of some future commercial space as a problem, given modern shopping trends.
"I honestly don't remember the last time I went and bought clothes or something in a store," she said. "I very much buy online, return on line, it's free shipping ... It works for me and I feel like it's working for a majority of the world."
In the end, the council stuck with the original plan. City Manager Jason Holley said additional housing units beyond the planned 1,200 wouldn't be needed right away. The city can look further at the issue during its upcoming general plan update.
Napa Valley Unified School District Superintendent Rosanna Mucetti said that the usual school development impact fees aren't enough. The district needs to maximize developer revenues to improve schools to serve the extra students.
To that end, the school district wants to negotiate with developers on school mitigation. American Canyon took that approach with the nearby, planned Watson Ranch, which is to have more than 1,200 homes.
City officials described Watson Ranch and Broadway as two different matters. Oro said Watson Ranch had one main person with whom to negotiate a school funding agreement. Broadway, by contrast, will consist of dozens of individual projects.
"There might be some small developers coming in here, that might just be a hardship for," City Councilmember Kenneth Leary said.
With that caution, city officials agreed to work with the school district on the mitigation issue. Aboudamous wanted assurances that mitigation fees generated from the Broadway project go to American Canyon schools.
Once the council finishes approving the Broadway District Specific Plan – it has a final vote scheduled for July 2 – American Canyon will begin implementation. Holley said the city will look at how to pay for infrastructure and the private sector will look at development.
"We know there is some pent-up interest from various groups that have ideas about applications they'd like to file," Holley said. "We expect they'll be filing those somewhat quickly."
City Councilmember Mark Joseph depicted the Broadway plan vision as a game-changer for American Canyon, much the way the flood control project changed downtown Napa.
"Combined with Watson Ranch, I think the next five to 10 years is going to be exciting," Joseph said.