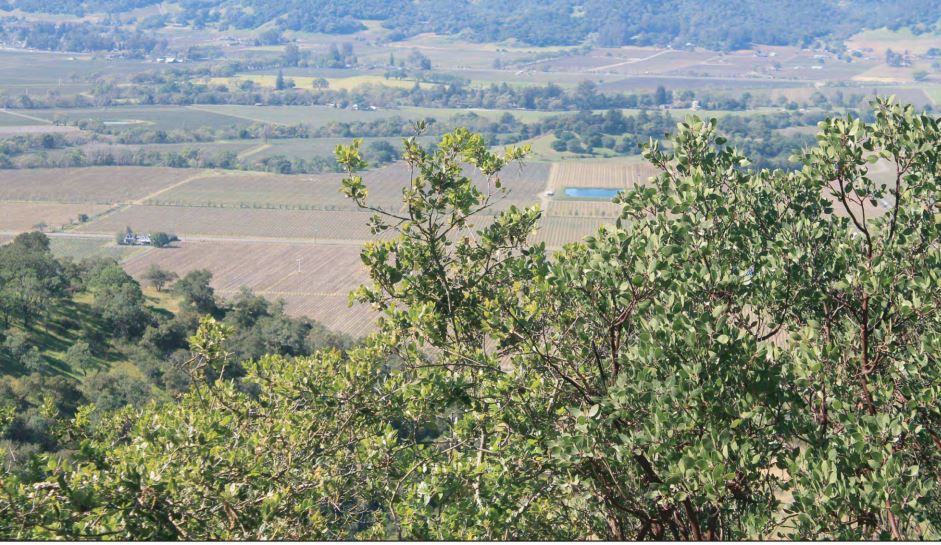 The Caves at Soda Canyon winery won a strange victory before the Napa County Planning Commission on a 3-1 vote that took about a half-hour to become a sure thing.
Among other things, Ryan and Crystal Waugh won permission Wednesday to increase annual wine production from 30,000 gallons to 60,000 gallons. They can reopen a controversial cave portal leading to a patio tasting area and also have ridgetop tasting areas.
That victory came with drama, Planning Commission-style. While the meeting may not compare to an Alfred Hitchcock movie, it kept the Waughs and the remnants of the audience in suspense.
Confusion began when Commissioner Terry Scott made a motion to grant the Waughs what they wanted, except for outdoor ridgetop tasting areas. His motion died for lack of a second.
Scott didn't mind letting wine tasting guests exit a cave portal to the patio to enjoy sweeping views of the Napa Valley.
"It's really not visible from Silverado Trail," Scott said. "It's a speck from Highway 29."
But having tastings on the ridge above was a different story.
"It just seems inappropriate to me," Scott said. "It seems excessive."
Commissioner Michael Basayne later made a motion using the bureaucratic language of the planning staff's report. He proposed to adopt "use permit major modification P16-00106 based on findings four through eight of attachment A and subject to the recommended conditions of approval."
The motion passed 3-1, with Basayne, Scott and Commission Chairwoman Jeri Gill voting "yes" and Commissioner Joelle Gallagher voting "no."
But did Basayne's motion include the ridgetop tasting areas? Basayne during a meeting break said that it did.
"Then I shouldn't have voted for it," said Scott, who was standing nearby. "I guess it's a done deal."
A 2-2 vote would have failed to grant approval, though the commission could have conceivably tried to come up with another motion, given Scott favored all but the ridgetop tastings request.
Lawyers for the county and Waughs and various county officials then spent 25 minutes or so huddling in the meeting room and in the hallway sorting things out. Planning Commission rules show that any commissioner who voted in the majority on an item can make a motion for a revote at the same meeting.
In the end, the commission simply reconvened and moved on to the next item of business.
The Caves at Soda Canyon winery comes with a history. The commission originally approved the winery in 2006. In 2015, the winery returned to the commission, asking permission to keep a fourth cave portal, an outdoor patio and ridgetop tasting areas created without county permission.
Commissioners during two 2015 hearings expressed concern about granting after-the-fact approvals. They ordered the fourth portal to be closed, but didn't rule out granting permission in the future if The Caves at Soda Canyon abided by its use permit for a period of time.
On Wednesday, commissioners decided The Caves at Soda Canyon had done its penance. Planning staff recommended granting the approvals.
The move continued the recent Planning Commission approach to granting after-the-fact approvals for county rules violations. The commission has preferred to see wineries cease illegal activities and comply with their use permits for at least a year before rendering a decision.
Several speakers opposed having more wine production at the winery, saying that would put more truck traffic on narrow, dead-end Soda Canyon Road. Soda Canyon resident Amber Manfree described the road as being serpentine and in poor condition, with blind curves.
"The increased production is only going to be more problematic," said Soda Canyon resident Diane Shepp, who showed a video of a truck struggling to navigate the road.
Gallagher agreed with these concerns.
"I don't see how we, in good conscience, can just continue to exacerbate the problems of this road," she said during commission deliberations.
Soda Canyon resident Bill Hocker said the winery never should have been allowed in the first place, but is obviously here to stay. He recommended the county allow the winery to keep the "bootlegged" portal and patio, but not to increase wine production.
"Make it clear that this winery, on this very inappropriate site, should live within the capacity and visitation conditions of its original use permit in perpetuity," Hocker said.
Chuck Wagner of Caymus Vineyards was among those writing letters in support of the Waughs, saying what should be a meager request has somehow grown to be a large one.
"I feel the county should respect good, honest, hard-working people who are an asset to our valley," Wagner wrote. "Ryan has been put through the wringer – regardless of his attempts to follow the rules."
Gill said The Caves at Soda Canyon is an agricultural use in an agriculturally zoned area. It is a custom-crush facility for four clients, allowing them to make wine without each building a winery.
"This is something I'm completely comfortable with," Gill said.
The Caves at Soda Canyon is on 41 acres at 2275 Soda Canyon Road.