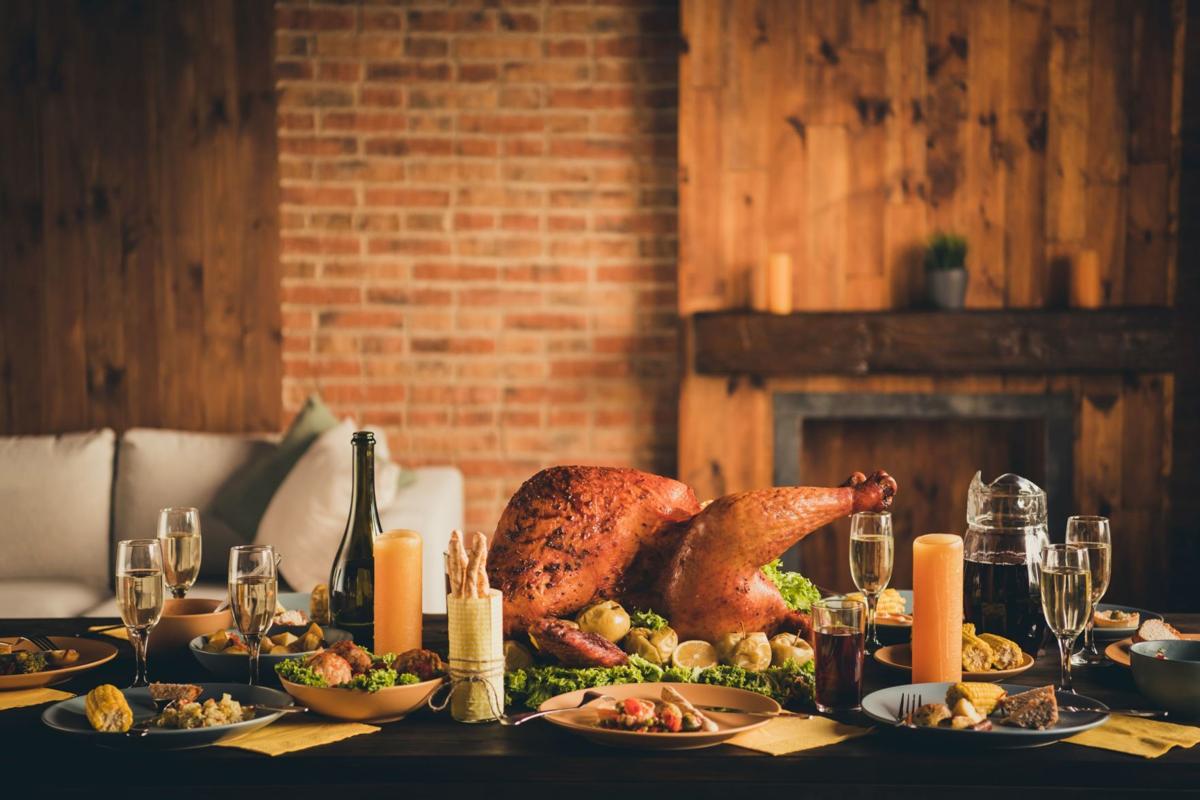 Steve Sando's Thanksgiving plans began with just one guest: a close friend who had just lost his wife. Sando, who recently lost his mother, figured the pair could gather together for a tamped down Thanksgiving outside, sharing memories of their loved ones, camping out by outdoor heaters and enjoying some turkey.
But soon one guest became three — and then six, and then eight. Not long after, the space heaters in question proved less-than-functional — and existing stock online was nonexistent, Sando, a Napa resident who owns Rancho Gordo, a specialty bean purveyor, said.
"They're like the new toilet paper," he joked about the heater shortage.
With case counts in Napa County and around California spiking, Sando and his guests canceled their dinner plans. It was too complex, he explained, balancing festivity and safety.
"You're trying to have some control over your life, some sense of normalcy — you want (to celebrate) Thanksgiving Day, but it's just a day," Sando said of his canceled plans. "We're going to chalk this up to another rotten thing about 2020."
Sando's cancellation is in line, too, with official recommendations from the California Department of Public Health, which last week put forth new guidance asking the state's residents to refrain from gathering in groups including more than three households. As coronavirus cases have climbed over the past few weeks — alongside hospitalizations — Gov. Gavin Newsom has emphasized the guidance put forth by CDPH, and released a travel advisory asking non-essential travelers to quarantine for two weeks upon arriving in California. (Newsom in recent days has been the subject of intensifying criticism over his decision to attend a dinner with guests from more than three households at The French Laundry in Yountville.)
"The safest way to gather is to spend time with people in the same household, gather virtually or gather outdoors," the CPDH guidance reads. "All gatherings pose a higher risk of transmission and spread of COVID-19 when people mix from different households and communities."
That guidance, combined with a spike in regional cases, gave Kelly Boyd, who each year rents a home at Silverado Country Club for a week to celebrate Thanksgiving with her extended family, serious pause.
Initially, the Sacramento resident explained, she had planned to gather with her son and two daughters, each of whom lives in different parts of the Bay Area. Her children's father, his wife and their three children were planning to stop by for Thanksgiving, too, she said.
"That put us over the three household limit — we would have been four — and then the travel advisory, too, said we were not supposed to be traveling," Boyd said. Her family has since cancelled its plans.
Boyd says she understands why the precautions are necessary. Her next-door neighbors were in an intensive care unit with coronavirus earlier this year; a number of her friends "who had parents last year … don't have parents this year" thanks to the disease, she added.
The new plan, Boyd said, is to have Thanksgiving dinner with her son. Together, they will Zoom with her daughters and seven sisters, with whom Boyd's family typically spends the day.
"There's a lot of loss being felt, but the fact is we're more conscious of connecting with everybody (this way)," Boyd added. "We are very much trying to connect with each other and take care of each other."
Cathy Felder, a Napa resident who said she has hosted up to 30 guests for Thanksgiving meals past, said this year her guest list will be considerably shorter: just herself, her husband and their two children, who recently returned from colleges out of state.
"We decided not to get together as a big group because in our extended family we have college kids from around the country, and we did not think it'd be a great idea to expose elderly relatives," Felder said. Instead, Felder's family, too, will Zoom with relatives – including Felder's 70-something parents, who live in Southern California.
Her famously long lists of dinner guests have sometimes called for as many as three turkeys, Felder said, laughing. This year, though, her husband plans to make a tri-tip steak, and Felder's making shrimp cocktail.
"Why not?" Felder said, adding that her two children had specifically requested Felder's mashed potatoes. "This year we'll do some traditional things, but it's more of a free for all — whatever makes you happy."
San Francisco resident Margo Stern and her husband spent Thanksgiving 2019 at Ad Hoc, Thomas Keller's family-style restaurant in Yountville. The couple "never quite figured out" how to split the holiday between their two families, Stern said, and deeply enjoyed the experiencing of dining out.
"That was the first time over a Thanksgiving where I was like — this is our tradition. This is what I want to do this year. So from that moment, even before COVID hit, my plan was to recreate that good night," Stern said. Amid the early spring shutdowns, she made a Thanksgiving reservation at Ad Hoc, hoping things would have at least calmed by the fall.
But Stern and her husband began seeing the numbers tick up around them, both in San Francisco and Napa counties, she said. After discussing with her husband, the pair decided to cancel their reservation. Napa County's regression into the purple tier, which bans indoor dining, was announced the next day, Stern said. (She and her husband initially asked to take their meal to go, but the restaurant was not able to accommodate the request, Stern explained.)
The pair settled on cooking for themselves instead; Stern's been browsing holiday recipes, and plans to use Thomas Keller's turkey recipe "just to bring things full circle." Her downstairs neighbor is having Thanksgiving with a pod of friends, Stern added, so the two households may trade leftovers after the day is over.
"I'm going to make too much food — we'll be eating turkey sandwiches for days," she said.
Sando, who noted Rancho Gordo beans are of course an integral part of his Thanksgiving meal, said he was considering sharing a meal with a neighbor — a part of his quarantine pod. Between the pandemic, divisive politics and the wildfires, it's been a difficult year, he concluded – and even turkey, as delicious as it is, would not be worth "topping it off with a case of COVID."
"It does make me sad. It's not the end of the world, though it is one more thing," Sando said of his altered plans. "The cool thing is, though, that I didn't realize how much it meant to me. I'll appreciate (being able to gather together) next year that much more."
WATCH NOW: HOW TO HAVE A POLITE THANKSGIVING DINNER
RECIPE SERIES: NAPA VALLEY CHEFS AT HOME
Recipe series: Napa Valley Chefs at Home
Recipes from local chefs that you can try at home during shelter-in-place orders in Napa County.
MOST-READ NAPA COUNTY WINE STORIES OF 2019
Most-read Napa County wine stories of 2019
These 10 Napa County wine stories garnered the most page views on the Napa Valley Register website and were most popular with our online readers in 2019.